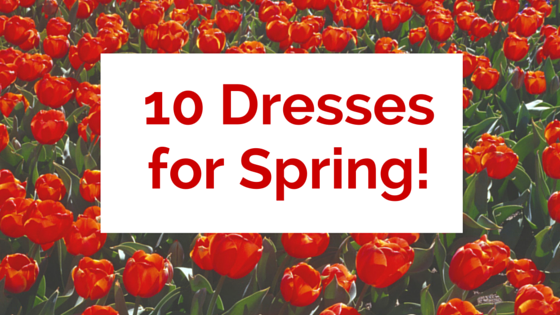 The fashion forecast for the 2016 spring season brings a hint of old fashion trends with a touch of new, unique, and fresh updated looks.
Each spring season, the fashion designers introduce fresh new designs and trends that signal renewal and the ushering in of warmer temperatures.  This year, the 2016 dress collections are designed with bright eye catching colours, subtle pastels, neutrals, dark colours, and exhilarating patterns which make up an interesting collection to suit every taste, attitude, and mood.
This spring you can expect to see lots of light and flowy fashions that welcome warmer temperatures along with elegant styles in understated light gray and pink pastels. Also included in this year's palette you will find 1970s inspired designs styled with suedes, geometric and floral patterns, retro bright oranges and yellows reminiscent of this decade.
Fashions with pleats, sheer fabric, and plaids have also made a comeback, except the designs offer a bit of an updated look to keep in step with the latest trends. Spring 2016 will also introduce a collection of fashions that sport long bell sleeves, cold shoulder strappy looks, and boat necklines designed with light and airy materials.
To provide you with a hint of some of the styles you will see during the 2016 spring season, here are ten trendy dress ideas to get you started with a fresh new wardrobe.
1. Emilio Pucci Lace Up Suede Mini Dress
The lace-up suede mini dress by Emilio Pucci is an Italian design crafted in a gorgeous royal blue. The dress is embellished with a beautiful lace up neckline and straight style with short sleeves.  The design is 1970s inspired with convenient side zip which is modestly hidden in the fabric. Pair this dress with tan coloured accessories and you have a fashion forward look which is eye catching and uplifting.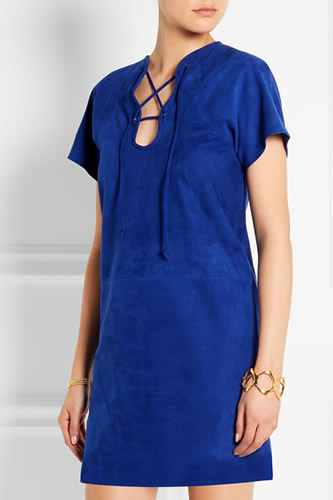 2. Michael Kors Black Patterned Jersey Dress
Patterns are being brought to the forefront for the 2016 spring season in addition to fashions made of comfortable jersey fabrics. The black animal print dress by Michael Kors is a prime example of this year's fashion trend.  Styled with a fitted waist and black darts which extend from the neckline to the hem accent the intricate animal print. Accessorise with a black bag and wedge ankle boots and you are immediately on trend for the spring season.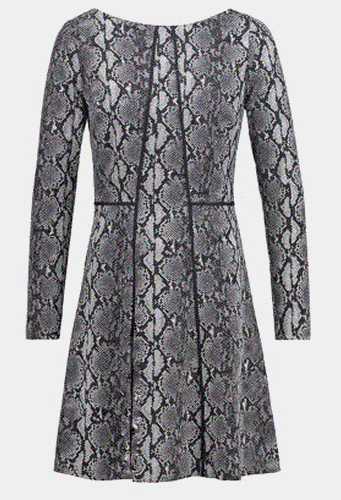 Valentino Braid-Trimmed Denim Midi Dress
Fashions designed with soft denim fabric are in vogue this spring.  The braid-trimmed denim midi dress with back cross straps makes the perfect sun-dress for outdoor events.  The back straps and braided trim at the waist add a touch of class to classic denim. The denim fabric is designed in a soft light blue colour which is in step with this year's pastels.  The dress is then finished with a full skirt with pleats under the braid at the waist.  Add a pair of strappy sandals and you have the perfect in-between dress that is not too casual and not too dressy.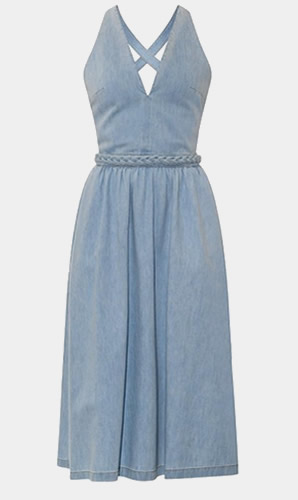 Ninimour Spanish Renaissance Print Dress
Bodycon dresses are an upward trend in this year's spring fashions.  The Ninimour bodycon dress design is inspired by Spanish fashions with an amazing updated patterned fabric which brings this dress into vogue for 2016. Designed with a comfortable stretchy jersey fabric and Spanish flair at the hem, this dress provides effortless style without sacrificing elegance and sophistication.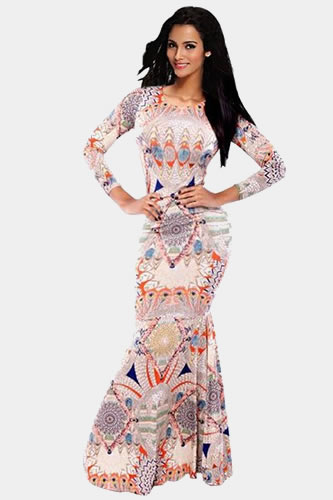 Noisy May Gingham Dress
Gingham plaid reminiscent of the 1950s and 1960s is back in a big way this spring, only with a more updated look. The gingham plaid dress by Noisy May with pleated waist and button detail completely transforms a pattern of days gone by. Styled with comfortable cotton fabric, gingham designs will carry you through hot spring and summer days.  Accessorise with a pair of trendy ankle boots and casual jacket to create a casual yet updated look which is hot off the runway.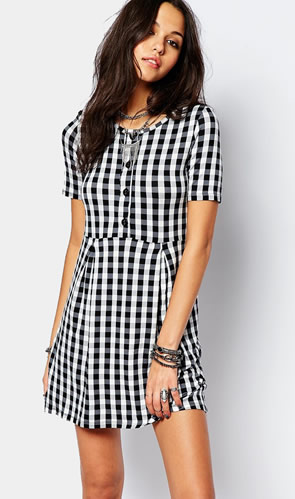 6. Kelly off the Shoulder Detail Bodycon Dress
To change up your spring wardrobe, you can choose bold coloured fashions which are all the rage for the 2016 spring season. Designs such as the Kelly off the shoulder dress by boohoo NIGHT is a must have for a night out on the town.  The dress is designed with a unique off the shoulder opening on one side and is offered in a selection of bold colours including an eye catching yellow mustard colour and bright emerald green.  Or, you can go for the sophisticated black colour which makes for the perfect little black dress for an evening out.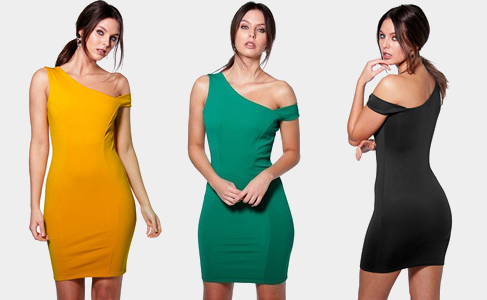 7. Miu Miu Printed Crepe Mini Dress
Day dresses with retro colours are back in vogue for the 2016 spring season.  The printed crepe dress by Miu Miu is a prime example of the return of the day dress, except with a fresh new look.  The mini dress is designed with a choice of retro colours and patterns including lime green with a peacock pattern and pastel pink collar and breast pocket as an accent. Or, you can go for the 1970s inspired red floral pattern with black collar and breast pocket as an accent.  This comfortable sleeveless number can be accessorised with a pair of retro loafers for a completely reinvented classic design from the past.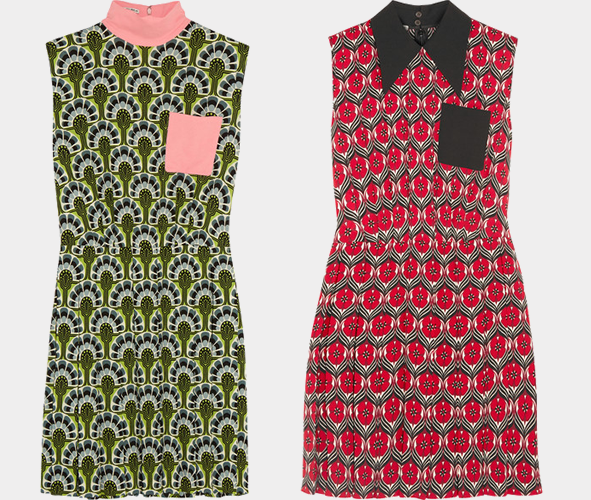 8. Adrianna Papell Floral Lace Gown
Another trend for the 2016 spring season is Victorian inspired fashions.  The floral lace column gown by Adrianna Papell is styled with a delicate pink pastel floral pattern over a solid cream colour and finished with Victorian lace.  The pretty floral design is accented with a sophisticated lavender coloured sash at the waist which is tied in a bow around the back.  The dress is completed with a back slit which brings it into step with this year's trends in addition to scoop neck styling and short sleeves designed for warmer temperatures.
9. ASOS High Neck Cold Shoulder Midi Dress
Cold shoulder designs with feminine ruffles are an upward trend in spring fashion for this year.  The high neck cold shoulder midi dress from the ASOS collection has all of the elements which meet the trends for the 2016 spring season.  Designed from a stretchy cotton fabric, the midi dress features a square neckline which marries with ruffle detail and cold shoulder styling.  Plus, you can choose from a demure nude colour or go bold in fashionable bright red.  Accessorise with a pair of delicate earrings and strappy high heels and you are ready for any special occasion.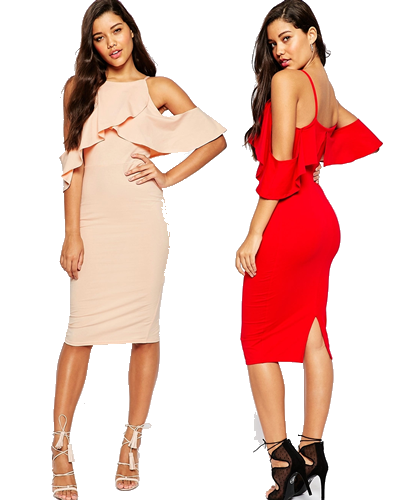 10. Diane von Furstenberg Silk Chiffon Maxi Dress
The return of the maxi dress this spring is reminiscent of the musical artists of the 1970s.  This silk chiffon dress by Diane von Furstenberg brings the bell sleeve back into vogue with V-neck styling in the front and a beautiful flouncy ruffle at the hem.  The dress is designed with light and airy silk chiffon material and an up to date zebra print pattern in black and brown which is in step with this year's two-toned neutrals trend.  Accessorise with trendy gold jewellery and a pair of Greek sandals and you are ready to step out in comfort and style.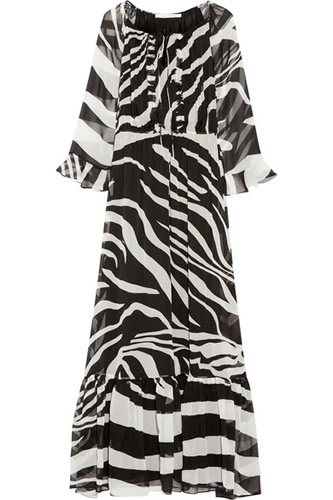 The spring 2016 season is packed with numerous exciting and trendy fashions.  The styles we mentioned here are just a sample of some of the ways you can begin spicing up your wardrobe for the upcoming spring season.