Ten Wedding Dress Fashions From Different Cultures.
Introduction.
For many people around the world, a white dress is the first thing that comes to mind when thinking of a wedding. However, there are many cultures with varied traditions of wedding dresses including style, pattern, and color.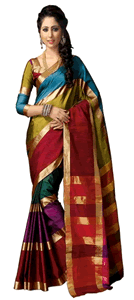 Indian culture and tradition regards a wedding ceremony as of great religious importance. The wedding dress commonly known as the Saree, is known for its colorful and elegant design.
Colors: Red is the most popular color adorned with golden embroidery. Other vibrant colors are occasionally chosen as an alternative.
Style: The style of traditional wedding dresses in India varies according to the region. The fabric, patterns, and colors are chosen according to customs and tradition. The Saree is the most popular and is designed in red silk, Georgette, or crepe and adorned with golden embroidery, crystals, kundan, or zari for an elegant and luxurious appearance.
Interesting Fact: The word Saree originates from the Sanskrit and means a "strip of cloth." Its length ranges from four to ten yards and is worn in various styles by draping it over the body. Some Indian brides wear a Saree for the ceremony until the reception when they change into a lehenga choli.
German couples attend a civil wedding ceremony prior to a church wedding since the church official is unauthorized to legally marry a couple.  The wedding dress is reserved for the church ceremony while the bride wears neat professional attire for the civil ceremony.
Colors: It is customary for German brides to wear a white wedding dress. The groom is typically dressed in black.
Style: German wedding dresses are designed for comfort while still being made of flowy material that lends an air of sophistication and elegance.
Many of the fashions are designed with Chantilly lace, silk chiffon, Mikado, and stretch jersey. The styles range from intricate beaded dresses to organza and dramatic shapes requiring many hours of work.
Interesting Fact: The bride typically wears a white dress that has been passed down from previous generations.
The Celtic wedding dress is an old Irish tradition that represents timeless beauty. Irish brides often favor the Celtic wedding dress for its romantic look in addition to other styles.
Color: White is currently the most popular color.  Brides also wear blue or touches of blue reminiscent of ancient times when the color symbolized purity.
Style: The Celtic wedding dress is made with silk material and white deerskin with white linen undergarments.  The style is fluid with the bottom of the gown surrounding your feet. The bell sleeves are oversized for a dramatic effect and the dress is finished with a princess cut waist.
Interesting Fact: Before the early 1500s, blue was the most popular color choice for Irish wedding dresses.  When Queen Anne of France wore a white dress at her third wedding, brides across Ireland, England and France began to wear replicas of the dress at their weddings.
A traditional Chinese wedding dress is known as a Qi Pao which is designed in red.  Chinese brides typically have three wedding dresses which include the red Qi Pao, a white wedding dress, and an evening ball gown.
Color: Red and white are the two most popular colors in Chinese wedding dress design.  Red is considered a symbol of prosperity and love and is used as a base color for most dress creations.
Style: A typical design consists of a red color base with intricate embroidery work created with silver and gold threads.
The style is a one-piece dress made of silk which provides elegant sophistication.  Traditional wedding dresses are known as the Kwa, Chengsam, and Kua which are white dresses designed as a two-piece creation.
Interesting Fact: A Chinese couple can choose to wear their wedding attire for photos or opt to wear something different for this event.
Italian brides originally wore green wedding dresses as a symbol of fertility.  Currently, the Italian bride wears a spectacular white dress as a symbol of wealth and prosperity.
Color: White and ivory are the most popular colors for an Italian wedding dress. Black and white has been worn in Tuscany. Pale shades of gold and pink have recently become popular throughout Italy.
Style: Italian wedding dresses resemble a full-length formal gown made of silks and satins to pure cotton and summery poplins. Other styles are adorned with brocade, laminated taffeta, embroidery and lace.  Most of the fashions border on a light and airy look with a hint of casual attire.
Interesting Fact: An old Venice tradition states the bride walked into church wearing her second best wedding dress.  The finest dress was reserved for the reception when the bride and groom have their first dance.
The Kimono is worn as a traditional wedding dress in Japan.  It also serves as traditional everyday clothing as well. Japanese brides wear a white Kimono for the wedding which is the symbol of new life and days gone by.
Color: The most popular color is white followed by a colorful silk Kimono made with silk brocade which the bride uses to cover her wedding dress.
Style: The Kimono is a straight line style with wide sleeves that form a "T" when extended outwards.
The garment is full length and falls at the ankle and is wrapped around the body with the left side over the right side. A Kimono is then secured with an elegant sash which is tied in the back.
Interesting Fact: The Kimono is considered to be a formal dress passed down for generations and is still currently used as a wedding dress.
Russian weddings do not follow common protocols with weddings in other cultures.  There are no flower girls or bridesmaids and the wedding dress is handmade specifically for the occasion. Russian women are taught to sew at an early age so they opt to create their own wedding dress. Others may choose to buy a dress and sell it after the ceremony.
Color: Many Russian brides still choose the traditional white wedding dress.  Others opt to choose a white or pastel colored suit.  Earlier colors included dark blues or bright reds finished with embroidery.
Style: A traditional Russian wedding dress consisted of an elaborate headdress which over-shadowed the dress itself. The recent wedding dresses are constructed of high quality material and mimic the timeless elegance of Grace Kelly, A-line dress fashions, and empire style waists.  The dresses are made of flowy materials and elegant taffeta sometimes designed in feminine pastels and botanicals.
Interesting Fact: It is not customary for a mother to give her wedding dress to her daughter because it suggests you lack the money to buy a new dress.
The typical Spanish wedding dress is made of silk with crepe used as a substitute if money is of concern.  The traditional veil is chapel or cathedral length and finished with hand crafted Spanish lace which is still a time honored tradition.
Color: Currently, the most popular wedding dress colors are white, antique white, or blush.
Style: A Spanish wedding dress looks very similar to the common wedding dress only with a few Spanish inspired features.  Typically, the skirt may be finished with multiple frills similar to a Flamenco skirt with full-length sleeves that are finished with ruffles on the cuff.
Modern Spanish wedding dresses are made of flowing materials such as chiffon, taffeta, and organza.  Other designs- are crafted with silk and satin.
Interesting Fact: In old world Spain, the typical wedding dress was black.  If you were from a wealthy family, the dress was made of black silk with black veil and handcrafted Spanish lace
There are many different wedding traditions throughout Africa which means one tradition does not fit all.  This is reflected in the different types of wedding dresses worn in an African ceremony.
Color: Vibrant colors are the most popular choice for African wedding dresses.
Style: African wedding dresses are elegant and glamorous creations made of satins, silks, brocades, voile lace, Ankara fabrics, and taffetas. They are embellished with glass beads, crystals, and other adornments.  Each dress is crafted specifically to the bride's requirements which means no two dresses are alike. Each dress has a unique style along with a pre-selected fabric.
Interesting Fact: Just about every African wedding dress is an original because it is custom made.
The French wedding dress is the epitome of intricate attention to detail.  There is an abundance of exquisite fabrics, lace, and embellishments ranging from vintage to contemporary fashions.
Color: The most popular colors are white, ivory, soft pastels, and pretty watercolor prints.
Style: Many of the French wedding dress styles are reminiscent of embroidery created during the 1920s and 1930s with layers of Victorian lace throughout the dress.
Most wedding dresses by French designers are authentic couture creations made specifically for each individual bride.
They have an elegant air of sophistication using soft flowy fabrics including silky chiffon with dazzling beaded designs and immaculate attention to detail, fit, and quality.
5 Interesting Facts about Wedding Dresses.
For most of the time throughout history, a wedding dress was rarely purchased by a bride for her wedding day. Instead, she opted to wear her best dress even if the color of the dress was dark.
In old Denmark tradition, a bride and groom would cross-dress in an effort to confuse evil spirits.
Wearing garments with embroidered cranes is an old Asian tradition that symbolizes fidelity for the entire duration of the marriage.
The traditional wedding veil was used for approximately 2000 years before the wedding dress.
The longest known train on a wedding dress is 1.85 miles.
About Micar Computers.
Micar Computers is a London-based Software Development company that specialises in creating bespoke ERP applications for the clothing, footwear and textile industries. Take a look around our website to find out more about our products, services, our company and our culture.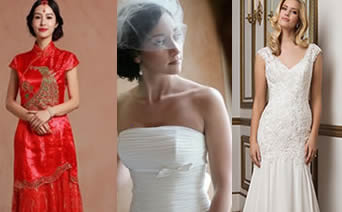 Ten Gorgeous Spring Dresses for 2016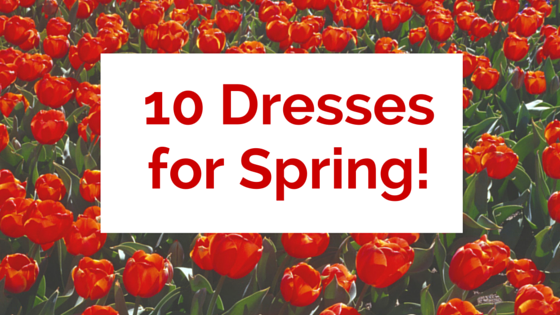 The fashion forecast for the 2016 spring season brings a hint of old fashion trends with a touch of new, unique, and fresh updated looks.
Each spring season, the fashion designers introduce fresh new designs and trends that signal renewal and the ushering in of warmer temperatures.  This year, the 2016 dress collections are designed with bright eye catching colours, subtle pastels, neutrals, dark colours, and exhilarating patterns which make up an interesting collection to suit every taste, attitude, and mood.
This spring you can expect to see lots of light and flowy fashions that welcome warmer temperatures along with elegant styles in understated light gray and pink pastels. Also included in this year's palette you will find 1970s inspired designs styled with suedes, geometric and floral patterns, retro bright oranges and yellows reminiscent of this decade.
Fashions with pleats, sheer fabric, and plaids have also made a comeback, except the designs offer a bit of an updated look to keep in step with the latest trends. Spring 2016 will also introduce a collection of fashions that sport long bell sleeves, cold shoulder strappy looks, and boat necklines designed with light and airy materials.
To provide you with a hint of some of the styles you will see during the 2016 spring season, here are ten trendy dress ideas to get you started with a fresh new wardrobe.
1. Emilio Pucci Lace Up Suede Mini Dress
The lace-up suede mini dress by Emilio Pucci is an Italian design crafted in a gorgeous royal blue. The dress is embellished with a beautiful lace up neckline and straight style with short sleeves.  The design is 1970s inspired with convenient side zip which is modestly hidden in the fabric. Pair this dress with tan coloured accessories and you have a fashion forward look which is eye catching and uplifting.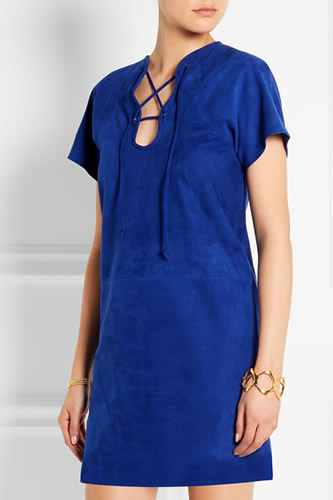 2. Michael Kors Black Patterned Jersey Dress
Patterns are being brought to the forefront for the 2016 spring season in addition to fashions made of comfortable jersey fabrics. The black animal print dress by Michael Kors is a prime example of this year's fashion trend.  Styled with a fitted waist and black darts which extend from the neckline to the hem accent the intricate animal print. Accessorise with a black bag and wedge ankle boots and you are immediately on trend for the spring season.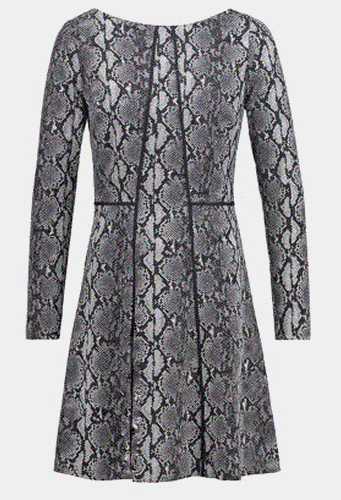 Valentino Braid-Trimmed Denim Midi Dress
Fashions designed with soft denim fabric are in vogue this spring.  The braid-trimmed denim midi dress with back cross straps makes the perfect sun-dress for outdoor events.  The back straps and braided trim at the waist add a touch of class to classic denim. The denim fabric is designed in a soft light blue colour which is in step with this year's pastels.  The dress is then finished with a full skirt with pleats under the braid at the waist.  Add a pair of strappy sandals and you have the perfect in-between dress that is not too casual and not too dressy.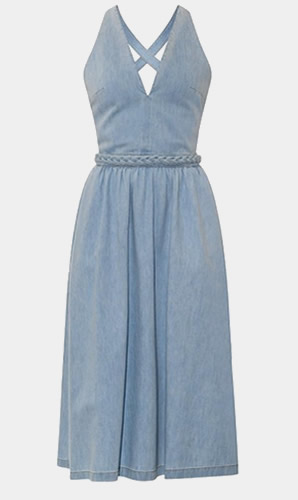 Ninimour Spanish Renaissance Print Dress
Bodycon dresses are an upward trend in this year's spring fashions.  The Ninimour bodycon dress design is inspired by Spanish fashions with an amazing updated patterned fabric which brings this dress into vogue for 2016. Designed with a comfortable stretchy jersey fabric and Spanish flair at the hem, this dress provides effortless style without sacrificing elegance and sophistication.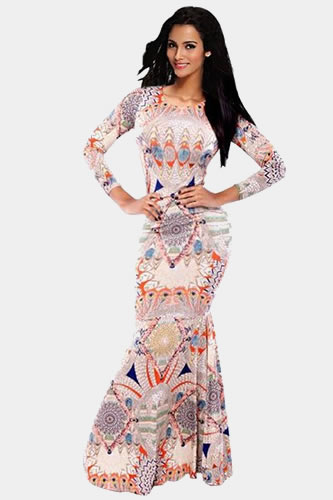 Noisy May Gingham Dress
Gingham plaid reminiscent of the 1950s and 1960s is back in a big way this spring, only with a more updated look. The gingham plaid dress by Noisy May with pleated waist and button detail completely transforms a pattern of days gone by. Styled with comfortable cotton fabric, gingham designs will carry you through hot spring and summer days.  Accessorise with a pair of trendy ankle boots and casual jacket to create a casual yet updated look which is hot off the runway.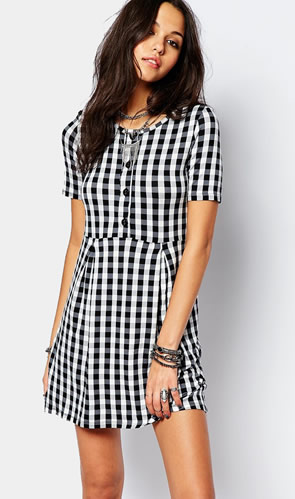 6. Kelly off the Shoulder Detail Bodycon Dress
To change up your spring wardrobe, you can choose bold coloured fashions which are all the rage for the 2016 spring season. Designs such as the Kelly off the shoulder dress by boohoo NIGHT is a must have for a night out on the town.  The dress is designed with a unique off the shoulder opening on one side and is offered in a selection of bold colours including an eye catching yellow mustard colour and bright emerald green.  Or, you can go for the sophisticated black colour which makes for the perfect little black dress for an evening out.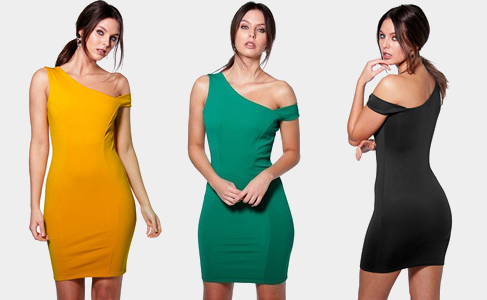 7. Miu Miu Printed Crepe Mini Dress
Day dresses with retro colours are back in vogue for the 2016 spring season.  The printed crepe dress by Miu Miu is a prime example of the return of the day dress, except with a fresh new look.  The mini dress is designed with a choice of retro colours and patterns including lime green with a peacock pattern and pastel pink collar and breast pocket as an accent. Or, you can go for the 1970s inspired red floral pattern with black collar and breast pocket as an accent.  This comfortable sleeveless number can be accessorised with a pair of retro loafers for a completely reinvented classic design from the past.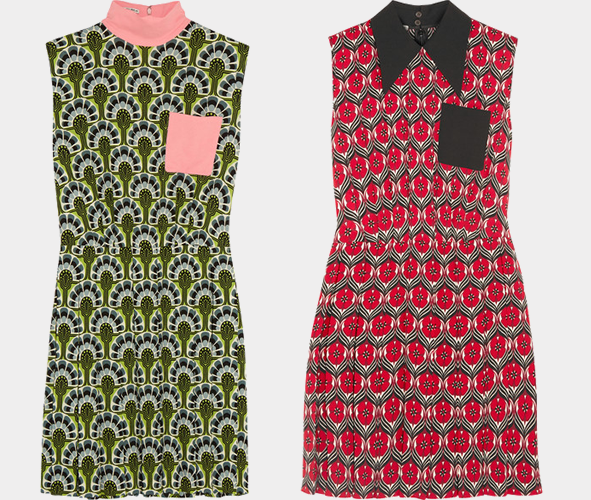 8. Adrianna Papell Floral Lace Gown
Another trend for the 2016 spring season is Victorian inspired fashions.  The floral lace column gown by Adrianna Papell is styled with a delicate pink pastel floral pattern over a solid cream colour and finished with Victorian lace.  The pretty floral design is accented with a sophisticated lavender coloured sash at the waist which is tied in a bow around the back.  The dress is completed with a back slit which brings it into step with this year's trends in addition to scoop neck styling and short sleeves designed for warmer temperatures.
9. ASOS High Neck Cold Shoulder Midi Dress
Cold shoulder designs with feminine ruffles are an upward trend in spring fashion for this year.  The high neck cold shoulder midi dress from the ASOS collection has all of the elements which meet the trends for the 2016 spring season.  Designed from a stretchy cotton fabric, the midi dress features a square neckline which marries with ruffle detail and cold shoulder styling.  Plus, you can choose from a demure nude colour or go bold in fashionable bright red.  Accessorise with a pair of delicate earrings and strappy high heels and you are ready for any special occasion.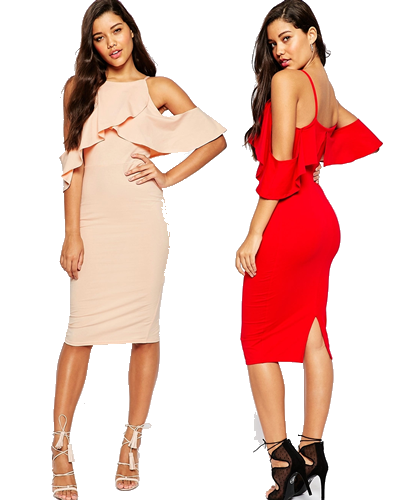 10. Diane von Furstenberg Silk Chiffon Maxi Dress
The return of the maxi dress this spring is reminiscent of the musical artists of the 1970s.  This silk chiffon dress by Diane von Furstenberg brings the bell sleeve back into vogue with V-neck styling in the front and a beautiful flouncy ruffle at the hem.  The dress is designed with light and airy silk chiffon material and an up to date zebra print pattern in black and brown which is in step with this year's two-toned neutrals trend.  Accessorise with trendy gold jewellery and a pair of Greek sandals and you are ready to step out in comfort and style.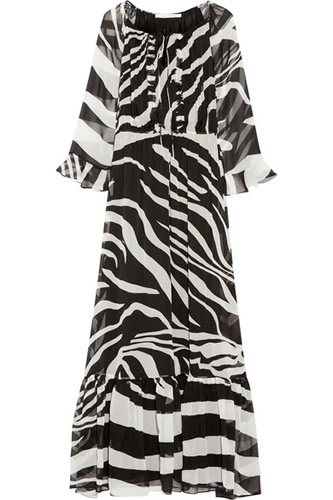 The spring 2016 season is packed with numerous exciting and trendy fashions.  The styles we mentioned here are just a sample of some of the ways you can begin spicing up your wardrobe for the upcoming spring season.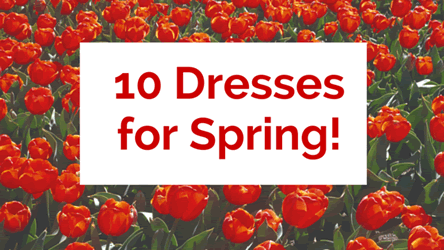 The World's Most Expensive Wedding Dresses

Introduction
Weddings can be a costly event regardless of how frugal you are. However, when it comes to the wedding dress, many brides consider this to be one of the most important parts of their special day and often spare no expense.
In some cases, many brides luck out and find a great deal on the perfect wedding dress that makes them the centre of attention on their special day. Other brides will go out of their way to ensure they have the perfect dress which can become quite expensive.  Then there are celebrity brides and others that have their wedding dress custom made by a notable designer for an unbelievable amount of money.
In this article, we will take a look at some of the most extravagant wedding dresses from around the globe.
1. The Diamond Wedding Gown – $12 Million
One of the most expensive wedding dresses in the world is made from 150 carats of diamonds at a staggering price of twelve million dollars.  The dress was not made for any specific bride and instead, was crafted for a bridal show in 2006 by Renee Strauss with the jewels provided by Martin Katz.  The show took place at the Ritz-Carlton in Marina Del Rey, California. The dress is famously known as the Diamond Wedding Gown and was also on display at the Fashion and Diamonds show in Dubai.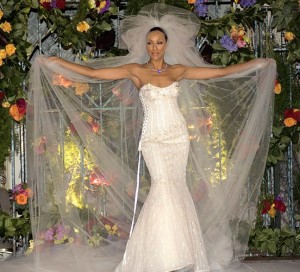 2. White Gold Diamond Dress by Yumi Katsura – $8.5 Million
The White Gold Diamond Dress by Japanese wedding gown designer Yumi Katsura was considered to be the most expensive wedding dress in the world prior to the introduction of The Diamond Wedding Gown.  The White Gold Diamond Dress was not made for any specific bride and is one of 650,000 wedding dresses designed by Yumi Katsuma and by far, the most extravagant.  It is adorned with more than one thousand pearls and has a rare five carat white gold diamond as a centerpiece along with a green diamond of 8.8 carats.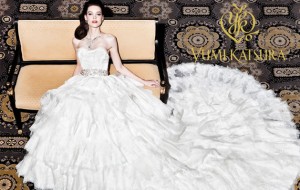 3. Danasha Luxury Wedding Gown – $1.5 million
The Danasha Luxury Wedding Gown was created by designer Danasha Luxury in partnership with Jad Ghandour at a price of $1.5 million.  The gown is quite simple in design but commands a hefty price tag as the result of being crafted from more than 200 grams of 18-karat gold and 75-carats of Belgian diamonds hand-picked in Antwerp.  The gown does not have a train and has an elegant and clean looking appearance that is void of any lace or other adornments.
4. Peacock Feather Wedding Gown by Vera Wang – $1.5 million
The Peacock Wedding Gown by Vera Wang is far from the conventional white wedding gown and is handcrafted with more than two thousand male peacock feathers.  The dress was created in 2009 for the Wedding Expo in Nanjin, China and required 8 craftsmen to stitch the peacock feathers onto the dress.  The gown was supposedly designed for the wedding of Jennifer Lopez to Ben Affleck but this is not a certainty.  The wedding never happened but the gown was deemed one of the most unusual designs ever made.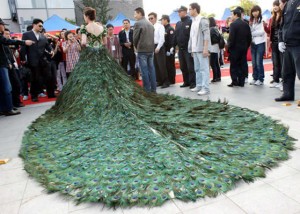 5. Sarah Burton Wedding Dress for Kate Middleton- $388,000
Kate Middleton's wedding dress was created by Sarah Burton, a designer for Alexander McQueen for her wedding to Prince William in 2011 at Westminster Abbey.  The gown was elegantly crafted with a nine foot train and adorned with exquisite fabrics that gave the gown its delicate and sophisticated look.  The fabrics included ivory and white satin gazar, English Cluny lace, and French Chantilly. It took several months to create at a price tag of nearly 400 thousand.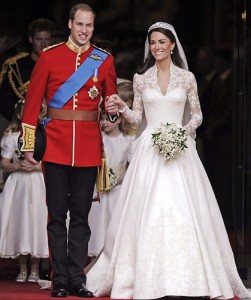 6. Mauro Adami Platinum Wedding Dress – $373,000
The Platinum Wedding Dress by Mauro Adami was created in 2008 and is made of more than 132 feet of fabric in a rich platinum shade.  The dress is stitched with authentic silk and platinum thread with an ornate neckline and delicate embroidery at the hemline.  The Platinum Wedding Dress was created as an addition to the Domo Adami Italian wedding gown collection at a cost of $373,000 and was not crafted for any specific bride.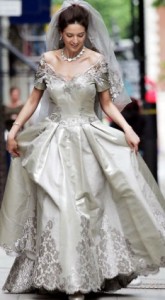 7. Fiery Red Platinum Wedding Dress – $250,000
The Platinum Wedding Dress made in the Anhui Province of China is crafted of authentic platinum in a fiery red colour and oriental theme.  The platinum shine sets off the ornate red oriental patterns which adds to the uniqueness and attention grabbing design.  The red oriental pattern consists of exquisite red floral blossoms which are offset with the silver luster which takes this gown to a whole new level when compared to other platinum designs.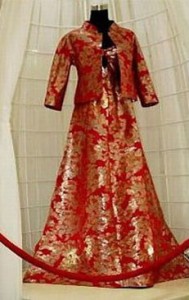 8. Melania Knauss Wedding Gown – $200,000
Designer John Galliano created this masterpiece for Melania Knauss when she wed billionaire Donald Trump.  The gown is rumored to have been created for a price tag of about $200 thousand with a thirteen foot train and more than three hundred feet of white duchesse satin.  The gown is adorned with more than 1,500 crystal rhinestones and pearls and weighs fifty pounds.  This required Melania Knauss to stay fit in order to effectively carry the weight of this creation.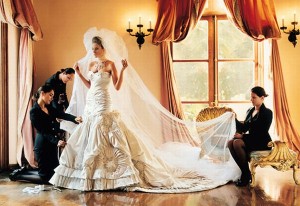 9. 9,999 Carat Gems Wedding Dress – $158,800
The 9,999 Carat Gems Wedding Dress was created in 2007 and was displayed in a store located in the China Province of Shangrao, Jiangxi.  This exquisite creation is adorned with more than 10,000 carats of authentic gemstones which were provided by a prominent jewellery designer based in Hong Kong. The wedding dress is made of high quality material however, the amount of gems included in the design are what commands a price tag of more than $158 thousand.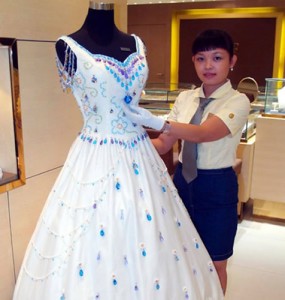 10. 'Bach Ngoc Xiem Y' Wedding Dress – $117,000
The 'Bach Ngoc Xiem Y' Wedding Dress was designed for wealthy brides who desire extravagance and is crafted with more than 200 diamonds and more than 95 ruby gemstones.  The exquisite fabric is white silk and satin with an overall delicate design.  The dress was on display at Hanoi's Ruby Plaza and was not made with a specific bride in mind.  It was last known that the gown is still looking for a buyer that can afford this creation at $117 thousand.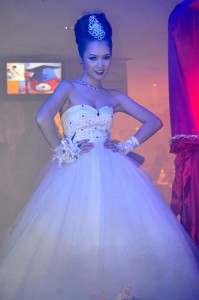 About the Author
Micar Computers is a software development company that specialises in providing software solutions for the Apparel, Textile and footwear  industries. Based in London, we offer our services to companies all across the city and surrounding area. Visit our products page to find out more about who we are and what we do.
Ten of the Best Budget Dresses for Summer 2014
If you are looking for beautiful high quality summer dresses in the UK without the expensive price tag, there is a wide selection of exquisite fashions that will get you through the summer without breaking the bank.
Many women are concerned about fashion and usually high fashion also means an exorbitant price tag.  But it doesn't have to be this way.  Many women can dress fashionably in quality clothing without having to max out their credit card or drain the bank account to do so.  If you are looking for the best budget dresses for 2014, here are a few selections to get you started:
1. Roman Originals Plain Cotton Summer Dress
This women's long plain cotton summer dress from Roman Originals is a beautiful shirred paneled dress made of 100 percent cotton that you can pick up for as little as £25.00.  The dress consists of a feminine romantic V-neck front with sleeveless arm openings and is crafted with beautiful embroidery design.  The flowing skirt on the bottom is calf length with both the bodice and the skirt lined with soft cotton.
The back of the dress is finished with a fashionable bow with sundress-style straps and intricate embroidery completing the look.  This exquisite creation is ideal for casual wear, attending a summer wedding, or everyday wear in comfort.  The dress is crafted with a lovely two-tone turquoise that highlights the beautiful embroidered patterns throughout the garment.  It is also available in a selection of other fashionable colors to suit different tastes in style.
2. M&Co Bi-Stretch Shift Dress
If you are looking for the perfect little black dress on a budget, M&Co offers a comfortable bi-stretch shift dress for as little as £29.00.  This is the perfect little black dress for work wear when you throw a cute little jack over it. It will also take you past five o-clock if you decide to meet friends for cocktails after work.
The dress is made of 100% stretchy polyester providing a metro-style look that is chic and upscale.  The plain style back allows you to slip into the dress with a back zip and fastener.  Accessorize with casual or dressy accessories and you are ready for any occasion.
3. KRISP Tie Back Jersey Skater Sundress
If you just need a simple sundress that you can dress up or down, the KRISP Tie Back Skater Sundress provides simple summer style at a fraction of the price.  This free flowing and comfortable jersey sundress can be purchased for around £12.99 but the style says you paid a lot more money for it.
The scoop neck sleeveless style ensures you stay cool on hot summer days. The front design exhibits class with a sewn-in waistband that is complimented with subtle gathered material around the seam.  The dress is the perfect material for layering a cute jacket or light summer sweater over it for cool summer nights.
If you prefer to go without a jacket, the back of the garment lends itself to an interesting shoulder yoke accented with gathered material around the seam and a lovely bow that can be tied according to your preferences.  The garment is made of 95% Viscose and 5% Elastane which gives it its flowing texture and a length that hits just above the knee.  The KRISP Tie Back Jersey Skater Dress is available in a variety of designer colors.
4. Roman Originals Multi Cap Sleeve Belted Maxi Dress
For fashionistas that are looking for wonderful summer prints at a budget price, the Roman Multi Cap Sleeve Belted Maxi Dress is the perfect creation for the summer months or a tropical getaway.  The dress is crafted with a flowing fabric consisting of 97% Viscose and 3% Elastane which makes it comfortable, stylish, and breathable.
The pattern is a wonderful combination of ferns and tropical florals done in bright pink, light, green, white, and orange backed by a classy black background which makes the colors in the tropical print pop.  The short sleeves are offset with a fashionable scoopneck in both the back and front. The Maxi Dress is floor length and also comes with stylish and updated black belt which finishes the look.  A tasteful choice at just £35.00.
5. My Evening Dress Solid Ruffle One Shoulder Sleeveless Cocktail Dress
If you are attending a special event, the Solid Ruffle Sleeveless Cocktail Dress by My Evening Dress is the perfect fashion statement for cruises, wedding receptions, summer black tie events, and other occasions where a casual summer dress just won't do.  This exquisite creation is the perfect choice for both classical and traditional evening parties.
The modern solid one shoulder style is accented with a ruffle which is just the right adornment without being too over the top.  The wonderful satin-like material is soft to the touch and comfortable for wearing and is crafted with a very subtle shimmery design that can be accessorized with a dressy pair of evening pumps and elegant understated jewelry.  The dress falls just above the knee and is available in an endless variety of fashionable colors at a price tag of around £120.73.
6. M&Co Navy Stripe Pattern Swing Dress
If you are trying to find something versatile to wear on a summer cruise, the Navy Stripe Pattern Swing Dress by M&Co is the perfect choice.  The navy stripe nautical-type design is made of a soft jersey fabric and makes a feminine statement with the soft swing shape cut.
The Stripe Pattern Swing Dress is designed for casual wear with subtle slouch pockets that would complement a light summer cardigan.  The fabric is very flowy and breathable, thanks to the soft material made of 49% Polyester, 48% Viscose, and 3% Elastane.  The dress is styled with a plain navy striped back and a modest scoop neck in the front and short sleeves.  This is the perfect choice for a vacation near the water for a budget price of £29.00 and can be accessorized with a nice pair of summer sandals for flip flops.
7. Roman Originals Wrap Front Dress
The Wrap Front Dress by Roman Originals provides you with a classic, elegant, and impeccable look for those summer moments where only a polished look will do.  This classy design is timeless and features cap sleeves with a flattering V-neck finished with an elegant puckered waistline.  The drapey material which is constructed of 95% Polyester and 5%Elastane is what provides the effortless wrap look in the front.
The classy waistline continues around the back that is designed with a plain look.  The hemline falls just at the knees with an A-line skirt that has a drapey type of effect when you move.  At first glance, this dress looks like a pricey fashion that only upper end retailers carry and is available in dark navy and black.  Budget seekers can pick up this classy little number for just £30.00.
8. Banana Moon Lakewood Shally Dress
For that beach resort vacation on an exotic island, the Lakewood Shally Dress is the perfect dual-purpose dress that can serve as a fashionable cover up on the beach or standalone casual beachfront attire for that relaxing lunch on the pier.  The dress is very lightweight and features an elastic waistband and a deep feminine V back.
The front neckline offers a modest scoopneck with an exquisite lace neckline and deep sleeveless arm openings.  The hemline which is just above the knee has subtle lace trim.  The dress is made of a soft woven 100% cotton fabric and is available at a reasonable price of £65.00.
9. Emma Low Strappy Back Maxi Dress
For fashion-forward women that are looking to stay cool in the hot summer weather without sacrificing style, the Low Strappy Back Maxi Dress by Emma will make waves on your next summer outing.  The dress is crafted in easy to wear comfortable jersey fabric with spaghetti straps and scoop neckline in the front.
The back of the Maxi Dress is adorned with additional spaghetti straps that are styled in a classy criss-cross design which compliments the plunging V-style back that comes just below the lower back.  This dress is casual enough to accessorize with funky platform sandals and dressy enough to add a pair of thinly strapped feminine evening sandals.  All for a low price of £8.00.
10. Myla Tropical Print Sweetheart Midi Bodycon Dress
Prefer bold prints for a trip to a tropical paradise?  The Tropical Print Sweetheart Midi Bodycon Dress fits the bill with its bold season brights that take print patterns to a new level.  The dress is styled with a fashionable sweetheart neckline, thick straps, and sleeveless arm openings.
For fashionistas that like to accentuate their waist, the Midi Bodycon Dress features a wide fitted waist panel that emphasizes the Bodycon fit with a pencil style skirt that falls just below the kneecap.  The back of the garment features a keyhole opening and back slit at the hemline which provides additional movement to the stretch polyester fabric.  This piece is perfect when paired with a bold colored set of heels and is ideal for casual wear, holidays, and special occasions for only £15.00.
We found so many wonderful budget dresses for summer 2014 it was hard to choose the best ten.  If you search a little further online, you will find a great selection of dresses as well.
About Micar.
Micar computers is a UK based supplier of the original bespoke ERP software solution for the clothing, footwear and textile industries. Visit our profile page to find out more about who we are and what we do.
All images used on this blog are property of their respective owners. I would take my own, but they wouldn't look this good!