10 of the Most Famous Fashion Events in the World

Introduction
Fashion is a notion that has extended to many facets of our society so much that it has become a part of each and every one of us. The fashion industry is constantly expanding and offering new creations each year.  The most famous fashion shows in the world feature the latest fashion trends and creations by renowned designers.  So, what are some of the most famous fashion events around the globe?
1. Paris Fashion Week
Paris Fashion week is one of the most famous fashion shows in the world and takes place bi-annually during February and September each year.  Many fashion designers and notables from around the globe gather in one of the primary fashion capitals to celebrate fashion.  The bi-annual exhibitions showcase the four seasons of fashion with collections displays of Spring to Summer designs and Fall to Winter trends at each fashion show respectively.
Many of the notables in the fashion industry, as well as the well-known connoisseurs of fashion attend the event to view the designs. Some of the famous designers who place their latest creations on display include Dior, Paul Smith, Louis Vuitton, Nina Ricci, Lanvin, Julien David, Barbara Bui, Jean Paul Gaultier, Vivienne Westwood, Givenchy, Alexander McQueen, Chanel, Valentino, Miu Miu, and many more.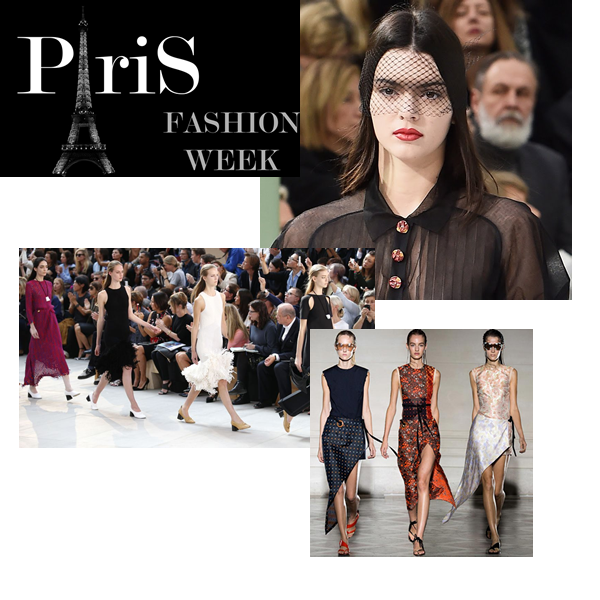 2. Berlin Fashion Week
Berlin Fashion Week is a relatively new event which takes place at Brandbenburg Gate each year during the months of January and July.  The event was initiated in 2007 with the purpose of showcasing up and coming designer's creations.  Berlin Fashion Week is a collaborative effort of the Berlin Senate and the Berlin Partner GmbH, the central contact agency for overseeing new operations and foreign trade to promote Berlin as a business hub.  The event is sponsored by Mercedes-Benz which also sponsors a series of other fashion industry events.
Since the establishment of the Berlin Fashion Week event almost a decade ago, the event has gained international status for many new and upcoming designers.  The designers are bringing their fashions to the Berlin capital in an effort to get started on their way in the highly competitive fashion industry.  Attendees can view fashions from designers such as Dorothee Schumacher, Ewa Herzog, Fyodor Golan, Emre Ernemoglu, and more.
3. Berlin Premium – International Fashion Trade Show
The Berlin Premium International Fashion Trade Show has been in existence for 12 years and has rapidly grown into one of the largest fashion tradeshows in Northern Europe.  The event showcases more than 1500 different design collections with more than 62,000 attendees.
The Premium International Fashion Trade Show is a bi-annual event that takes place in January and September at the exhibition halls in the STATION-Berlin.  The exhibition halls provide more than 20,000 square meters of showcasing space.  The event is considered to be one of the few trade shows across the globe that brings high quality premium brands of designs together at one event.
Attendees can view the latest trends in men's and women's designs, sportswear, shoes, jewellery and accessories.  Notable designers such as Ahoc, Alex Monrow, Bella Dahl, Bizuu, Coqueterra, Deyk, Ganesh, Herrlicher, Johnstons of Elgin, Marvib, and more, attend the event to display their newest creations.
During the Premium International Fashion Trade Show, you can also attend the Bread & Butter tradeshow which showcases the latest streetwear designs.  This event is held at the Tempelhof airport in Berlin.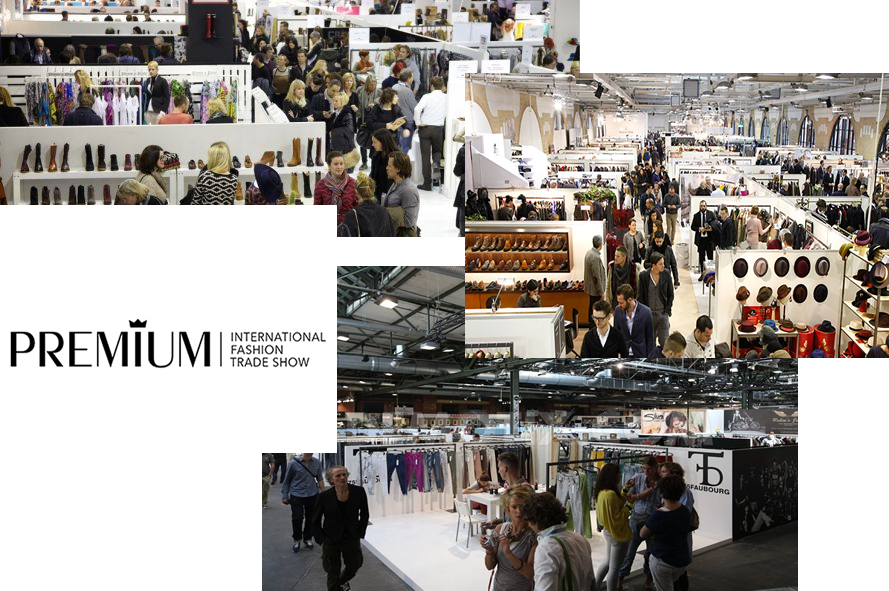 4. New York Fashion Week
New York Fashion Week is a biannual event which occurs in February and September of each in New York, one of the primary fashion capitals around the globe.  The New York Fashion Week event is considered to be among the four major fashion weeks in the world next to London, Milan, and Paris.
The event is attended by some of the biggest fashion names in the industry including Ralph Lauren, Calvin Klein, Marc Jacobs, Michael Kors, Dianne von Furstenberg, Tommy Hilfiger, Herve Leger, Brooks Brothers, Alexander Wang, and many more. It was established in the early 1940s and was the first fashion event across the world.  The purpose of the event is showcase American fashions which ordinarily play a secondary role to French designs.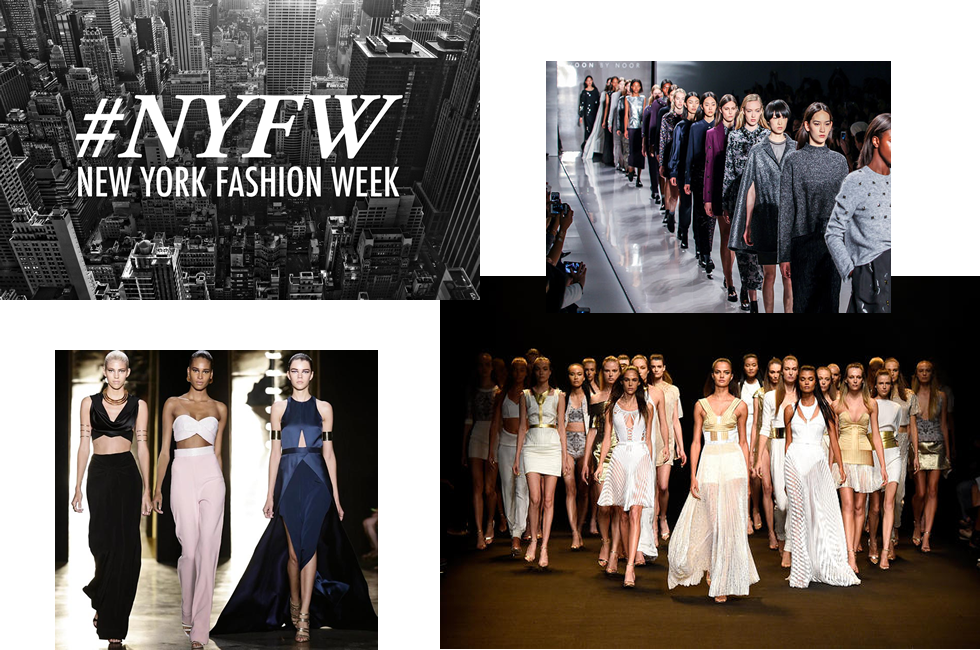 5. Pitti Immagine Uomo
Pitti Immagine Uomo is a bi-annual event held in January and September of each year in Florence Italy.  The event features the latest fashion trends for Spring and Summer as well as Fall and Winter respectively, showcasing Italian brands and other brands from around the world.  In addition to established brands, you can also view an exhibition of up and coming brands as well.  The designers are from Florence in addition to more than 35 different countries.
Pitti Immagine Uomo highlights both menswear and womenswear with more than one thousand brands of menswear and more than 80 different design collections for women.  Each year the event attracts more than 35,000 attendees.  Highlighted designers include Humberto Leon of Kenzo, Maison Kitsuné from Paris, Carol Lim, and many more.  Pitti Immagine is held at the Stazione Leopolda which is the first railroad station established in Florence and showcases many different exhibitions associated with culture, art, and contemporary living.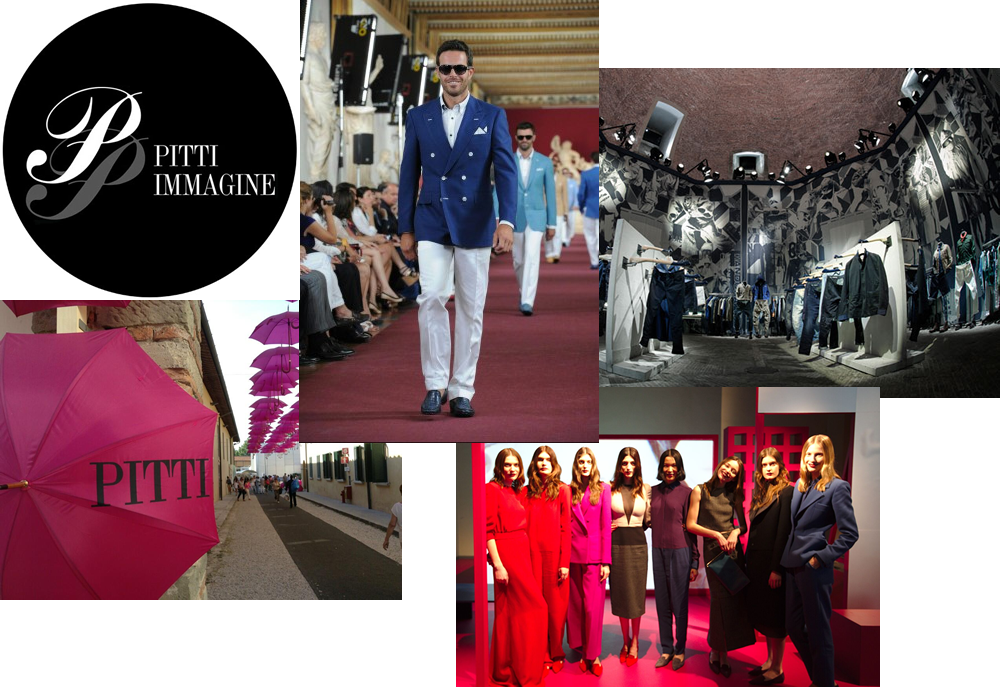 6. British Fashion Council/Vogue Designer Fashion Fund
The British Fashion Council (BFC) is a non-profit organisation in London that organises fashion events which showcase the top British designs by up and coming fashion designers.  The purpose of the events are to collaborate and share knowledge and resources that help to increase the interest in the fashion industry of Britain.  The events are typically held during January in London.
The designs which are showcased at the events are presented to an international audience comprised of both buyers and press professionals that publicise the designs.  The best designs receive assistance from the BFC in an effort to launch and grow a new fashion business.
Recently, the BFC partnered with Vogue to establish a mentoring program for one up and coming UK designer that shows promise in the fashion industry.  The recipient also receives a £200,000 grant toward the growth of their business.  Fashion designers such as Erdem Moralioglu, Mary Katrantzou, Christopher Kane, and shoe designer Nicholas Kirkwood have been recipients of this honor.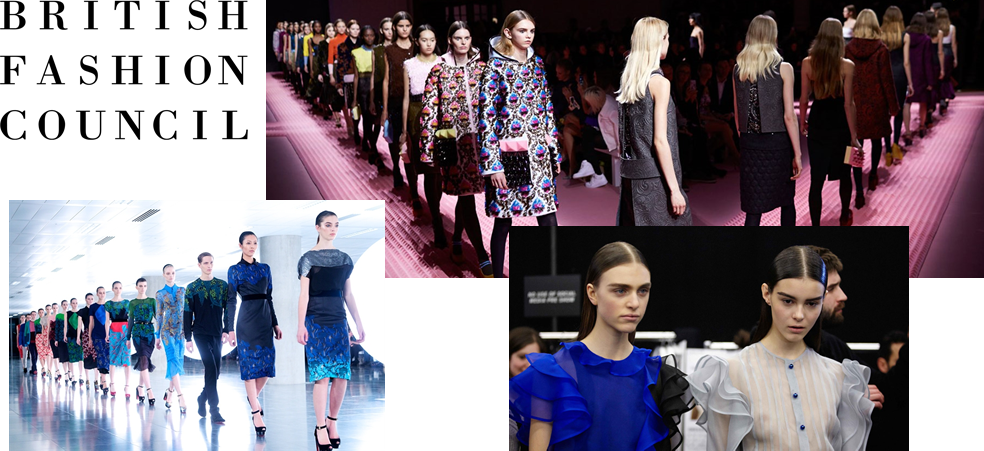 7. London Fashion Week
London Fashion Week is one of the primary four fashion week events around the globe which takes place bi-annually during February and September.  The event showcases the latest trends and designs in womenswear and is attended by top designers and fashion houses in the industry who flock to the event to exhibit their latest creations.  It was launched in the early 1980s and is organised by the British Fashion Council discussed earlier.
Some of the designer fashions on exhibit include Antonio Berardi, Alexander White, Burberry, Beth Gilmour, Christopher Kane, Claire Barrow, David Koma, Eudon Choi, Erdem, Finlay & Co., Giles, Holly Fulton, Jasper Conran, Kevin Geddes, Lucilla Gray, Margaret Howell, Noel Stewart, Osman, Simone Rocha, Vivienne Westwood, and many more.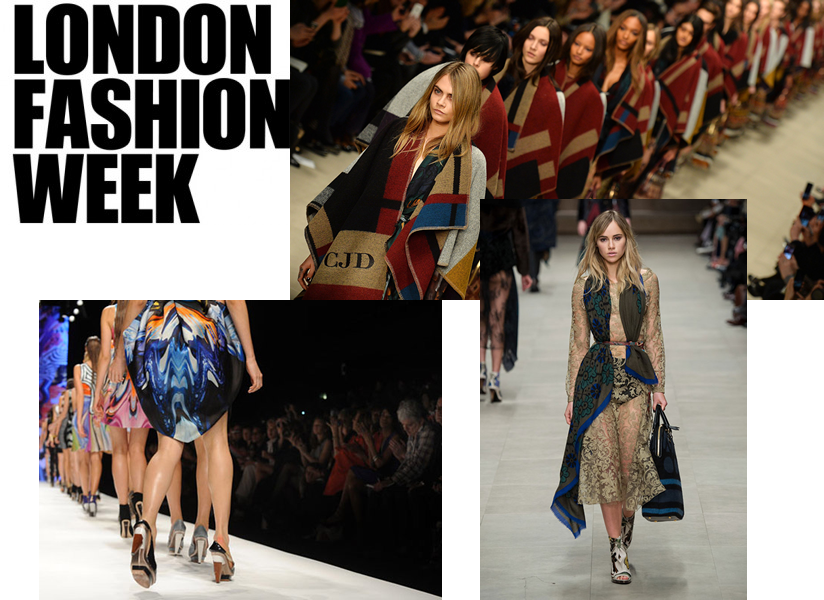 8. Australian Fashion Week
Australian Fashion Week is a major industry event which is held annually during the month of May in Brisbane Australia.  The event lasts one week and showcases the creations of major designers and fashion houses from Australia and the Asia Pacific and displays the latest trends in fashion for all four seasons of the year.
Australian Fashion Week was established in 1995 for the purpose of bringing together designers and buyers.  Some of the notable designers at the event include J'Aton Couture, Toni Maticevski, Lisa Ho, Ericaamerica, Leona Edmiston, Alex Perry, Galanni, Hello Elle Australia, Swarovski, Zimmermann, and many more.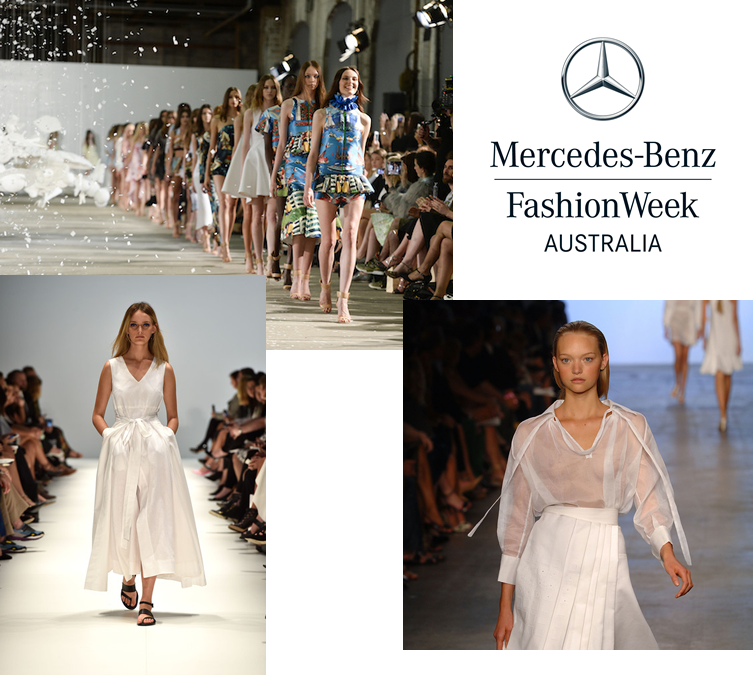 9. Milan Men's and Women's Fashion Week
Milan Fashion Week is a major industry event that takes place in Milan, Italy which is one of the four major fashion capitals around the globe.  The event takes place bi-annually during February and March and September to October.  Each event showcases the latest trends in Spring/Summer fashion and Fall/Winter fashions respectively.
Each year, Milan Fashion Week dedicates one week to fashions for men and one week for women's fashions with a large exhibition of runway shows and other events.  The event was initiated in the late 1950s with the intention of showcasing notable designers in Italian fashion. Visitors can view spectacular fashions by the biggest names in Italian creations such as Armani, Versace, Prada, Zeng Feifei, D.GNAK by KANG.D, Ji Wenbo, Christian Pellizzani, Ermanno Scervino, and many others.
10. Dubai Shopping Festival
Dubai Shopping Festival is an annual fashion event held in Dubai, United Arab Emirates from January to February each year.  The event was established in 1996 and has rapidly grown into a primary fashion event for buyers that seek luxurious fashions.  Visitors can attend fashion exhibitions, competitions, and shopping venues at the largest event in the Middle East.
Over the 30 day period, visitors have access to the best fashion brands from around the world with special deals and promotions, in addition to attending a variety of arts and cultural events.  The events take place in the Mall of the Emirates and include The International Festival of Fashion Photography from Cannes which is an extraordinary showcase of the latest beauty and fashion photography in large format by notable fashion photographers.
You can also experience events such as The Diamond Fashion Show by Dhamani which features notable jewellery designers who showcase their exquisite designs against a sparkling Burj Khalifa backdrop.  The Dubai Shopping Festival website is a great place to discover more interesting fashion events during this annual extravaganza.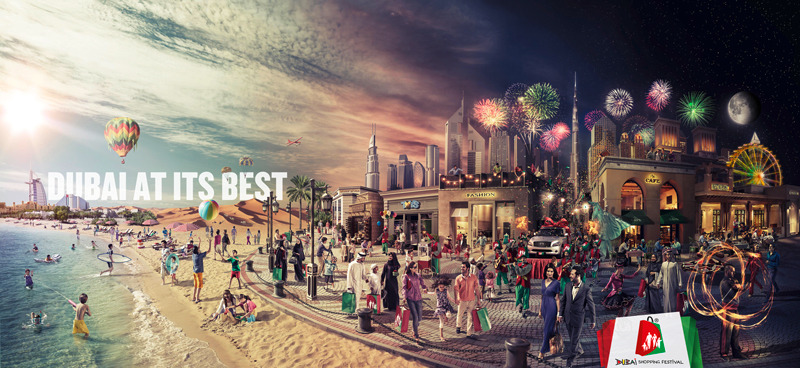 About the Author
Micar Computers provides retail, production and distribution with a comprehensive range of software solutions to manage finance, inventory and point of sale, working closely with Apparel, textile and footwear industries. Click here to find out more about our products and services.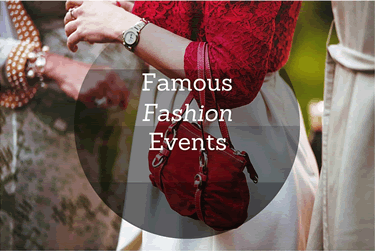 10 Most Influential People in Fashion

Introduction.
People in the fashion industry are constantly bringing new and interesting creations to the runway which is why fashion trends never get old.  Great fashion comes from within and the talents of some of the most influential people in the business.
From designers to models, photographers, and other people in the fashion industry, there is no shortage of iconic superstars when it comes to the most influential people who have affected the manner in which we dress.  The fashion industry is known for its long history of trend-setters, ground-breakers, and visionaries that have created and popularised fashion.  Here are ten of the most influential people in fashion today.
1. Coco Chanel
Coco Chanel is a fashion designer with creations that have truly stood the test of time.  Her designs have always been popular and still remain a staple in the fashion world decades after her death.
Coco Chanel is a true pioneer in fashion and forged ahead with designs that no one else was producing at the time.  Chanel designs still reign in the fashion industry as one of the finest for nearly three quarters of a century.  Her designs are very stylish with many creations artfully crafted as a mix of male and female design inspirations.  Many of the Chanel creations are very luxurious without being too gaudy or overstated.
Coco Chanel first introduced her famous cologne called Chanel No. 5 during the 1920s.  It was the first cologne ever to bear the name of a renowned designer.  During this same decade, the Chanel suit was first introduced which was designed with a fitted skirt and a jacket without a collar. The design included inspirations borrowed from menswear.  Additionally, her fashion helped women to move away from the constraints of tight fitting underclothing, corsets, and other uncomfortable garments.
Coco Chanel was also responsible for bringing the little black dress to the forefront of fashion. This showed the fashion world that the colour black can be used for elegant evening-wear, instead of solely being used by those in mourning.
Approximately ten years following the death of Coco Chanel in 1971, fashion designer Karl Lagerfeld took over the company to keep her legacy alive.  Currently, Chanel fashions continue to be popular and generate millions of dollars in sales year after year.
2. Giorgio Armani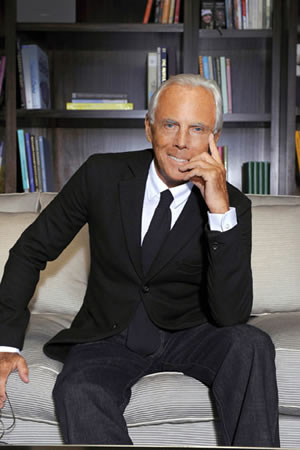 Giorgio Armani began his career as a window designer before working his way up to menswear designs.  His career in the fashion industry spans more than 35 years and he has been named one of the top fashion designers in the world for 2014-2015.
Following his foray into designer menswear, Armani built a fashion empire of luxurious designs which include Emporio Armani and Giorgio Armani Privé lines of clothing.  His empire also includes shoes, accessories, home décor, and cosmetics as well.  His designs are known for unique fabrics which are used in unusual frameworks.
During the 1980s Giorgio Armani redefined the business suit for both women and men and set a new standard for business apparel near the end of the 20th century.  Power suits and other business apparel were made with lightweight fabrics designed with flexibility for all day comfort.  In addition to comfort, the contemporary apparel was also designed with exquisite tailoring which provided business professionals with the best of both worlds.
The Armani designer brand is one of the few top companies that continue to remain independent in terms of international investment channels.  Currently, there are more than five hundred distribution stores around the globe.
3. Ralph Lauren
Ralph Lauren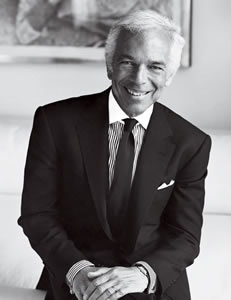 launched his fashion empire from a job he held with a tie manufacturer.  It was here he launched Polo Fashions in the late 1960s by designing wide ties which were a popular style at the time.
By the beginning of the 1970s, his line of menswear won the City Award.  A couple of years later, he unveiled the classic Polo shirt with short sleeves and a collar. Not long after, Ralph Lauren designed the first women's suit with the Polo logo which was designed with hints of menswear fashion in mind.  This became the new power suit and rivalled the Armani business suit, also designed with a combination of women's and men's fashion in mind.
The Polo line became a fashion statement in itself and is still popular in the fashion world today. Additionally, the short sleeve Polo shirt is still considered a staple in every man's wardrobe across the globe. Both lines of apparel for men and women is very creative and unique. This is why his designs stand out in the fashion industry and make a statement about gender equality.
4. Karl Lagerfeld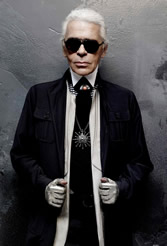 Karl Lagerfeld was born in Germany and left for Paris during his early twenties to go to school.  It was in Paris that he won an award for a coat design in a contest sponsored by International Wool Secretariat.  This placed him on the map when he was offered a job at the Balmain fashion house.
In addition to owning his own brand of designer clothing, Karl Lagerfeld became artistic director for Chanel in the early 1980s.  Currently he is also associated with other major designer brand names such as Jean Patou, Chloe, Macy's, Fendi, and H&M. His designs are well known for bold colours with consistent innovation and reinvention.  The Lagerfeld label was recently sold to Tommy Hilfiger.
Karl Lagerfeld currently designs clothing for Macy's department store and has gotten involved with professional film and photography.  In recent years, he has also become known for his glassware designs which are offered by Orrefors, a Swedish company that manufactures exquisite crystal glassware.
5. Valentino Garavani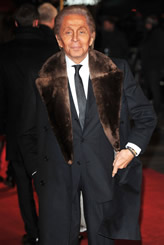 Valentino Garavani is known for designing Jacqueline Kennedy's wedding address, in addition to winning the Neiman Marcus award for many of his designs.  Valentino designs are known for their luxurious fabrics as well as chic business style.  He typically designs most of his creations to meet specific tastes of notable people and fans of the Valentino label.  The Valentino website is designed with virtual 3D to allow his clients to view 360 degrees of the creation they are looking to purchase.
Valentino still remains at the top of the fashion world despite stepping down in 2007.  His masterpieces which create a natural sense of beauty are timeless creations that still remain in demand by fashionistas with discerning tastes.  Jacqueline Kennedy developed an interest in Valentino designs after noticing some of her friends in Valentino creations.  As a result, Valentino became her "go to" designer for suits and dresses, as well as her wedding dresses for her marriage to John F. Kennedy and later, Aristotle Onassis in 1968.
6. Marc Jacobs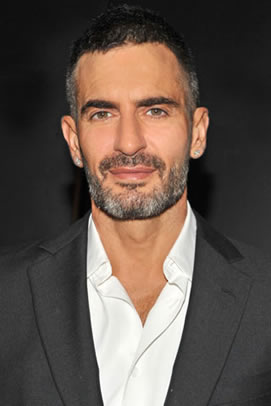 Marc Jacobs grew up in New York and was raised by his grandmother who taught him how to knit.  The skills he learned from his grandmother marked the beginning of his success designing oversized sweaters.  Following his graduation from the Parsons design school, he went to work designing street wear made of opulent fabrics for Perry Ellis. A few years later he was named Creative Director for Louis Vuitton.
Marc Jacobs also owns two designer label brands known as Marc Jacobs and Marc by Marc Jacobs, in addition to designing other fashions including shoes, jewellery, sunglasses, and other accessories. His designs are available in over 50 countries around the world with close to three hundred retail stores throughout the countries.
As a result of his work with Louis Vuitton and the creation of his own labels, Marc Jacobs has become known as the most sought after designer for contemporary fashion.  The designs borrow from the past with new and innovative styling and a touch of mix and match vintage looks.
7. Tom Ford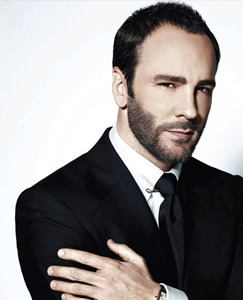 Tom Ford considers his start in the fashion industry as the point when he purchased his first pair of Gucci shoes at the age of 12.  He went on to work with Marc Jacobs at Perry Ellis before going to work for Gucci to try and bring back the slowly diminishing designer brand that was nearly bankrupt in the early 1990s.
His designs while working as Creative Director for Gucci put new life in a brand that was lacking in creativity.  Many of his designs included chic satin shirts and other fashions made of metallic fabric.  This brought Gucci back to the forefront in fashion with an estimated company worth of more than $4 billion by the end of the 1990s.
The most well-known labels that carry Tom Ford's designs include Yves Saint Laurent, Perry Ellis, and Cathy Hardwick, in addition to his own brand label known as Tom Ford.  He has also been awarded by the American Best Fashion Designers in the World for his menswear designs.  Recently, he has been making movies which have also been the recipient of many awards as well.
8. Jérôme LaMaar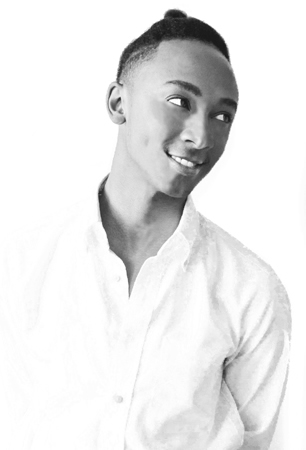 Jérôme LaMaar was born in New York City and got his start in the fashion industry working as an intern for Baby Phat fashions at the age of 15. Three years later he was named Senior Designer and Creative Brand Coordinator for Baby Phat by Kimora Lee Simons.
While working for Baby Phat, Jérôme became interested in designing jewellery as a pastime.  Two years later, he was commissioned to work with Adventures of Mimi designing the costumes for Mariah Carey's world tour.  His designs include a combination of class and inane with a 2015 collection that emanates a disco vibe.
Following his position at Phat, Jérôme went on to work for Chado Ralph Rucci, a fashion design company.  At this time he was also appointed by Promostyl Paris as a fashion trend forecaster.  A few years later, he became a consultant for the Armani brand label before travelling to Japan to hone his skills as a silversmith for jewellery fashions.
As a result of his experience as a consultant, forecaster, and designer, Jérôme is currently highly sought after by some of the biggest names in the fashion industry.  The brand labels include Givaudan, Calvin Klein, Victoria's Secret, Tommy Hilfiger, GAP, Swarovski, Adidas, Moussy Japan, and many more.
9. Kim Haller
Kim Haller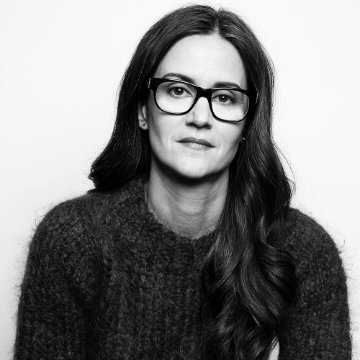 started out designing knitwear for major brand labels such as Jason Wu and Calvin Klein before introducing her own line of fashion knitwear creations.  Her forte is working with yarn creating sculpted creations including one-piece garments, dresses, sweaters, skirts, and more.
The popularity of her designs prompted a need for more knitwear designers in the fashion industry.  As a result, she became a consultant for knitwear providing support for other designers aspiring to expand their own knitwear lines.  She has also worked as a design consultant for the Michael Kors Collection.
In addition to her consultancy for aspiring fashion designers in knitwear, Kim Haller has also designed popular knitwear for major brand labels in the fashion industry.  Some of the labels include DKNY, Anne Klein, TSE Cashmere, Derek Lam, Adrienne Vittadini, Maiyet, and many more.  She is one of the most sought after knitwear designers in the fashion industry as the result of her innovative creations and the ability to manage technical challenges associated with designing fine knitwear.
10. Miuccia Prada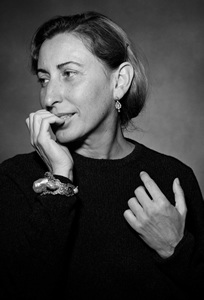 Miuccia Prada began her career in the fashion industry after managing a leather goods company owned by her grandfather in Milan. While managing the company, she was able to convert it into a thriving enterprise that took charge of many different brand labels.  Miuccia Prada owns an endless variety of brand labels which started when she managed brands such as Jil Sander, Fendi, and Helmut Lang.
During the mid-1980s, the Prada brand began to rise to the top of the fashion world with the introduction of simple black nylon handbags and other similar products that were adorned with understated labelling.  This made the Prada brand stand out in an era where many other fashion brands were inundated with logos.
At the end of the 1980s, Prada introduced a new line called Uniforms for the Slightly Disenfranchised.  This line of clothing was categorised as a ready to wear style for women and marked the beginning of Prada's journey into new designs, regardless of what was currently considered fashion industry trend at any given time.  This is why she is considered to be one of the most influential female fashion designers to date.  Instead of designing her creation with an eye on trends, she disregards fashion industry trends to create designs that are feminine but still powerful and intelligent. Miuccia Prada holds a Ph.D in political science with no formal training in fashion design.
About the Author
Micar computers is a UK-based supplier of the original bespoke ERP software solution for the apparel industry. Are you in the clothing, textile or footwear sector? Check out our products page to find out how our tailor made ERP software could improve your business.
All images used on this blog are property of their respective owners.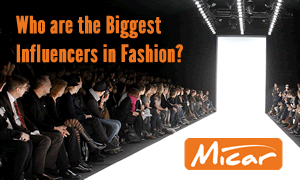 The UK's Top Ten Affordable Online Fashion Retailers

Introduction
For fashion conscious people who have grown tired of purchasing fashion magazines off the rack, there are a series of creative online fashion sites that are known for bringing fresh new views on styles and trends in the fashion industry.
Although the major fashion magazines still have a lot to offer in terms of current trends in the fashion industry, the Internet has provided these publications with a new type of competition.  The online fashion retailers that create new competition are those that cater to people with all types of tastes and body shapes.  Many people are not a size 0 plus, the thought of paying in excess of £600 for a pair of designer jeans is enough to make most fashion conscious people cringe.
The good news is you do not have to pay top dollar to get high quality fashion items that fit, are trendy, and provide you with the season's hottest looks.  Many of the online fashion retailers are affordable and provide you with trendy fashionable finds that will not only spice up your wardrobe but look like you paid top dollar for the items in a high end boutique.  Here are the top ten online fashion retailers in the UK to help you get started on your way to high fashion at an affordable price.
1. OMG Fashion
OMG Fashion is an online retailer that specialises in affordable clothing and accessories that are celebrity inspired.  The OMG Fashion website provides you with the latest selection of celebrity women's fashions that have become popular across the globe with an extensive variety of knitwear, dresses, accessories, shoes, and more.  The items are quality made without the expensive price tag and are carefully selected by OMG Fashion based in Manchester UK.
OMG Fashion started as a small high end boutique and has expanded to a large warehouse of selections that are inspired by the latest runway fashions.  The items offered by OMG Fashion are geared toward 18 to 35 year olds that are seeking trendy clothes at an affordable cost.
2. She Likes
She Likes was established in 2011 and is a fashion forward online style destination that offers a wide selection of trendy styles for women around the world.  The selections in the inventory provide you with the latest fashions and are constantly updated to ensure you are always in style.
The fashions offered on She Likes range from trendy street styles to the latest fashions that are hot off the runway.  This includes jeans that provide the perfect fit, the latest shoe and boot fashions, party dresses for every occasion, celebrity inspired accessories, and other items that make you look like you stepped off the cover of the latest fashion magazine.  The styles are unique and fit a wide genre of tastes in fashion without breaking the bank.

3. H&M
H&M is a highly popular UK fashion retailer that caters to men, women, teenagers, and young children. The H&M website is packed with the latest fashions that are geared toward every market with an unbeatable value for the price.
In addition to affordable prices, H&M focuses on product quality with a selection of fashions for people of all ages that are sure to exceed your expectations.  The company ensures affordable prices while providing competitive in-house designs with a large purchasing inventory and no middlemen.
The end result is highly trendy and unique fashions that originate from independent suppliers. This maintains the quality and integrity of the fabrics which is often compromised in mass production. There is also a section on H&M Life that provides you with a world of fashion inspirations and the latest seasonal styles.

4. Amazon UK
If you are having trouble finding a specific brand at an affordable price, Amazon UK has an endless selection of fashions, styles, accessories, and shoes for men, women, teens, and children.  You can choose from a wide variety of dresses, tops, trousers, jeans, shoes, boots, and much more, that are offered at discount prices.
All fashion items offered on Amazon are authentic brand names so you never have to worry about cheap knockoffs.  The fashions and styles are in step with the latest trends in the fashion industry with a wide range of sizes to accommodate all body types.

5. ASOS
ASOS is a popular UK online fashion retailer that offers more than 60 thousand different brands.  The fashion items range from tops, shirts, dresses, and jeans to shoes, accessories, lingerie, and beauty products.  The brand name labels are distributed across a complete line of menswear and womenswear and include the latest industry trends in the fashion world and runway creations.
ASOS also provides you with a wide genre of brand names and fashions through Facebook, Google, Twitter, Pinterest, Tumblr, and Instagram which allows you to access fashion advice that is tailored to your tastes along with suggestions for pairing individual items to complete your look.  The ASOS community provides tools for creating outfits and sharing styles which offer fashion inspirations for you and other members of the community.

6. Boohoo
Boohoo is a relatively new online fashion retailer in the UK that has quickly grown in popularity.  The company is based in Manchester and provides inspiration for both women's and men's fashion trends.
Boohoo provides cutting edge fashion industry designs which provide you with the latest styles and looks for a lot less money than you would pay in an upscale boutique.  Regardless if you are looking to stay one step ahead of the latest trends or you are looking for simple and effortless style, Boohoo offers a wide selection of fashions that suit the tastes of the most discerning men and women.  Boohoo also makes an effort to roll out the latest fashions by adding up to one hundred new styles on a daily basis plus, an entire new collection each week.

7. USC
If you are looking for the latest brand names such as Diesel, G Star, Vero Moda, Firetrap and other brands that are hard to find, USC provides a wide selection of well-known brands in clothing, accessories, and footwear for men women, and kids.  The UK-based company offers an extensive collection of both independent and mainstream brands and one of the largest denim collections in the UK.
USC also provides a wide selection of elite shoes and fashions in its offline stores located across the UK.  USC stores are located in Manchester, Newcastle, Glasgow, Liverpool, and Edinburgh with a website that stocks more than 14,000 exclusive products which are not available in the offline stores.

8. Missguided
Missguided is an online fashion retailer in the UK that focuses on celebrity inspired fashions and catwalk looks that ensure you stay on top of the latest trends in the industry. Missguided is a fairly new company that has quickly grown in popularity to compete with some of the most well-known fashion retailers on the Internet.
When you shop with Missguided you are provided with the latest fashion trends as soon as they hit the runway.  This guarantees you are always in vogue without having to break the bank.  Their website provides a simple shopping experience that helps you to find what you are looking for and when you want it.  You can also take advantage of the special section of fashion tips and the Missguided blog if you are ever in need of outfit inspiration.

9. Zalando
Zalando is an online fashion retailer that used to be all about shoes.  Since then the UK retailer has branched out into brand name clothes, sports apparel, and accessories with an extensive selection for men women and kids.
The Zalando website is packed with fashion inspirations including an extensive pull down menu under each category.  If you are looking for something specific, the intuitive search function helps you to save time and find exactly what you are looking for.  The online shop features well-known brands such as Vero Moda, Timberland, Guess, Apepazza, Latitude Femme, and many others.  The selection includes trendy brands and fashions in addition to styles from local UK designers.

10. Lipsy
Lipsy is an online fashion retailer based in London with its own design team located right on the premises.  The UK retailer is known for producing the hottest looks from the runway and trendy street styles for women.
Regardless of if you are looking for the latest style trends for a girl's night out, a special date or occasion, or a casual dinner at your favorite restaurant, the fashions you find on Lipsy will help you spice up the occasion without hurting your wallet.  You will also find a wide variety of fashions for any special occasion and any body size, regardless if you want your own celebrity style and glamour or you want your own moment on the red carpet.
In the event of being at a loss of what to wear, you can always visit the Inspirations section on the Lipsy website. Or, you can socialise with the Lipsy community to receive or share style inspirations with other fashion conscious people in the Lipsy social community.

Conclusion
As you research affordable online fashion retailers in the UK, you will find an endless variety of sites that will inspire your unique taste in style.  Meanwhile, we hope the online fashion retailers we have mentioned here will provide you with a solid place to start discovering the most unique and fashionable you.
 About the Author
Micar computers is a UK based supplier of the original bespoke ERP software solution for the apparel industry. If you are in the clothing, textile or footwear sector, check out our website to find out how our tailor made ERP software could improve your business.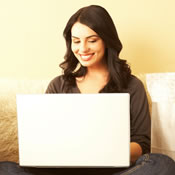 Ten of the Best Blogs for Fashion Conscious People

Introduction
Fashion conscious people are always on the lookout for the latest trends and unique styles.  Fashion blogs are frequently used by fashionistas and other fashion forward people looking for new sources of style for their RSS feed and social media streams.
If you are a fashion conscious person with a discerning eye that is constantly looking for amazing styles and trendy inspirations, staying up to date with the latest style tips is most likely a high priority.  But, with so many resources available online where do you begin to locate the top influential sites? The best way to get started on your journey to high fashion is with the best blogs for fashion conscious people.
1. Refinery 29
Refinery 29 is a fashion and style blog that was launched in 2005 and is based in the United States. The mission of Refinery 29 is to deliver style inspiration and creative lifestyle trends to more than 20 million fashion conscious people and readers.  The Refinery 29 blog covers everything from beauty tips and emerging fashion trends to health and wellness information from major celebrities. It is geared toward both men and women that want to stay up to date on styling tips, designers, current fashion trends, living and wellness, and entertainment.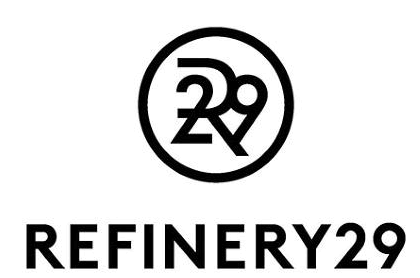 2. New York Magazine's The Cut Fashion Blog
The Cut is a blog produced by the famed New York Magazine which is known for covering New York City lifestyle and fashion as well as culture, news, and entertainment that define New York lifestyle.  The Cut is a high end fashion blog that is geared to modern fashionistas interested in exploring and keeping up with the latest street styles, runway fashions, and designers.  There is also a wealth of information on rising photographers, fashion commentaries, celebrity fashions, and much more.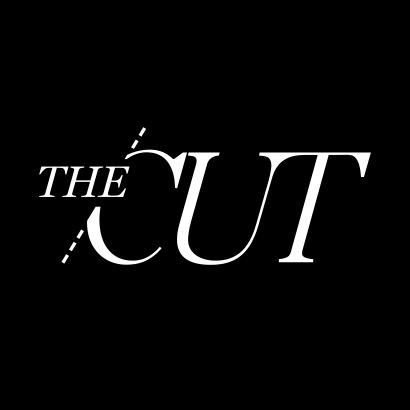 3. Style Bubble
Style Bubble is a UK-based fashion blog launched in 2006 by Susie Bubble, a fashion writer and editor located in London.  Style Bubble consists of observations and experiences with fashion and focuses on identifying unknown talent in the fashion industry.  Susie Bubble is also known as Susanna Lau and has written for Elle Magazine, Dazed Digital, and The Daily Rubbish.  Her blog contains fashion news and information across a variety of categories including accessorising, beauty tips, the latest designer labels, news on runway fashion, and much more.
4. The Sartorialist
The Sartorialist is a fashion blog that provides comprehensive information on the fashion world and how it relates to daily life.  The Sartorialist was launched by Scott Schuman as the result of his firsthand experience in the fashion industry participating in ad campaigns for The Gap and social media ad campaigns for DKNY Jeans, Nespresso, Gant, Crate and Barrel, and OVS.
The information he has published in the Sartorialist blog has been featured in Vogue Italia, GQ, and Vogue Paris and covers men's and women's fashion trends, news on current fashion shows, books on the fashion industry, style profiles, and vintage fashion photos.  The blog is mainly about street fashions but offers an abundance of other information associated with fashion trends and news.

5. Couture in the City
Couture in the City is a fashion blog that provides up to the minute information on fashion designers, celebrity style, the latest beauty tips, style trends, how to information, and what to wear.  Couture in the City provides a platform where readers can share their opinions on who inspires their style and why, favorite accessories, places to shop online, favorite celebrity designers, shoe preferences, and more.
Readers of Couture in the City can also participate in contests that allow you to win fashion items and shopping sprees.  You can also find interviews with major figures in the fashion world and beauty professionals, as well as get the latest buzz on celebrity news, fashion, and style.  Couture in the City offers more than 40 different categories that cover various topics in the fashion world.
6. AdR
AdR is an Italian fashion blog established by Anna Dello Russo, an editor and creative consultant for Vogue Japan and Conde Nast Italia.  The AdR blog covers top fashion events such as the Vogue Festival, Gold Collection of Cannes, AdR H & M Accessories Campaign, and more.  Readers can view high fashion photos in the AdR blog as well as on Tumblr, Instagram, and Pinterest.
Anna Dello Russo also offers advice on fashion and beauty in addition to information on topics such as rules on packing for vacation, accessory tips, and rules for organizing your closet, fashion week rules, holiday party dressing, and more.  Under the Press category, you can read about the latest fashion industry news with a wealth of news on Italian fashion icons and the latest styles and trends in Italy.

7. College Fashion
If you are a fashion conscious college student, the College Fashion blog is a site that contains information that is written by college students to be shared with fellow college students.  The blog contains a variety of content on topics such as the latest fashion trends for college students, fashion and beauty tips, street style trends, and décor ideas.  You will also find a broad range of information on style advice, shopping tips, and all things fabulous.
Readers of College Fashion can choose from a wide variety of columns created by the most fashion conscious college students from around the globe.  College Fashion also allows readers to share information on social media sites, view the latest fashion looks on campus, and share advice on what to wear for specific events, weather, and occasions.

8. Seventeen Fashion
Seventeen Fashion is a blog created by Seventeen Magazine which is a publication that covers a comprehensive range of fashion topics including fashion tips and advice, nail color and designs, skin care, hairstyles, accessorizing, prom fashions, relationship advice, and tips on graduation and college.

Seventeen Fashion expands on the topics discussed in Seventeen Magazine and provides teen fashion and beauty advice from well-known celebrities, fashion world news, emerging fashion and beauty trends, manicure tips, and more.  Additionally, you can find articles on related topics including celebrity fashion images, TV and movie reviews, new beauty product announcements, and tips on staying fit.
9. T Magazine Blog
The T Magazine Blog is produced by the New York Times and provides a wealth of information on women's and men's fashion, fashion design, travel, food, and culture.  Although T Magazine is created by the New York Times, you can find information on the fashion industry from around the globe including the newest styles, accessories, and shoes from global fashion designers, trendy places to shop, fashion events, top fashion wear collections, seasonal runway styles, and more.
If you like to mix fashion with design and travel, you will find up-scale information on boutique décor, travel stories to exotic destinations that have unique design landscapes, entrepreneurial advice and articles, and gift ideas.  These categories are complemented with fashion and design trends in the film industry, sculptures, galleries, and more.  When you are finished reading, you can explore the food category which takes you on a tour of cuisine from exotic travel destinations.
10. Trendation
Trendation is an online blog that offers fashion advice and inspiration from a community of fashion conscious people.  In addition to offering fashion advice, Trendation connects you with the styles you love through the Trendation market and shop.  If you are unsure how to combine different garments, the Dressing Room shows you looks that other community members have created with a specific garment.
Trendation provides regular updates from bloggers that publish information on the latest fashion trends.  Most of the bloggers have their own fashion blog which acts as a source of inspiration for fashion conscious people.  The Hey Style Creator allows you to create and share your own fashion trends and promote your own fashion blog.  If you are in need of new style ideas, you can access the Hey, Inspiration Finder  which connects you with a global online fashion community that can inspire you to try new looks.

Conclusion
These are ten of the best blogs for fashion conscious people.  We encourage you to explore other blogs online as you will find many exciting places to stay up to date on fashion trends and gain inspiration from people that share similar interests in fashion.  You will also find places to express your own style and inspire others as well.
About the author
Micar computers is a UK based supplier of the original bespoke ERP software solution for the clothing, footwear and textile industries. Click here to find out more about our products and services.
All images used on this blog are property of their respective owners. I would take my own, but they wouldn't look this good!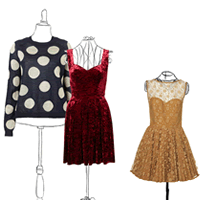 Ten of the Best Fashion Accounts to follow on Pinterest
The upcoming change in seasons has sent many fashionistas flocking to Pinterest to find the latest trends in fashion and accessories. But what are some of the best fashion accounts to follow?
If you haven't considered Pinterest as a source for keeping up with the latest news and trends in the world of fashion, now is the time to hop on board to discover the upscale designs that are coming up for the autumn season. There are many different fashion boards on Pinterest which make it difficult to determine which ones are the best when it comes to finding new dresses, shoes, jewelry and other items.
To help you get started, in this article we will cover ten of the best fashion accounts to follow on Pinterest that will ensure you enter the autumn season with fashion forward styles.
1. Birchbox

The latest trends in style require a selection of beauty and grooming products that are essential to completing the look. Birchbox provides a way for fashion conscious women to discover new makeup and beauty products without having to make a significant upfront investment. Birchbox provides you with a selection of products that you can sample on a monthly subscription. You can receive your first Birchbox of upscale samples for as little as £10.00 per month. If you like some or all of the samples, you can visit the Birchbox store to purchase a full-sized version of the product.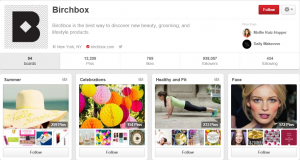 2. StyleCaster

StyleCaster is all about fashion and provides you with a wide selection of boards that reveal the latest trends in clothing, shoes, handbags, and jewelry. StyleCaster is run by a team that has extensive background in fashion with editors that have contributed to Forbes, Time Magazine, Vogue, and other well-known publications. Get the latest buzz on fashion news, advice, celebrity styles, and street styles including fashion forward shoes, dresses, outfits, bags, and accessories that will help you find the styles you like. StyleCaster is also chock full of fashion ideas that help you to get the look. There is even a section that provides you with tips that help you achieve the perfect makeover to ensure you kick off the autumn season in style.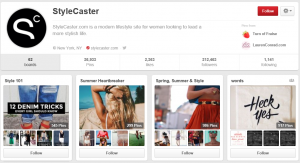 3. DailyLook

The DailyLook is a fashion board that inspires you to wear the latest trends in fashion on a daily basis. When you visit the DailyLook board and website, you can use the latest innovative technology to find fashion forward styles and ideas that suit your personality and your mood. Browse the must-haves for getting back into the autumn routine and take a style quiz to create personalized looks. Then you can browse a wide selection of the latest styles in clothing shoes, accessories, and bags at affordable prices.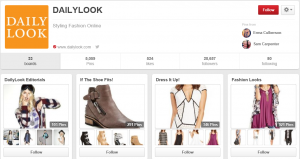 4. Who What Wear

Who What Wear is run by fashionistas that have an eye for the latest celebrity trends and trend setters. The styles are hot off the runway and include the latest red carpet styles worn by celebrities. Browse the board and you will find street styles, outfit ideas, the latest shoe trends, cultural styles, preppy styles, wedding fashions, staples that every wardrobe should have, and much more. Going on vacation? Go in style by browsing the trendy styles that are the hottest designs in various parts of the globe. Indulge in tips on how to wear distressed denim, style your classic favorite pieces, style rules every working woman should know, and more.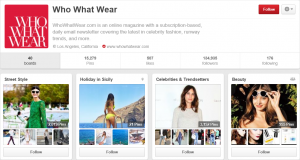 5. The Budget Babe

The Budget Babe is a useful Pinterest board that allows women everywhere to be fashion conscious without the exorbitant price tag. The Budget Babe sheds a new light on affordable fashions that was previously frowned upon by the fashion industry. The bloggers at The Budget Babe attend the Marc Jacobs events and even Missoni is currently partnering with Target stores to push the limits of affordable fashion designs and trends. When you visit The Budget Babe board, it is almost like hiring your exclusive fashion stylist for free. Find a wide variety of jackets, dresses, pants, shoes, and accessories and receive advice on how to wear these fashions correctly.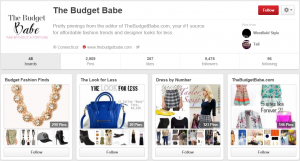 6. Peter Som
Peter Som's Pinterest board will take you on a wonderful fashion tour of the latest trends in different areas of the globe. Where most of the fashion designers only feature their exclusive designs, Peter Som's board goes above and beyond with designs that are born out of things that inspire him. Looking for that perfect collegiate look? It's there. Prefer to go retro or simply prefer floral prints? Check out the Flower Power board. You are bound to find clothing, shoes, and accessories that suit the most discerning fashion tastes.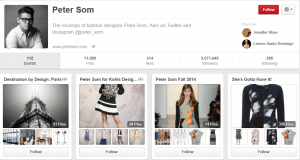 7. Style With Class
For fashion enthusiasts that prefer to look classy and sophisticated regardless of the

occasion, Style With Class is a Pinterest board that will fill your imagination with style possibilities. Browse a wide variety of classy and sophisticated styles that look good on the street, in the boardroom, at red carpet events, and parties. Or, enjoy the timeless styles from celebrities like Audrey Hepburn and Jackie Kennedy, and more. You can browse through a large number of pins on handbags, fabulous accessories, shoes, and other fashions.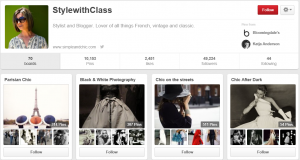 8. Anthropologie

If you are looking for a Pinterest board on effortless style that is in step with the latest trends and will get you out the door quickly, Anthropologie provides a collection of pins that will fill your fashion tastes with ease. Find clothing fashions that you can wear to work and are easy to put together, denim styles that will carry you through casual Fridays and weekends, exclusive fashions in select colors such as black and white, all shades of white, trendy orange, and other colours. You will also find effortless party wear and a special board that places a spotlight on the latest trends in shoe fashions. Don't know what to wear for your getaway or would like to peruse personal stylist picks? You will find it on the Anthropologie's Pinterest board.
9. Refinery29
If you like creative fashions that suit your style tastes, personality, and mood, Refinery29 will help you find unique and creative styles. Browse through a plethora of creative fashion ideas that range from wedding styles, nail art, shoes, and vintage clothing, to style inspirations from Fashion Week and distinctive street styles. Refinery29 will also help you to push your wardrobe to the limits with exclusive style tips, trends, celebrity influences, college fashions, and more. Learn how to complete a look right down to cool specs, creative nail art, hair styles, and makeup tips. Start with the season's must haves that are lined up from favorite designers and style muses on the Refinery29 board.
10. ShoeTease

If you like all things shoes, ShoeTease showcases fabulous, trendy, and bizarre footwear, and documents celebrity shoes, street styles, and upcoming shoe trends. There is also a personal style section that is shoe-focused to satisfy any type of craving for shoe fashions. Find the latest shoe styles that are currently trending and browse through pins of the latest celebrity shoes, fashion and street styles, and wedding shoes, as well as many over the top fashions. There is even a section called Freak-Shoe Friday that showcases the most fun and funky shoe styles that are sure to get you noticed on the street.
Pinterest has been growing at a rapid pace and is commonly thought of as digital scrapbook. What we have provided here is some of the top fashion boards on Pinterest. However, the site has recently reported a traffic flow of more than 10 million unique visitors and has been growing by over 4000 percent. For this reason, it is likely you will find an increased number of delightful and interesting fashion boards in the near future that will provide you with endless options for maintaining an impressive trendy and fashionable wardrobe with lots of options over the long term.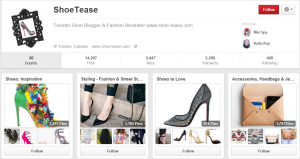 About the author
Micar computers is a UK based supplier of the original bespoke ERP software solution for the clothing, footwear and textile industries.
All images used on this blog are property of their respective owners. I would take my own, but they wouldn't look this good!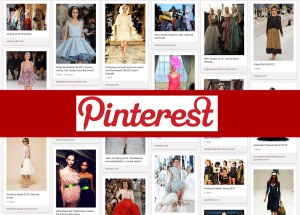 Ten of the Most Expensive Handbags for 2014
Expensive handbags are a fashion statement a lot of women crave and do not think twice about when it comes to the price. The look and the sense of status make designer handbags one of the most sought after fashion items.
If you are a fan of luxurious handbags, well known designers are creating more upscale and trendy designs for you to add to your collection for 2014.  Designers worldwide are adept at sourcing the finest materials with the most popular colors to create unique handbags that are some of the most sought after items on the market.
As 2014 is underway, there are a number of expensive handbags that are considered to be the most desirable and "must-haves" for the upcoming seasons this year.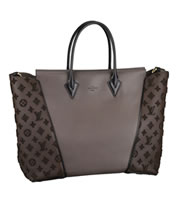 1. Louis Vuitton
Louis Vuitton is a well-known designer of expensive and luxurious handbags and has represented status and class for well over two centuries.  The most expensive designs under the Louis Vuitton brand include the Urban Satchel with a price point of around $150,000 and New Age traveler, in addition to a line of waterproof handbags that lend an air of practicality to a high end design.
Many of the Louis Vuitton handbags are made of luxurious leather goods, high end canvas, furs, and carefully chosen waterproof materials.  The handbags also come in a wide variety of textures including crocodile designs, monograms, EPI, Damier, and Mahina designs.  Each handbag is artfully crafted in a variety of trendy colors including bright reds, purples, greens, pinks, and yellows, as well as the standard blacks and browns.
The Urban Satchel is the most expensive in the LV line and is designed in a collage type of texture using 15 different material samples from other Louis Vuitton handbags. It is finished with a gold chain which serves as the shoulder strap and is a limited edition item that is often booked in advance by A-listers and celebrities alike.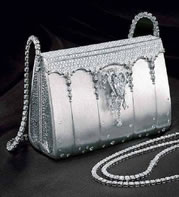 2. Ginza Tanaka
Ginza Tanaka is a Japanese designer of fine jewelry, clothing, and handbags. The Hermes Birkin bag by Ginza Tanaka is one of the most expensive handbags on the market for 2014 commanding a price of around $1.8 million. Ginza Tanaka first opened in 1892 in Tokyo and started out as a retailer of precious metal jewelry and accessories and was responsible for the establishment of the gold measurement system known as K18, the early term of 18K gold.
The Hermes Birkin handbag is designed with a platinum exterior that is adorned with more than two thousand diamonds complete with a diamond shoulder strap.  The shoulder strap is detachable to enable it to double as a necklace and the purse as a luxurious evening clutch. On the exterior of the handbag is also a large pear shaped diamond consisting of 8 carats that can also be worn as an expensive jewelry piece.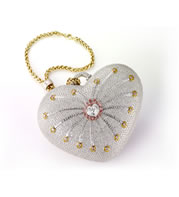 3. Mouawad
Mouawad is a manufacturer of magnificent jewels in the Middle East.  The company has been in business since 180 and is a family business run by Fred, Alain, and Pascal Mouawad. The company is known for its jewelry masterpieces and the creation of one of the most expensive handbags in the world known as the 1001 Nights Diamond Purse.
The heart shaped 1001 Nights Diamond Purse commands a price tag of around $3.8 million and is crafted by ten designers that invested more than 8000 hours into the 18K gold design.  The handbag is a high status item outfitted with more than 4500 white, yellow, and pink diamonds which make up a total of more than 380 carats with an exquisite 18K gold wrist chain.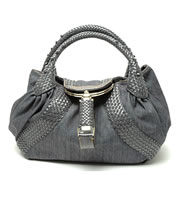 4. Fendi
Fendi was established in 1925 in Rome, Italy as a high end luggage and leather goods retailer with a small workshop in the rear of the store for crafting fine fur goods.  The most expensive Edoardo Fendi handbag is the Fendi Selleria Adele which was named after Fendi's wife, Adele. The handbag is crafted of skins from exotic creatures such as the chinchilla and others and can be acquired with a price tag of $38,000.
The Fendi Selleria Adele is generously sized to hold all of your daily essentials including a secure place for your money, a mobile phone holder, and a variety of makeup products. The handbag is offered in a variety of trendy colors for spring including light orange shades, reds, light tan hues, blacks, and striped patterns. The Selleria Adele is also crafted with 14K gold buckles to create a fully adjustable shoulder strap for versatility.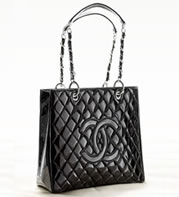 5. Chanel
Coco Chanel is one of the most famous designers of clothing, handbags, perfumes, and other luxury products. Coco Chanel opened her first clothing store in 1910 and introduced her first perfume 10 years later.  As a French fashion pioneer,r she eventually branched out into other designs including some of the world's most expensive handbags.
One of the most expensive signature handbags by Chanel is the Diamond Forever Classic Bag crafted with a lavish design of gold and diamonds with a textured crocodile skin that provides an unparalleled look of elegance and demeanor with a farmed and treated matte finish.  The handbag offers an extravagant design with 334 diamonds of 3.5 carats each. It also has an 18 carat white gold frame with a front clasp designed in diamonds and 18 carat white gold hardware.
The Diamond Forever Classic Bag is booked in advance with a staggering price tag of a little more than $260,000.  The bag is produced in limited quantities and is generally filled with advance orders from celebrities and other A-listers.
6. Judith Leiber
Judith Lieber is known for designing some of the most expensive and intricately outfitted handbags in the world and has often been compared to Faberge, the famous Russian jeweler.  Judith Lieber handbags are exquisitely crafted representing status and class.
One of the most expensive handbags for 2014 is the Precious Rose Bag which is completely lined in kidskin and adorned with exquisite gemstones on the bag's exterior.  The Precious Rose Bag is carefully crafted in the design of a perfect rose complete with petals.  The petals have a magnificent sparkle with more than 100 diamonds that total 42.56 carats.  The diamonds appropriately complement the rose design with 800 tourmaline gems and 1160 pink sapphires.
The edges of each rose petal and the frame is crafted with platinum with a delicate chain that can be attached to your wrist.  For those that want to indulge, the Precious Rose Bag is available for an eye popping $92,000.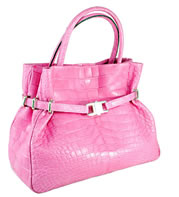 7. Lana Marks
Lana Marks is a designer of exquisite handbags and expensive accessories.  Her handbags are popular with clientele that demands sophisticated elegance. Many handbags in her line are crafted of luxury exotic leather in more than 150 styles and over 100 trendy and fashionable colors.
The most expensive Lana Marks handbag is the Cleopatra Bag which has made its appearance by many celebrities on the red carpet. One Cleopatra style is produced each year with this year's bag designed with exotic alligator skin in a metallic silver color.  The exquisitely elegant clasp on the Cleopatra Bag is crafted of 1500 diamonds in black and white that are set in 18 carat white gold hardware.  The Cleopatra Bag is to be worn on the red carpet by only one celebrity per year and has a staggering price tag of $250,000.
8. Hilde Palladino
Hilde Palladino is a Norwegian fashion designer known for her luxurious and high end handbags.  Although she is not as well-known as other fashion designers, her handbags have become one of the most sought after by fashion conscious celebrities and high status clientele around the world.
One of the most expensive Hilde Palladino handbags is the Gadino Bag which is crafted in elegant white crocodile skin providing a unique and high end look that is unparalleled to other bags of this prominence.  From afar, the bag looks elegant but does not appear to be anything out of the ordinary with standard double handles designed for carrying the bag on your shoulder.  A closer look reveals sophisticated white gold clasp that is crafted with 39 white diamonds which undoubtedly contributes to the exorbitant price tag of $38,470.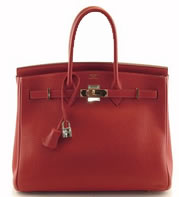 9. Hermes
Hermes is a designer of fine leather goods, accessories, silk and textiles, perfumes and jewelry in Paris France.  The company is affiliated with John Lobb which is a company that has been making fine footwear and boots in London since 1866 and Paris since 1902.  Hermes has been making a selection of sophisticated handbags that are available globally.  One of the most expensive Hermes handbags is the Matte Crocodile Birkin Bag.
The Matt Crocodile Birkin Bag is crafted of crocodile skin which provides an unmatched texture on the exterior with a lot of room for your daily essentials inside.  The Birkin Bag is named after Jane Birkin, a British actress and singer and offers an exquisite clasp that is designed with a whopping 10 carats of white diamonds set in white gold.  The Birkin Bag is crafted in a trendy black color, is considered the epitome of wealth and status, and commands a price tag of around $120,000.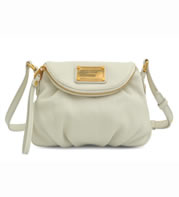 10. Marc Jacobs
Marc Jacobs designs have been in existence since 1986.  Over the years Jacobs has partnered with Perry Ellis, Louis Vuitton, and other notables to bring many fashion forward designs to the forefront of the latest trends in the industry.  Marc Jacobs designs handbags, women's and men's fashions, eyeglass frames, and a variety of other fine products.
One of the most expensive Marc Jacobs handbags is the Carolyn Crocodile Handbag which is crafted with crocodile skin in a trendy purple shade.  Its abundance of interior pockets and silver feet on the bottom make it a "must have" in the closet of most fashionistas.  The Carolyn Crocodile Handbag is finished with double handles and the purple color allows you to pair it with any type of designer clothing.  Although the bag is not adorned with diamonds like previous handbags we have mentioned here, the Carolyn Crocodile Handbag still commands a hefty price tag of $38,000.
So, if you are in the market for an attention grabbing handbag and have the money to invest, these are ten of the most expensive handbags in the world for 2014.