The History of Coco Chanel.
Introduction
"Luxury must be comfortable, otherwise it is not luxury". Her own words sum up the brand that has become one of the most popular in the world. With the idea that women's fashion should be comfortable Chanel transformed the fashion industry and revolutionised women's clothing. The designer behind the brand associated with upscale fashion, the little black dress and the iconic Chanel No. 5 perfume came from humble beginnings.
Early life.
Born August 19th 1883, in Saumur France, she was given the name Gabrielle Bonheur Chanel at birth. Chanel often claimed that she was born in 1893 to appear younger, and stating that she was actually born in Auvergne in an effort to make her upbringing appear more glamorous.
The truth is that her childhood was an underprivileged one. Born to an unwed mother, Eugénie Jeanne Devolle, who worked as a laundrywomen in a workhouse and a father that worked as a peddler, life wasn't easy for the family. Two parents and five children were living in cramped, run down lodgings. Illness was prevalent and when Chanel was only 12 her mother passed away from bronchitis, leaving her father, Albert Chanel with five young children. Following this misfortune Albert quickly farmed out the children and Chanel and her sister were sent to live at the convent of Aubazine.
The cruel twist of fate that bound Chanel to spend the rest of her teenage years in a convent was to shape the rest of her life and success. It was in the convent that the nuns taught Chanel how to sew.
School holidays were spent with relatives in the provincial capital of Moulins. Here Chanel was able to sew with more flourish as she wasn't under the strict rule of the convent.
At the age of 18, Chanel's time at the convent ended. She left and worked two jobs, one as a seamstress and the other as a singer at a cabaret bar that was frequented by cavalry officers. Her youth, good looks and charm made quite an impression on the clientele, and it was here that she met Etienne Balsan, a wealthy French military officer – first in a string of high profile affairs. During her brief few years as a singer, 1905-1908, she was given the nickname "Coco" an abbreviation of the word cocotte, a French word meaning kept women. During this time Chanel did try to pursue signing professionally but soon realised that a stage career was not for her as her success in local cabernets was attributed to reasons other than her singing voice. Her voice failed to impress when she auditioned in prominent theatres, cafes and concert halls and so she decided to discontinue her efforts.
Relationships – Balsan and Capel.
At the age of 23 Chanel became Balsan's mistress. She moved into his chateau near Compiègne, a very beautiful and desirable area, where she lived for the next three years living a life of luxury. He spoiled her with gifts of expensive dresses and jewellery while they socialised with other wealthy like-minded people. During this time she mixed in influential social circles and built connections that would lead to important opportunities later on. Also it was in Balsan's chateau that she started to design hats. It was just for enjoyment at the time but would later turn into a business venture.
In 1908, never short of male admirers, Chanel began an affair with one of Balsan's friends, Captain Arthur Edward 'Boy' Capel, a wealthy English Industrialist. Chanel moved out of Balsan's residence and Capel set her up in an apartment in Paris.
Like Balsan, Capel treated her to the finest things in life. It is said that Chanel had hoped to settle down with this man but he was never faithful to her. In 1918 Capel married an English aristocrat, Lady Diana Wyndham. This was very hard for Chanel to deal with but the two didn't stop seeing each other and continued the affair even after Capel's wedding.
The beginning of an Empire.
In 1910, recognising Chanel's creative talent Capel financed her first shop. At 21 rue Cambon in Paris, Chanel designed, created and sold hats in her shop named "Chanel Modes". Her designs were noticed and became popular with French actresses of the time. Growing her recognition and building a reputation for classic design, Chanel's millinery business boomed.
Success didn't stop there. In 1913, again with financing from Capel she opened her first boutique in a prime location in the centre of Deauville. Her clothes were a shift from the physically restrictive fashion of the era, which usually involved corsets and full length skirts, which are impractical for most activities. Her vision for fashion was one of comfort, practicality and simplicity. She had the opinion that designers had forgotten that women are inside the dresses they create, and thought that fashion should have a more natural shape. Her designs were menswear inspired, suitable for leisure and sport, introducing trousers and suits for women. Coco Chanel used jersey cloth because of its physical properties – it was comfortable and draped well over the body. These jersey garments proved to be revolutionary, changing the relationship between woman and their bodies. It is said that Capel's sartorial style is what inspired many of Chanel's fashion concepts.
Like her millinery business, her clothes swiftly got recognition. It seemed to come easy for Chanel, her confidence and bold attitude coupled with talent and her aptitude for design lead to her business to thrive.
Expansion.
With determination to grow her success even further, Chanel opened a second boutique in 1915 in Biarritz, a location chosen probably because of its close proximity to wealthy Spanish population. A wise choice of location as within one year of business, Chanel was able to reimburse Capel for his original investment.
It wasn't all work in Biarritz, as it was here she came across an expatriate aristocrat, the Grand Duke Dmitri Pavlovich of Russia. The two began a romantic relationship that continued on for a number of years.
Couture.
As a result of the phenomenal success she found with her clothes, in 1918 Chanel, as a registered couturiere, established her couture house at 31 rue Cambon, one of the most fashionable districts of Paris.  Here she sold day-wear creations, simply designed dress-and-coat outfits and elegant black evening dresses, hats, accessories and later expanding to jewellery and fragrance.
Chanel suffered a huge blow in 1919 when Arthur Capel was killed in a car accident. Losing someone she had been with for nearly ten years as well as the person that financed and supported her first business venture a defining moment in Chanel's life, herself stating that "His death was a terrible blow to me. In losing Capel, I lost everything. What followed was not a life of happiness I have to say".
Chanel No. 5.
Chanel's signature perfume, Chanel No. 5 proved just as successful as her clothes and was noticed by some very wealthy business owners. In 1924 Chanel made an agreement with two brothers, Pierre and Paul Wertheimer, who were the directors of perfume and cosmetic house Bourgeois. A separate corporate entity was created, and the Wertheimers agreed to provide full financing for production, marketing and distribution of the perfume. In this agreement Chanel received 10% of the profits and had no further involvement with the business, an agreement that Chanel greatly regretted and fought a losing battle for 20 years over it.
World War Two.
At the start of World War Two Chanel closed her shops giving the reason that war was not a time for fashion leaving only jewellery and perfume for sale. 3,000 workers were devastated to have lost their jobs.
During the German occupation of Paris, Chanel was linked romantically with a German officer named Hans Gunther von Dincklage, which damaged her reputation in her home country. She lived with him in a luxury apartment in the Ritz Hotel Paris for the duration of the war.
Post World War Two.
At the end of WWII, with a 15 year absence, Chanel thought it was the right time to renter the fashion industry and in 1954 her grand couture house was re-established. The end of the war Europe saw a prominence of male designers, including Christian Dior. Chanel was not a fan of their designs and was convinced that women would rebel against the "illogical" design that their collections encompassed with cinched in waists, a padded bust, heavy skirts and stiffened jackets.
Despite this opinion being the reason that Chanel's designs were so popular prior to the war, Parisians did not receive her new collection well. However across the waters in Britain and America, her return to fashion was welcomed and she enjoyed success with these markets for the rest of her days.
The death of Coco Chanel.
Chanel although tired and ailing didn't stop working. She was busy preparing the spring catalogue for the year of 1971 when she began to feel ill. She went to bed early and on Sunday morning, January 10th Chanel passed away in her home in the Ritz, where she had remained for over 30 years. Her funeral was held at the Église de la Madeleine. Her funeral was as style focused as she was as the front row of seats at the ceremony was occupied by her fashion models and her coffin was decorated with a selection of white flowers with a few red roses.
Conclusion
Chanel, being one of the most recognisable names in fashion still to this day, redefined the fashionable woman of her time. Revolting against the overly feminine, uncomfortable designs that women had lived in for so long, she introduced simplicity and coupled style with casual wear. She prided herself on her creativity and her awareness of what women wanted.
About the author.
Micar computer systems is a London-based software development company that is known for developing the UKs original ERP solution for the Apparel, clothing, textile and footwear industries.  Visit the About Us page to find out more about our history and the products pages for more information about our tailor-made software solutions.
We hope that you enjoyed this article. All images used on this blog are property of their respective owners and are used as reference, not for profit. We would take our own images, but we wouldn't do a very good job! 
Image credits.
https://en.wikipedia.org/wiki/Main_Page
https://images.google.com/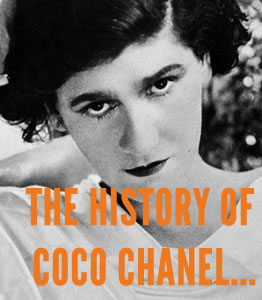 The UK's Top Ten Affordable Online Fashion Retailers

Introduction
For fashion conscious people who have grown tired of purchasing fashion magazines off the rack, there are a series of creative online fashion sites that are known for bringing fresh new views on styles and trends in the fashion industry.
Although the major fashion magazines still have a lot to offer in terms of current trends in the fashion industry, the Internet has provided these publications with a new type of competition.  The online fashion retailers that create new competition are those that cater to people with all types of tastes and body shapes.  Many people are not a size 0 plus, the thought of paying in excess of £600 for a pair of designer jeans is enough to make most fashion conscious people cringe.
The good news is you do not have to pay top dollar to get high quality fashion items that fit, are trendy, and provide you with the season's hottest looks.  Many of the online fashion retailers are affordable and provide you with trendy fashionable finds that will not only spice up your wardrobe but look like you paid top dollar for the items in a high end boutique.  Here are the top ten online fashion retailers in the UK to help you get started on your way to high fashion at an affordable price.
1. OMG Fashion
OMG Fashion is an online retailer that specialises in affordable clothing and accessories that are celebrity inspired.  The OMG Fashion website provides you with the latest selection of celebrity women's fashions that have become popular across the globe with an extensive variety of knitwear, dresses, accessories, shoes, and more.  The items are quality made without the expensive price tag and are carefully selected by OMG Fashion based in Manchester UK.
OMG Fashion started as a small high end boutique and has expanded to a large warehouse of selections that are inspired by the latest runway fashions.  The items offered by OMG Fashion are geared toward 18 to 35 year olds that are seeking trendy clothes at an affordable cost.
2. She Likes
She Likes was established in 2011 and is a fashion forward online style destination that offers a wide selection of trendy styles for women around the world.  The selections in the inventory provide you with the latest fashions and are constantly updated to ensure you are always in style.
The fashions offered on She Likes range from trendy street styles to the latest fashions that are hot off the runway.  This includes jeans that provide the perfect fit, the latest shoe and boot fashions, party dresses for every occasion, celebrity inspired accessories, and other items that make you look like you stepped off the cover of the latest fashion magazine.  The styles are unique and fit a wide genre of tastes in fashion without breaking the bank.

3. H&M
H&M is a highly popular UK fashion retailer that caters to men, women, teenagers, and young children. The H&M website is packed with the latest fashions that are geared toward every market with an unbeatable value for the price.
In addition to affordable prices, H&M focuses on product quality with a selection of fashions for people of all ages that are sure to exceed your expectations.  The company ensures affordable prices while providing competitive in-house designs with a large purchasing inventory and no middlemen.
The end result is highly trendy and unique fashions that originate from independent suppliers. This maintains the quality and integrity of the fabrics which is often compromised in mass production. There is also a section on H&M Life that provides you with a world of fashion inspirations and the latest seasonal styles.

4. Amazon UK
If you are having trouble finding a specific brand at an affordable price, Amazon UK has an endless selection of fashions, styles, accessories, and shoes for men, women, teens, and children.  You can choose from a wide variety of dresses, tops, trousers, jeans, shoes, boots, and much more, that are offered at discount prices.
All fashion items offered on Amazon are authentic brand names so you never have to worry about cheap knockoffs.  The fashions and styles are in step with the latest trends in the fashion industry with a wide range of sizes to accommodate all body types.

5. ASOS
ASOS is a popular UK online fashion retailer that offers more than 60 thousand different brands.  The fashion items range from tops, shirts, dresses, and jeans to shoes, accessories, lingerie, and beauty products.  The brand name labels are distributed across a complete line of menswear and womenswear and include the latest industry trends in the fashion world and runway creations.
ASOS also provides you with a wide genre of brand names and fashions through Facebook, Google, Twitter, Pinterest, Tumblr, and Instagram which allows you to access fashion advice that is tailored to your tastes along with suggestions for pairing individual items to complete your look.  The ASOS community provides tools for creating outfits and sharing styles which offer fashion inspirations for you and other members of the community.

6. Boohoo
Boohoo is a relatively new online fashion retailer in the UK that has quickly grown in popularity.  The company is based in Manchester and provides inspiration for both women's and men's fashion trends.
Boohoo provides cutting edge fashion industry designs which provide you with the latest styles and looks for a lot less money than you would pay in an upscale boutique.  Regardless if you are looking to stay one step ahead of the latest trends or you are looking for simple and effortless style, Boohoo offers a wide selection of fashions that suit the tastes of the most discerning men and women.  Boohoo also makes an effort to roll out the latest fashions by adding up to one hundred new styles on a daily basis plus, an entire new collection each week.

7. USC
If you are looking for the latest brand names such as Diesel, G Star, Vero Moda, Firetrap and other brands that are hard to find, USC provides a wide selection of well-known brands in clothing, accessories, and footwear for men women, and kids.  The UK-based company offers an extensive collection of both independent and mainstream brands and one of the largest denim collections in the UK.
USC also provides a wide selection of elite shoes and fashions in its offline stores located across the UK.  USC stores are located in Manchester, Newcastle, Glasgow, Liverpool, and Edinburgh with a website that stocks more than 14,000 exclusive products which are not available in the offline stores.

8. Missguided
Missguided is an online fashion retailer in the UK that focuses on celebrity inspired fashions and catwalk looks that ensure you stay on top of the latest trends in the industry. Missguided is a fairly new company that has quickly grown in popularity to compete with some of the most well-known fashion retailers on the Internet.
When you shop with Missguided you are provided with the latest fashion trends as soon as they hit the runway.  This guarantees you are always in vogue without having to break the bank.  Their website provides a simple shopping experience that helps you to find what you are looking for and when you want it.  You can also take advantage of the special section of fashion tips and the Missguided blog if you are ever in need of outfit inspiration.

9. Zalando
Zalando is an online fashion retailer that used to be all about shoes.  Since then the UK retailer has branched out into brand name clothes, sports apparel, and accessories with an extensive selection for men women and kids.
The Zalando website is packed with fashion inspirations including an extensive pull down menu under each category.  If you are looking for something specific, the intuitive search function helps you to save time and find exactly what you are looking for.  The online shop features well-known brands such as Vero Moda, Timberland, Guess, Apepazza, Latitude Femme, and many others.  The selection includes trendy brands and fashions in addition to styles from local UK designers.

10. Lipsy
Lipsy is an online fashion retailer based in London with its own design team located right on the premises.  The UK retailer is known for producing the hottest looks from the runway and trendy street styles for women.
Regardless of if you are looking for the latest style trends for a girl's night out, a special date or occasion, or a casual dinner at your favorite restaurant, the fashions you find on Lipsy will help you spice up the occasion without hurting your wallet.  You will also find a wide variety of fashions for any special occasion and any body size, regardless if you want your own celebrity style and glamour or you want your own moment on the red carpet.
In the event of being at a loss of what to wear, you can always visit the Inspirations section on the Lipsy website. Or, you can socialise with the Lipsy community to receive or share style inspirations with other fashion conscious people in the Lipsy social community.

Conclusion
As you research affordable online fashion retailers in the UK, you will find an endless variety of sites that will inspire your unique taste in style.  Meanwhile, we hope the online fashion retailers we have mentioned here will provide you with a solid place to start discovering the most unique and fashionable you.
 About the Author
Micar computers is a UK based supplier of the original bespoke ERP software solution for the apparel industry. If you are in the clothing, textile or footwear sector, check out our website to find out how our tailor made ERP software could improve your business.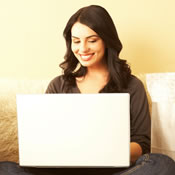 Ten of the Best Blogs for Fashion Conscious People

Introduction
Fashion conscious people are always on the lookout for the latest trends and unique styles.  Fashion blogs are frequently used by fashionistas and other fashion forward people looking for new sources of style for their RSS feed and social media streams.
If you are a fashion conscious person with a discerning eye that is constantly looking for amazing styles and trendy inspirations, staying up to date with the latest style tips is most likely a high priority.  But, with so many resources available online where do you begin to locate the top influential sites? The best way to get started on your journey to high fashion is with the best blogs for fashion conscious people.
1. Refinery 29
Refinery 29 is a fashion and style blog that was launched in 2005 and is based in the United States. The mission of Refinery 29 is to deliver style inspiration and creative lifestyle trends to more than 20 million fashion conscious people and readers.  The Refinery 29 blog covers everything from beauty tips and emerging fashion trends to health and wellness information from major celebrities. It is geared toward both men and women that want to stay up to date on styling tips, designers, current fashion trends, living and wellness, and entertainment.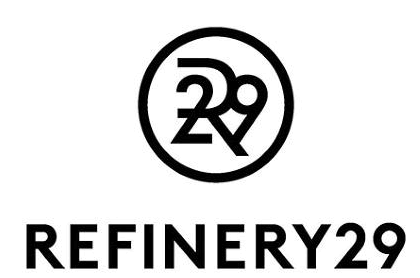 2. New York Magazine's The Cut Fashion Blog
The Cut is a blog produced by the famed New York Magazine which is known for covering New York City lifestyle and fashion as well as culture, news, and entertainment that define New York lifestyle.  The Cut is a high end fashion blog that is geared to modern fashionistas interested in exploring and keeping up with the latest street styles, runway fashions, and designers.  There is also a wealth of information on rising photographers, fashion commentaries, celebrity fashions, and much more.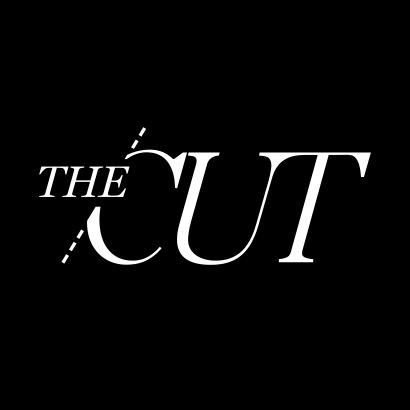 3. Style Bubble
Style Bubble is a UK-based fashion blog launched in 2006 by Susie Bubble, a fashion writer and editor located in London.  Style Bubble consists of observations and experiences with fashion and focuses on identifying unknown talent in the fashion industry.  Susie Bubble is also known as Susanna Lau and has written for Elle Magazine, Dazed Digital, and The Daily Rubbish.  Her blog contains fashion news and information across a variety of categories including accessorising, beauty tips, the latest designer labels, news on runway fashion, and much more.
4. The Sartorialist
The Sartorialist is a fashion blog that provides comprehensive information on the fashion world and how it relates to daily life.  The Sartorialist was launched by Scott Schuman as the result of his firsthand experience in the fashion industry participating in ad campaigns for The Gap and social media ad campaigns for DKNY Jeans, Nespresso, Gant, Crate and Barrel, and OVS.
The information he has published in the Sartorialist blog has been featured in Vogue Italia, GQ, and Vogue Paris and covers men's and women's fashion trends, news on current fashion shows, books on the fashion industry, style profiles, and vintage fashion photos.  The blog is mainly about street fashions but offers an abundance of other information associated with fashion trends and news.

5. Couture in the City
Couture in the City is a fashion blog that provides up to the minute information on fashion designers, celebrity style, the latest beauty tips, style trends, how to information, and what to wear.  Couture in the City provides a platform where readers can share their opinions on who inspires their style and why, favorite accessories, places to shop online, favorite celebrity designers, shoe preferences, and more.
Readers of Couture in the City can also participate in contests that allow you to win fashion items and shopping sprees.  You can also find interviews with major figures in the fashion world and beauty professionals, as well as get the latest buzz on celebrity news, fashion, and style.  Couture in the City offers more than 40 different categories that cover various topics in the fashion world.
6. AdR
AdR is an Italian fashion blog established by Anna Dello Russo, an editor and creative consultant for Vogue Japan and Conde Nast Italia.  The AdR blog covers top fashion events such as the Vogue Festival, Gold Collection of Cannes, AdR H & M Accessories Campaign, and more.  Readers can view high fashion photos in the AdR blog as well as on Tumblr, Instagram, and Pinterest.
Anna Dello Russo also offers advice on fashion and beauty in addition to information on topics such as rules on packing for vacation, accessory tips, and rules for organizing your closet, fashion week rules, holiday party dressing, and more.  Under the Press category, you can read about the latest fashion industry news with a wealth of news on Italian fashion icons and the latest styles and trends in Italy.

7. College Fashion
If you are a fashion conscious college student, the College Fashion blog is a site that contains information that is written by college students to be shared with fellow college students.  The blog contains a variety of content on topics such as the latest fashion trends for college students, fashion and beauty tips, street style trends, and décor ideas.  You will also find a broad range of information on style advice, shopping tips, and all things fabulous.
Readers of College Fashion can choose from a wide variety of columns created by the most fashion conscious college students from around the globe.  College Fashion also allows readers to share information on social media sites, view the latest fashion looks on campus, and share advice on what to wear for specific events, weather, and occasions.

8. Seventeen Fashion
Seventeen Fashion is a blog created by Seventeen Magazine which is a publication that covers a comprehensive range of fashion topics including fashion tips and advice, nail color and designs, skin care, hairstyles, accessorizing, prom fashions, relationship advice, and tips on graduation and college.

Seventeen Fashion expands on the topics discussed in Seventeen Magazine and provides teen fashion and beauty advice from well-known celebrities, fashion world news, emerging fashion and beauty trends, manicure tips, and more.  Additionally, you can find articles on related topics including celebrity fashion images, TV and movie reviews, new beauty product announcements, and tips on staying fit.
9. T Magazine Blog
The T Magazine Blog is produced by the New York Times and provides a wealth of information on women's and men's fashion, fashion design, travel, food, and culture.  Although T Magazine is created by the New York Times, you can find information on the fashion industry from around the globe including the newest styles, accessories, and shoes from global fashion designers, trendy places to shop, fashion events, top fashion wear collections, seasonal runway styles, and more.
If you like to mix fashion with design and travel, you will find up-scale information on boutique décor, travel stories to exotic destinations that have unique design landscapes, entrepreneurial advice and articles, and gift ideas.  These categories are complemented with fashion and design trends in the film industry, sculptures, galleries, and more.  When you are finished reading, you can explore the food category which takes you on a tour of cuisine from exotic travel destinations.
10. Trendation
Trendation is an online blog that offers fashion advice and inspiration from a community of fashion conscious people.  In addition to offering fashion advice, Trendation connects you with the styles you love through the Trendation market and shop.  If you are unsure how to combine different garments, the Dressing Room shows you looks that other community members have created with a specific garment.
Trendation provides regular updates from bloggers that publish information on the latest fashion trends.  Most of the bloggers have their own fashion blog which acts as a source of inspiration for fashion conscious people.  The Hey Style Creator allows you to create and share your own fashion trends and promote your own fashion blog.  If you are in need of new style ideas, you can access the Hey, Inspiration Finder  which connects you with a global online fashion community that can inspire you to try new looks.

Conclusion
These are ten of the best blogs for fashion conscious people.  We encourage you to explore other blogs online as you will find many exciting places to stay up to date on fashion trends and gain inspiration from people that share similar interests in fashion.  You will also find places to express your own style and inspire others as well.
About the author
Micar computers is a UK based supplier of the original bespoke ERP software solution for the clothing, footwear and textile industries. Click here to find out more about our products and services.
All images used on this blog are property of their respective owners. I would take my own, but they wouldn't look this good!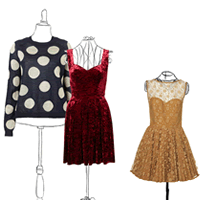 The History of fashion. Part 4 – High Heels.

Introduction.
The history of high heels dates back many centuries. The first stiletto heels are dated as early as 1000 BC. There are many interesting facts on the high heeled shoe and its origin.
Although many people never give it a second thought, high heels, which are now an essential part of fashion, originate back many centuries. As the shoe progressed through the centuries, it took on various purposes other than high fashion as we know it today.
High heels are defined as a shoe that has a heel positioned higher than the toe box. Throughout history, high heels have been a symbol that differentiates between social classes and the sexes.  In the past, they have also served as a symbol of sexuality and class as they made women's movements appear more elegant since their feet were already in a standing position.  The early high heels had a functional value in addition to being an indication of social status.
So, where did high heels originate and how did they change throughout history?
Ancient Egypt
In ancient Egypt, the first pair of stiletto heels are believed to have been worn by Tebas when they were found in the tomb of Tebas which dates back to 1000 BC. However, murals from ancient Egypt have displayed drawings of shoes that were similar to high heels and worn by aristocrats. These murals date back to 3500 BC.
It is believed that high heels were worn by both sexes and they were typically used for ceremonial purposes.  Additionally, high heels were often worn by Ancient Egyptians whose work involved butchering animals. The heels were used as a tool for keeping the butcher's feet out of the blood during slaughter.
In ancient Egypt, shoes were often used to distinguish nobility from the lower class, since the lower class typically went barefoot.
Ancient Greece and Rome
In ancient Greece, high heels were used in Greek theatrical productions around 200 AD. The first theatrical author known as Esquilo, dressed his actors in high heels that were varied in height.  Each shoe height represented the social status of the actor's character.  The shoes were commonly known as the Kothorni and consisted of high cork or wooden heels.
In ancient Rome, high heels became a well-known symbol in the sex trade and were associated with prostitution.  At the time, prostitution was legal and women would wear high heels to communicate their profession to prospective clients.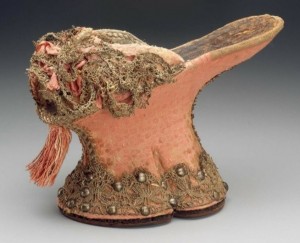 15th Century
During the 15th century, the first platform shoe known as the Chopine was invented in Turkey and remained popular across Europe for the next two hundred years.  The heel was often up to 30 inches high and required the support of a cane in order to walk in them.  The Chopine was typically worn by women and had very little functional use. Instead, they were considered to be a fashion statement that represented a turning point in fashion for women.
In Europe during the 15th century, the Chopine was a social status indicator for women of class and were often designed with embroidery, gold laces, and intricate leather designs. Women that wore the Chopine could customize the look by telling the shoemaker exactly how high the heel should be andthe type of materials that should be used during construction.  This was considered to provide women with a sense of individualism and intrinsic fashion.
In later years, the Chopine was often encouraged by spouses because they were difficult to walk in.  This meant that the shoe would impede the woman from wandering out to engage in liaisons with other males.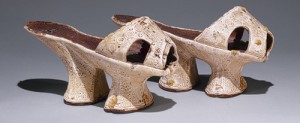 16th Century
During the 16th century in France, high heels were worn by both sexes of the upper class.  The concept of wearing high heels was initiated by Catherine de Medici when she wed the Duke of Orleans who was to be the future King.  Catherine de Medici eventually was Queen of France and wore high heels at her wedding to impress the French Court.  She was only 14 years old and not more than five feet tall so she had the high heels designed to make her appear taller than she actually was.
Following Catherine de Medici's wedding, high heels took off in the fashion world in Paris, France and became very popular in the French Court.  They were worn by the wealthiest men and women which eventually spread the fashion to other members of the nobility. High heels became the symbol of the rich and powerful and were used to distinguish the upper from the lower class.
In 1553, Queen Mary I of England wore high heels on a routine basis.  This initiated the popularity of high heels among both sexes in England.  It was also during this time that the popularity of high heels spread to Italy and Spain where both sexes would wear high heels that were as much as 23 inches tall and were made of wood or cork.
It was during the 16th century that the style of high heels came closer to the high heels we are familiar with in the current day.  It is believed the design of high heels transpired purely by accident, and as the result of repair work on heels that would gradually be built up into high heels.
Additionally, high heels began to carry over into riding boots as the popularity of high heels grew.  High heels on riding boots helped to prevent slippage when using stirrups. Eventually the style of the heel changed to a lighter and thinner design to represent the upper class.
17th Century
During the 17th century, the English Parliament looked down upon high heels if they were worn by women to entice men into marriage.  The English Parliament would often punish women that wore high heels for this purpose and would sometimes try them in court as witches.
The high heel fashion slowed during the 17th century when the colonists in the new world arrived in Massachusetts.  At this time, the Massachusetts Colony banned high heels by passing a law that prohibited women from wearing them.
It was also during the 17th century that Nicholas Lestage was appointed shoemaker for Louis XIV. He designed shoes for Louis XIV that were up to five inches in height and were decorated with intricate patterns of battle scenes.  Louis XIV also declared that red high heels could only be worn by nobility and that no one could wear high heels that were higher than his.
Additionally, the 17th century brought a new style of high heel that became more decorative and ornamental.  The heels were also designed to be higher and slimmer which symbolized high feminine court style.  As a result, many women reduced the size of their feet by taping them to make the heels appear to be more sculpted to the body.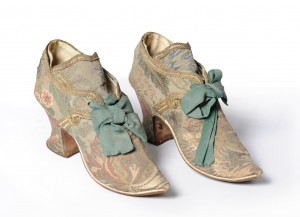 18th Century
During the 18th century, high heels and the style of Louis XIV disappeared with the French Revolution and the rise of Napoleon. But not before Madame de Pompadour, a mistress of Louis XIV, made high heels that were slender and narrow a popular fashion. These were known as Pompadour Heels.
Napoleon prohibited high heel fashion by enforcing the Napoleonic Code in an effort to demonstrate equality among all people. Since they were typically associated with the rich and powerful, people no longer desired to wear them.
Shortly after Napoleon banned high heels, Marie Antoinette wore them to the gallows at the time of her execution.  The heels were a mere two inches high.
In the late 18th century, the height of heels were reduced to a very low size and a maximum of two inches. The heels with a thinner profile were replaced by a spring heel or slight wedged heel. The new ruling class viewed the heels as a sign of wealth and status.
After the Massachusetts Colony banned high heels, the 18th century saw high heels as becoming a topic of controversy in America. High heels would not become popular again until the early 19th century.
19th Century
In the 19th century, high heels came back into vogue with a wide variety of designs as a result of the invention of the sewing machine.  The high instep returned as Victorians viewed this has being symbolic of a woman's curves. It was also considered to be very European and aristocratic while the shoes of African Americans had almost no instep at all.
Additionally, feet were often depicted as small in Victorian literature and art so women would go to great lengths to make their feet appear tiny. The higher heels also helped with creating an illusion of smaller feet. Large feet were symbolic of the elderly or a spinster and were considered to be unattractive. It was also at this time when Queen Victoria of England first donned her first pair of boots for women which sparked the popularity of the style across Europe.
By the middle of the 19th century, high heels became more and more popular and more widespread. The first high heel factory opened in America while many European countries still emulated the shoe fashions in France. This marked the beginning of a change in attitude toward high heels in America since they were previously banned by the Massachusetts Colony.  It would not be until later in the century that high heel fashions in America would catch up with European fashions.
By the end of the 19th century high heels were often as high as six inches and were promoted as being healthy and comfortable for walking.  They were also considered to be a viable cure for backaches.  However, the sexual innuendos posed by high heels was still prominent in European countries and were banned by many religious communities and organizations.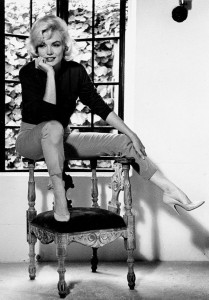 20th Century
Although high heel fashions were revived in the late 19th century, the early 20th century brought a demand for more comfortable shoes.  Shoes with flat soles became more popular until the 1920s and the flapper era when higher hemlines began to be paired with ornate and slender high heels.
The Great Depression of the 1930s temporarily phased out high heels in exchange for a lower heel that also was wider in width.  The 1940s and the Golden Age of Hollywood brought back high heels for at least the celebrities and the rich and famous.  The elegant heels worn by Ginger Rogers greatly influenced high heel fashions in France and parts of Europe. Because of World War II, high heels were just moderately high and wide in width due to short supplies.
By the 1950s, French designer Christian Dior in collaboration with Roger Vivier unveiled a new style of high heel shoe that included a low cut vamp with a stiletto heel.  This followed the inception of stilettos in Italy, a term which meant a slender blade that was tapered.  The exaggerated thin heel and narrowing of the toe became the new high heel worn by many women.
The 1960s brought with it the mini skirt style which was accessorized with high boots that were designed with stiletto heels. When the feminist movement kicked in, high heels were traded for low heeled shoes that were often designed with a wide heel and square toe. This gave way to the hippie movement and the inception of the platform shoe.
The platform shoe continued to remain popular into the early 1970s. And because the 1970s represented a period of fashion experimentation, sex, and drugs, both sexes would often dress outlandishly and accessorize with platform shoes that were reminiscent of the Chopine we discussed earlier in this article. Only this time the shoe was decorated in psychedelic colors.
As the rejection of fashion by feminists waned, high heels returned in the 1980s. But this time, women wore high heels for their own pleasure since they gave them a sense of height, authority, and power.  This trend continued into the 1990s with more sophisticated high heels becoming the focal point as the result of television shows that depicted power, wealth, and excess.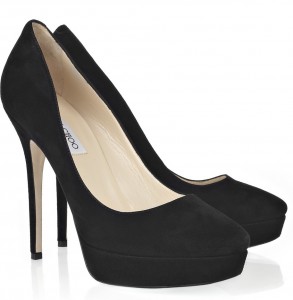 21st Century
As designs such as those by Jimmy Choo ushered in the 21st century with very tall high heels, the 21st century has proved to have more choices of high heel fashions than ever before. This enables fashion icons to sport eye popping designs and standout fashions.  With wide variety of high heels and stiletto fashions available, many women have reverted back a few centuries to undergo surgery to ensure a better shoe fit.  This is a sign that high heels as a trend has lasted well into the 21st century with new designs being unveiled on the catwalk every year.
About the author.
Micar Computers created the original ERP solution for the UK Apparel Industry. For over 25 years, Micar has provided retail, production and distribution with a comprehensive range of software solutions to manage finance, inventory and point of sale, working closely with Apparel, textile and footwear industries. Click here to find out more about our products and services.

The history of fashion. Part 3 – The Wedding Dress
Introduction.
A wedding is a very special occasion where the wedding dress is the focal point of the entire event. But where did this tradition begin? Did you ever wonder where the concept of the wedding dress originates?
When people think a wedding, the first thing that comes to mind is the white wedding dress. However, when you delve into the background of the wedding dress you will find that history paints a much different picture.  Although white seems to be the most symbolic color and dates back to the Victorian era, the truth is that the wedding dress was worn in an endless array of colors that date back to ancient times and are still in vogue today.
The Intriguing Background of a Wedding Dress.
Going back to Ancient times, the brides wore wedding dresses in an array of bright colors as vivid designs symbolised happiness. Moving on to the medieval era, bridal dresses were designed to be conservative since the bride was the symbol of an entire community.  This is because the union of marriage was more than just between two people, it was also a celebration of the union of two families.
If each family was involved in business located in two different countries, the bride was the symbol of the union of two businesses and two countries. For this reason, medieval brides dressed conservatively since they were the center of the union and looked upon as an emblem of unity.
During medieval times, if the bride was from an upper class family, the wedding attire was comprised of lavish materials such as silks, beads, velvets, and other upper end fabrics. At the same token, if you were from middle class upbringing, the wedding dress would imitate the style of the upper class but was designed with less expensive material.
This type of separatism marked the beginning of the wedding dress as a symbol of social status. The more well-to-do the family was, the more fabric was used to design the wedding dress, including elaborate sleeves, a long train, intricate designs on the bodice, and handmade lace. Medieval brides that were from poor families would wear their best Sunday dress they would wear to church as their wedding dress.
The arrival of the white wedding gown.
By the early to mid-1800s, the style and color of the wedding dress began to change with 1840 marking the official year for the white wedding gown.  This was the year that Queen Victoria wed Prince Albert of Saxe and wore an extravagant white wedding gown.  At the time, this raised a lot of eyebrows but soon after, it started the white wedding gown trend and brides throughout Europe and in the United States started to choose the color white for their special day as well.
As the color white increased in popularity, the color was not considered a symbol of purity.  Instead, blue was the symbol of purity since it was symbolic of the Virgin Mary. However, the color white symbolised wealth and social status which made white the new trend for brides.  Since clothing was often washed using a washboard, white was a difficult color to keep clean and therefore was only worn once.  Only the rich could afford to purchase a dress that would only be worn once.
By the end of the century, the color white became the expected wedding dress color with various style trends applied according to what was in vogue. For a temporary period of time, the white wedding gown was replaced with the best Sunday church dress during the Great Depression. Most people felt that during this period, wearing an elaborate white wedding dress was inappropriate when there was much hardship.
At the end of the war, the white wedding gown once again became the most popular color.  Only this time it came back in a variety of different shades including off white, ivory cream, and other shades of white.
History of the White Wedding Dress.
Much to the surprise of many, the white wedding dress has never been the symbol of purity and virginity as many have assumed.  Instead, as a result of Queen Victoria's marriage to Prince Albert, the white wedding gown is actually the symbol of wealth and flamboyance.  Since Queen Victoria's wedding, any bride that could afford a white wedding dress would be married in this color.
If you ever want to explore how wedding dress fashions have changed, a visit to the Victoria and Albert Museum in London is well worth the trip.  This exhibit shows how white wedding dresses have changed with fashion trends from the year 1775 to the present day.  A trip to this museum will also abolish some of the long held assumptions you may have had regarding wedding attire.
Queen Victoria's wedding dress was actually designed in an ivory color which has been carried over into the present day.  Many brides view the color ivory as nostalgic and romantic, in addition to being the symbol of wealth and status.
As the white wedding dress became the expected color the bride wears for her wedding, wearing another color at one time was thought to be daring and nonconformist. Except in countries like China where vibrant red is a very common color for a wedding dress.
However, recently when Vera Wang and Oscar de la Renta unveiled their wedding dress designs in an array of different colors, this was considered to be an extreme transition in the world of fashion. Many of the celebrities followed the trend such as singer Gwen Stefani who wore an extravagant wedding dress designed by John Galliano in fuchsia dip dyed colors.  Other celebrities such as Reese Witherspoon and Jessica Biel walked down the aisle in a feminine pink colored wedding dress.
The fifties.
The traditional white wedding dress waned during the Great Depression when most women wore their best dress to take their vows and wartime brides said their nuptials in their uniforms. Then the popularity of the white wedding dress returned after the war in 1956 with the marriage of Grace Kelly to Prince Rainer of Monaco.
This wedding was known as the "Wedding of the Century" with Grace Kelly wearing an extravagant fairytale gown design by MGM.  The wedding dress was made of ivory peau de soie and was designed with sleeves embroidered in Brussels lace and a fitted bodice.
The ivory wedding gown worn by Grace Kelly was also designed with a full skirt.  This brought back the nostalgic and romantic look of the Victorian era while upholding white as the traditional color for a wedding dress.  Many brides imitated the look and chose this as the preferred design for their special day in the prosperous era of the post war.
The sixties and seventies.
The 1960s and 1970s counter culture brought with it a new trend for wedding dress fashion.  Although white still remained the predominant color, many of the wedding dresses were designed as a mini dress such as the dress that was worn by Mia Farrow when she wed Frank Sinatra in 1966.  When Bianca Jagger married Mick Jagger in the early 1970s, she wore a white pantsuit and a large brimmed hat with not much else underneath the suit.  At the wedding of Priscilla and Elvis Presley, Priscilla wore a short wedding dress in baby-doll style with a large bouffant-style veil.
The 1960s brought even more outlandish bridal fashion trends when singer Lulu got married in a white maxi coat trimmed with fur and adorned with a white hood.  The maxi coat was worn over top of a mini dress and accessorised with high go-go boots.  This was a symbol that the white wedding dress continued to survive since it could be continually reinvented.
The eighties.
In 1982, the wedding of Diana Spencer to Prince Charles started a new trend that lasted for the remainder of the decade.  Diana wore a spectacular and extravagant dress styled from the Victorian era with a long train.  The dress was made of ivory taffeta and brought back Victorian styles with puffed sleeves, full skirt, and fitted bodice that every bride of the 1980s dreamed of wearing on her wedding day.
The nineties.
During the 1990s, simple styles that were slim and classy were in vogue with the trend set forth by Carolyn Bessette Kennedy.  At her wedding to JFK Jr. in 1996, Carolyn wore a Narciso Rodriguez white silk sheath designed in a sleek shimmery fabric void of any embellishments such as beads or lace.  Simple was in and many brides of the 1990s followed this fashion trend.
Wedding Dress Fashions in Different Cultures.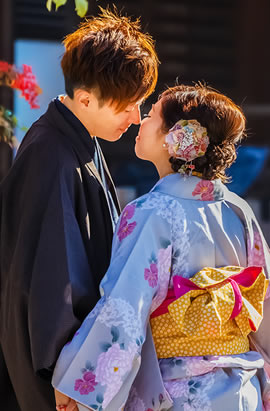 Although the white wedding dress still reigns as the color of choice and the symbol of social status, getting married in other colors is commonplace for other cultures. In Western cultures, brides that take an interest in fashion trends have been getting married in different colored dresses for centuries. A colored wedding dress also allowed them to redesign the dress multiple times to keep in step with changing fashion trends and wear it long after they said their vows.  This was often the norm in place of buying a new dress for every new occasion that happened to come up.
In other cultures, the white wedding dress does not take center stage as much as it does in Europe and America.  In African culture, the bride wears a wedding dress made of a woven cloth.  The weave is representative of her native land and her family roots.  For example, a typical wedding dress may consist of the colors red, gold, and green woven together in a fabric.
The red color symbolises those who have given their lives in war times to protect others.  The gold is symbolic of peace and prosperity and the color green symbolises natural plant life in Africa.  If the pattern is designed in a zigzag pattern, this pattern is symbolic of the ability to overcome obstacles during the course of African life.
In Ireland, a wedding dress is commonly referred to as a Celtic wedding gown. Up until 1500, the color blue was frequently worn by Irish brides along with a blue veil adorned with a blue flowered headpiece.  Blue was the symbol of fidelity and purity and although the popularity of the white wedding dress has permeated fashion trends in Ireland, Irish brides still wear something blue.
The Celtic wedding dress is made of white deerskin and silk with white linen undergarments.  The sleeves are bell shaped with the bodice covered by a white deerskin vest that ties in the front.  The bride does not wear a veil and the wedding dress is often designed in an ivory or light yellow color.
In the Mexican culture, the bride's wedding dress is designed and made by her family members while the groom's family pays the expenses for the dress.  Many of the wedding dresses are designed in Flamenco style with a series of ruffles adorning the skirt.  Additionally, the bride wears a blue petticoat under the dress.  If the wedding is taking place in a church, the bride may add a bolero jacket to the dress to show respect for the dress code of the church and a mantilla veil over her head.
Brides that are of Native American culture typically wear a red wedding dress that is usually passed down through generations.  The style of the dress will vary according to tribe.  For example, if the bride is affiliated with the Cherokee tribe the wedding dress is white and worn with white moccasins.  The dress is made of material that other women in the tribe tear into rectangles or squares.
In Eastern cultures such as China and India, the bride wears a red wedding dress or a dress designed in a combination of red and white colors.  The color red is a symbol of good luck and promise.  In Japan, the bride will often where a wedding dress in multiple colors and then change her dress to other colors multiple times throughout the festivities.
Overall, the wedding dress must stand out as a unique style of clothing.  Many fashion designers have stated that there is a distinct difference between the aisle and the red carpet and neither one should look like the other. The wedding dress should strike a balance between being traditional and timeless while defying fashion trends, according to notable fashion designers.
A wedding dress and a dress for the stage both have specific roles they must fulfill.  However, the approach and the design process are different, according to Gareth Pugh who has designed creations for Kylie Minogue and Lada Gaga.  Additionally, stage clothing must be comfortable to allow for movement during performance.  But when it comes to the wedding dress, the bride is not as concerned about comfort as she is with style and fashion.
The idea of dressing up in an extravagant dress for your wedding will always appeal to most and there will always be a market for the traditional white wedding dress.  However, more brides are personalising their styles as wedding designs continue to evolve.
Cross cultural and gay marriages are both examples of influence on the evolution of wedding attire. Plus, many brides are abandoning the white wedding dress in favor of color which is no longer considered to be taboo.  When it comes to modern fashions in wedding attire, the brides of today are fortunate to have a diverse choice of fashions, all of which are perfectly acceptable in the modern age.
10 interesting facts about wedding dresses.
There is a host of fun and interesting facts on wedding attire so, we will wrap up the article with a few intriguing tidbits.
The veil worn by the bride originally represented her purity and virginity. However, in early times, the veil hid the bride from the Evil Eye and jealous spirits and was worn in a variety of different colors.
In ancient times, each wedding guest would tear off a piece of the bride's wedding dress as a symbol of good luck.
White wedding dresses are uncommon in some Eastern cultures since it is the color of mourning.
The phrase, Tying the Knot, originates from an ancient custom in Babylonia where threads from both the bride and groom's wedding attire were tied in a knot to symbolise their union.
Herbs were the precursor to the modern bridal bouquet when Roman brides carried herbs under their veils to ward off evil and symbolise fidelity and fertility.
Wedding dresses of the orient are often embroidered with cranes to symbolise lifelong fidelity.
Grace Kelly's wedding dress was adorned with lace more than one hundred years old.
Brides and grooms that marry in Denmark often cross dress to confuse evil spirits.
More than 56 percent of brides use Pinterest to find a wedding dress design.
The longest wedding dress train in the world is 1.85 miles.
About the author.
Micar Computers is a London based software development company that specialises in providing software solutions for the Apparel, textile and footwear  industries. Visit our products page to find out more about who we are and what we do.
The History of Fashion. Part 2 – The T-Shirt, From Rags-to-Riches
Introduction
Fashion is an expression of our personality, beliefs and political agenda, so it should come as no surprise the T-shirt has a major role to play in the realm of free speech. To say wearing a T-shirt is an act of free speech may sound extreme, but when you discover what a T-shirt is, you begin to understand just how powerful they really are. This article looks at the T-shirts history, how its social-role has changed and what areas of society it has touched.
The T-Shirt's History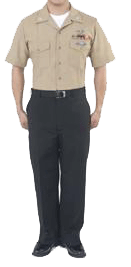 The T-shirt first emerged in the late 1890s during the Spanish-American war, when the U.S navy started issuing them as thermal layers under uniforms; they provided added protection against the elements whilst away at sea. They were cheap, light and very easy to clean, which are crucial in the military. T-shirts were seen as a functional way to provide warmth, but were also smart enough for the strict military standards, and became part of the naval uniform.
T-shirts also found their way into the manual industries, to provide protection for the body during intense work.
Over time, the T-shirt would move into the general public and be seen as a fashion accessory and eventually into popular culture. This was big jump from its start as a layer of under clothing, as it would have been seen as wrong to wear a piece of private clothing visible to everyone.
Before we look at popular culture, one area we should look at is how the T-shirt reveals the wearers body profile. You might have noticed how body builders like to wear them as they complement the body's muscle size and counters. This is a way for them to show-off their hard work and because they mainly use the T-shirt for this, it has found another niche area to thrive in.
T-shirts in Popular Culture
Film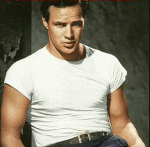 The T-shirt made its debut in the film 'A Street Car Named Desire', where Marlon Brando wore a white T-Shirt with denim jeans.
After this film came out in 1951, it became popular to wear what the T-shirt as a fashion statement and turn it into a style.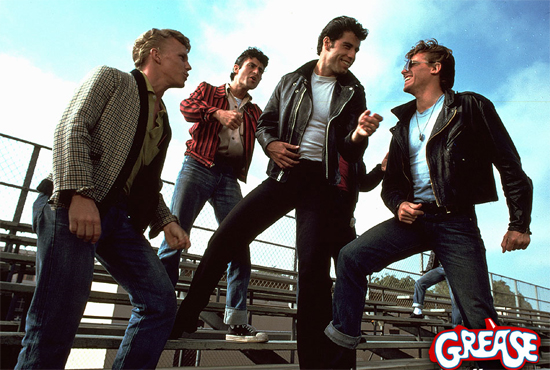 Another film we can look at is the 1978 hit, Grease. The fashion designer for Grease mixed a white T-shirt with a black leather jacket and dark trousers. This costume has become a fashion icon in film-fashion and again the T-shirt was part of it. Like with the film above, the style was made popular by the film. If you ever want to try this style out fashion, you can get some inspiration from Pinterest.
Music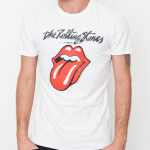 During the 1960s, rock and roll took hold like wildfire, and the T-shirt was used to promote a band's image and for people to feel like they were part a club. One of the most famous designs is Rollin Stone's, Tongue and Lips design. This was a huge success in T-shirt branding, and using fashion to advertise your product. These T-shirts are still in production, and you can find a great variation of this design at Blue Banana.
Another successful T-shirt for music was when Pink Floyd put their own design on one. They used their famous Prism album cover as a printed advert and had a huge following and if you want to get your hands on one, you can get them through their own shop here.
Political Messages
T-shirts found their way into politics when a cause was being fought, and supporters wanted a way to express their political position. At the beginning of this article we said that T-shirts was a method of speech, and this is why. With a T-shirt, you can print whatever you wish on the front and even though not everyone will agree with you, that is what free speech is all about.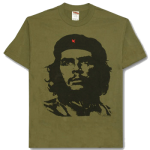 Possibly one of the most famous political messages was the use of Ernest "Che" Guevara, who was a major figure during the Cuban Revolution of 1953-1959. You might not recognise the name straight away, but the picture to below should be familiar. You can also find
When looking at methods of free speech, we should compare attitudes in different countries, and one country we can look at is China. During the early 90s, there was a Chinese artists who started to make printed T-shirts with his own messages or slogans on them, and he had a huge following. This was a radical idea in China, due to their laws of censorship, but it became so popular that it swept across the major cities. The Chinese authorities did not agree with what he was doing and he was accused of causing a major political incident. They also destroyed thousands of his T-shirts in an effort to stop people wearing them. Despite this response from the government, the Chinese people continued to wear them after the ban, as a way of showing support and expressing their right of free speech.
Conclusion
We can see that the T-shirt has had a colourful history from a very regimental upbringing in the US Navy, to film, music and politics. We love to express ourselves and the T-shirt is a fantastic platform to do just that. We hope you've enjoyed this article and have found a new respect for what used to be a humble T.
You can find the first part of our 'history of fashion' series here, which looks at the fascinating history of the hat.
About the author
Micar computers is a UK based supplier of the original bespoke ERP software solution for the clothing, footwear and textile industries. Visit our profile page to find out more about who we are and what we do.
All images used on this blog are property of their respective owners. We would take our own, but they wouldn't look this good!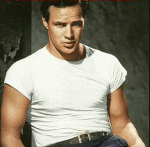 Ten of the Best Budget Dresses for Summer 2014
If you are looking for beautiful high quality summer dresses in the UK without the expensive price tag, there is a wide selection of exquisite fashions that will get you through the summer without breaking the bank.
Many women are concerned about fashion and usually high fashion also means an exorbitant price tag.  But it doesn't have to be this way.  Many women can dress fashionably in quality clothing without having to max out their credit card or drain the bank account to do so.  If you are looking for the best budget dresses for 2014, here are a few selections to get you started:
1. Roman Originals Plain Cotton Summer Dress
This women's long plain cotton summer dress from Roman Originals is a beautiful shirred paneled dress made of 100 percent cotton that you can pick up for as little as £25.00.  The dress consists of a feminine romantic V-neck front with sleeveless arm openings and is crafted with beautiful embroidery design.  The flowing skirt on the bottom is calf length with both the bodice and the skirt lined with soft cotton.
The back of the dress is finished with a fashionable bow with sundress-style straps and intricate embroidery completing the look.  This exquisite creation is ideal for casual wear, attending a summer wedding, or everyday wear in comfort.  The dress is crafted with a lovely two-tone turquoise that highlights the beautiful embroidered patterns throughout the garment.  It is also available in a selection of other fashionable colors to suit different tastes in style.
2. M&Co Bi-Stretch Shift Dress
If you are looking for the perfect little black dress on a budget, M&Co offers a comfortable bi-stretch shift dress for as little as £29.00.  This is the perfect little black dress for work wear when you throw a cute little jack over it. It will also take you past five o-clock if you decide to meet friends for cocktails after work.
The dress is made of 100% stretchy polyester providing a metro-style look that is chic and upscale.  The plain style back allows you to slip into the dress with a back zip and fastener.  Accessorize with casual or dressy accessories and you are ready for any occasion.
3. KRISP Tie Back Jersey Skater Sundress
If you just need a simple sundress that you can dress up or down, the KRISP Tie Back Skater Sundress provides simple summer style at a fraction of the price.  This free flowing and comfortable jersey sundress can be purchased for around £12.99 but the style says you paid a lot more money for it.
The scoop neck sleeveless style ensures you stay cool on hot summer days. The front design exhibits class with a sewn-in waistband that is complimented with subtle gathered material around the seam.  The dress is the perfect material for layering a cute jacket or light summer sweater over it for cool summer nights.
If you prefer to go without a jacket, the back of the garment lends itself to an interesting shoulder yoke accented with gathered material around the seam and a lovely bow that can be tied according to your preferences.  The garment is made of 95% Viscose and 5% Elastane which gives it its flowing texture and a length that hits just above the knee.  The KRISP Tie Back Jersey Skater Dress is available in a variety of designer colors.
4. Roman Originals Multi Cap Sleeve Belted Maxi Dress
For fashionistas that are looking for wonderful summer prints at a budget price, the Roman Multi Cap Sleeve Belted Maxi Dress is the perfect creation for the summer months or a tropical getaway.  The dress is crafted with a flowing fabric consisting of 97% Viscose and 3% Elastane which makes it comfortable, stylish, and breathable.
The pattern is a wonderful combination of ferns and tropical florals done in bright pink, light, green, white, and orange backed by a classy black background which makes the colors in the tropical print pop.  The short sleeves are offset with a fashionable scoopneck in both the back and front. The Maxi Dress is floor length and also comes with stylish and updated black belt which finishes the look.  A tasteful choice at just £35.00.
5. My Evening Dress Solid Ruffle One Shoulder Sleeveless Cocktail Dress
If you are attending a special event, the Solid Ruffle Sleeveless Cocktail Dress by My Evening Dress is the perfect fashion statement for cruises, wedding receptions, summer black tie events, and other occasions where a casual summer dress just won't do.  This exquisite creation is the perfect choice for both classical and traditional evening parties.
The modern solid one shoulder style is accented with a ruffle which is just the right adornment without being too over the top.  The wonderful satin-like material is soft to the touch and comfortable for wearing and is crafted with a very subtle shimmery design that can be accessorized with a dressy pair of evening pumps and elegant understated jewelry.  The dress falls just above the knee and is available in an endless variety of fashionable colors at a price tag of around £120.73.
6. M&Co Navy Stripe Pattern Swing Dress
If you are trying to find something versatile to wear on a summer cruise, the Navy Stripe Pattern Swing Dress by M&Co is the perfect choice.  The navy stripe nautical-type design is made of a soft jersey fabric and makes a feminine statement with the soft swing shape cut.
The Stripe Pattern Swing Dress is designed for casual wear with subtle slouch pockets that would complement a light summer cardigan.  The fabric is very flowy and breathable, thanks to the soft material made of 49% Polyester, 48% Viscose, and 3% Elastane.  The dress is styled with a plain navy striped back and a modest scoop neck in the front and short sleeves.  This is the perfect choice for a vacation near the water for a budget price of £29.00 and can be accessorized with a nice pair of summer sandals for flip flops.
7. Roman Originals Wrap Front Dress
The Wrap Front Dress by Roman Originals provides you with a classic, elegant, and impeccable look for those summer moments where only a polished look will do.  This classy design is timeless and features cap sleeves with a flattering V-neck finished with an elegant puckered waistline.  The drapey material which is constructed of 95% Polyester and 5%Elastane is what provides the effortless wrap look in the front.
The classy waistline continues around the back that is designed with a plain look.  The hemline falls just at the knees with an A-line skirt that has a drapey type of effect when you move.  At first glance, this dress looks like a pricey fashion that only upper end retailers carry and is available in dark navy and black.  Budget seekers can pick up this classy little number for just £30.00.
8. Banana Moon Lakewood Shally Dress
For that beach resort vacation on an exotic island, the Lakewood Shally Dress is the perfect dual-purpose dress that can serve as a fashionable cover up on the beach or standalone casual beachfront attire for that relaxing lunch on the pier.  The dress is very lightweight and features an elastic waistband and a deep feminine V back.
The front neckline offers a modest scoopneck with an exquisite lace neckline and deep sleeveless arm openings.  The hemline which is just above the knee has subtle lace trim.  The dress is made of a soft woven 100% cotton fabric and is available at a reasonable price of £65.00.
9. Emma Low Strappy Back Maxi Dress
For fashion-forward women that are looking to stay cool in the hot summer weather without sacrificing style, the Low Strappy Back Maxi Dress by Emma will make waves on your next summer outing.  The dress is crafted in easy to wear comfortable jersey fabric with spaghetti straps and scoop neckline in the front.
The back of the Maxi Dress is adorned with additional spaghetti straps that are styled in a classy criss-cross design which compliments the plunging V-style back that comes just below the lower back.  This dress is casual enough to accessorize with funky platform sandals and dressy enough to add a pair of thinly strapped feminine evening sandals.  All for a low price of £8.00.
10. Myla Tropical Print Sweetheart Midi Bodycon Dress
Prefer bold prints for a trip to a tropical paradise?  The Tropical Print Sweetheart Midi Bodycon Dress fits the bill with its bold season brights that take print patterns to a new level.  The dress is styled with a fashionable sweetheart neckline, thick straps, and sleeveless arm openings.
For fashionistas that like to accentuate their waist, the Midi Bodycon Dress features a wide fitted waist panel that emphasizes the Bodycon fit with a pencil style skirt that falls just below the kneecap.  The back of the garment features a keyhole opening and back slit at the hemline which provides additional movement to the stretch polyester fabric.  This piece is perfect when paired with a bold colored set of heels and is ideal for casual wear, holidays, and special occasions for only £15.00.
We found so many wonderful budget dresses for summer 2014 it was hard to choose the best ten.  If you search a little further online, you will find a great selection of dresses as well.
About Micar.
Micar computers is a UK based supplier of the original bespoke ERP software solution for the clothing, footwear and textile industries. Visit our profile page to find out more about who we are and what we do.
All images used on this blog are property of their respective owners. I would take my own, but they wouldn't look this good!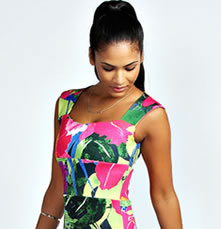 Ten Reasons to Introduce an ERP Solution in the Workplace
ERP solutions are a core system for many different industries including the apparel, textile, and manufacturing sector and provide enterprises with improved efficiency and productivity.
A high quality ERP (Enterprise Resource Planning) solution is all about connecting people within an organization, effective data collection, integrating data across multiple departments to streamline processes, and more.  ERP software is often a multi-mode application solution and can help professionals in the apparel and manufacturing industry to manage essential parts of the business, including accurate decision making that contributes to critical business initiatives.
If your business is part of the apparel industry and you have yet to implement an ERP solution, chances are you are sacrificing efficiency in many parts of the business in terms of product planning, inventory tracking, supplier interaction, purchasing, order tracking, and most important of all, customer service.  If you are trying to determine whether or not to deploy an ERP solution, here are ten reasons why you should introduce an ERP solution in the workplace:
1. Full ERP Integration
A high quality ERP solution provides powerful tools for integrating many aspects of apparel business processes and unifying the staff that works within your company.  The processes include design, manufacturing, financial, sales, distribution, customer service, and other aspects that define your business.  An ERP solution places all of these processes in one location which is accessed by professionals located anywhere within the organization.  The end result is significantly improved productivity and workflow.
Most ERP solutions are configured as an integrated software suite that provides a robust platform that supports many critical business operations and processes.  Common processes such as CRM (Customer Relationship Management), SCM (Supply Chain Management), human resources, financials, and manufacturing, are integrated into one solution.  All processes relate to one another which means the software is designed to facilitate communications across an entire company.
2. Improved Business Processes
Instead of your data being placed in separate places across your company, an ERP solution enables the data to be fully visible within an organization.  This enables you to easily see key performance metrics (KPIs) and acquire the business intelligence that is necessary for accurate decision making.  It also ensures that all company resources are properly affiliated to support your overall business strategy.
This method is much more efficient than implementing ERP using traditional methods.  This requires a company to endure a process improvement and specific enterprise strategy to ensure that workflows are appropriately supporting the business.  Once the ERP system has been implemented, there is a period of testing and adjustment of business processes to optimize workflow management operations.  Although there is some evaluation involved when deploying an ERP solution, many of the processes are turnkey to facilitate productivity faster and more effectively.
3. Improved Access and Data Accuracy for Financials
Apparel business operations and financials go hand-in-hand and should integrate with one another to provide data accuracy.  The business processes often use the same transactions and the same calculations and numbers.  When you use a professional quality ERP solution, you can stay on top of meaningful data such as Profit and Loss at the end of each business day, as opposed to waiting until the end of the month when it is too late to make changes in business performance.
A well implemented ERP software solution will allow departments to ensure business transactions and other entries are posted correctly to the system right from the beginning of the month.  This allows everyone across the organization to deal with issues as they arise instead of discovering then at the end of the month.  It also allows your business to know where it stands at all times through accurate statistics, accounting and tracking.
4. Automated Processes for Purchasing
Purchase of materials and textiles for manufacturing can become quite complex using a conventional ERP system.  With ERP software, you can customize modules to automatically track all materials being purchased, how much material is in stock, and calculate how the materials are to be distributed.  The processes also include tools for determining product market demand based on purchase history, company data, and economic statistics.
In the apparel industry, ERP solutions also help employees to stay on top of current stock and inventory, current demand for a particular product, amount of raw materials needed for a specific product design and more.  Many of the processes can be automated to generate alerts when stock is getting low and specific items need to be reordered.
5. Improved Supply Chain Efficiency and Lower Operating Costs
A supply chain is a critical business process the apparel industry and was developed out of different enterprise functions in an effort to organize the process and make it more efficient.
When you implement a supply chain within an ERP solution, it provides improved coordination of activities that were once separate across all departments which improves overall efficiency company wide.  By enabling the facilitation of day-to-day operations through improved communication and organized processes, companies can lower operating costs through better planning, removal of activities that do not add value to the bottom line, improved decision making, and enabling staff to improve processes through analysis instead of through guesswork.
This means all departments and processes are coordinated so that everyone is on the same page, so to speak.  Many apparel companies are saving money through supply chain management with ERP solutions.  This is mainly due to the capability of ERP solutions to provide accurate decision making and planning which prevents wasted resources on unnecessary inventory and company processes that do not help to contribute to the bottom line.
6. Improved Inventory Management and Warehousing
Inventory management is an essential part of the supply chain in the apparel industry. Often there are warehouses and distribution centers in different parts of the supply chain.  ERP solutions ensure that inventory management maintains inventories at a minimum while still meeting customer demand.  It also provides a way to monitor supply chain management to ensure the company does not have too much capital invested in inventory where it could be investing the capital in areas that produce a high rate of return.
The early form of inventory management involved departments similar to the modern method of inventory management including planning, warehouse management, material management, sales and distribution, purchasing, and finance. However, these departments were completely separate from one another.  There was very little coordination across departments which resulted in a lot of guesswork and inaccurate decision making.
7. Improved Customer Relationship Management (CRM)
Instead of customer information being distributed across separate departments, a high quality ERP solution will place all customer data in one location.  The modern ERP solutions are sophisticated and collect marketing intelligence data on every customer to help companies personalize customer service.
For example, if you enter a new customer in the CRM area of an ERP software solution, that specific entry is reserved just for the customer and includes all correspondence, purchases, inquiries, upsells, customer interests, and more.  The information is automatically entered upon every contact or sale and can be viewed companywide to allow any department to offer state-of-the-art and personalized customer service.  This alleviates customer frustration when working with your customer service representatives and significantly increases customer retention as well.
8. Improved Fulfillment
Quality ERP solutions have had a significant impact on product fulfillment methods.  Today's consumer tends to be impatient due to the ability of technology to deliver instant gratification. This has placed more stress on businesses and how they fulfill customer orders.
The process of product fulfillment consists of many different facets which include purchasing, sales and distribution, shipping and handling, order processing, customer relationship management, relationship development with suppliers, and finance.  If these departments do not work together seamlessly to serve the end user which is the customer, the end result is an impatient customer that does not want to wait the standard 7 to 10 business days to receive their product.  Additionally, the customer expects ongoing customer service long after the sale is complete and the product has been shipped.
A professional ERP solution solves this dilemma by communicating with all departments from one location.  It also automates order and distribution processes that expedite shipping once an order has been placed and then follows up to ensure customer satisfaction.
9. Better Communication
Depending upon the size of your apparel enterprise, ERP solutions significantly improve communication, especially if you have corporate branches in different areas of the globe.  Many ERP solutions provide multilingual functionality that perform accurate translation.  This facilitates better communication across departments. For example, if you need to communicate style details, the software will allow the details to be viewed in multiple languages.
ERP solutions also foster improved communications across departments for any organization regardless of size.  The fact that all workers can log into the same solution keeps everyone up to speed on critical business tasks that contribute to daily business productivity.
10: Streamline Office Tasks
An ERP Solution provides a wide selection of tools that automate processes for back office tasks that can be otherwise tedious and time consuming. If you choose a high end ERP solution, there is an endless array of tools for generating reports associated with expenses, customer data, fulfillment, supply chain processes, financial data, apparel inventory, and much more.
The tools that streamline office tasks can be customized to meet specific business needs.  For example, if you want to view specific Key Performance Indicators (KPIs), you can configure the software to extract the specific data you want view and analyze, regardless of department.  If there is specific apparel product metrics you want to view, you can customize the software to extract product specifics.
This saves a lot of time searching for the right data, performing accounting tasks, analyzing processes, staying on top of sales and distribution, and more.  Additionally, an ERP solution is collaborative so you can set permissions for those you want to authorize access to specific information.
The Bottom Line
Quality ERP solutions provide a way to easily integrate all business processes company wide.  It is also important to mention that everyone in the organization must adopt the processes in the ERP software solution.  If everyone fails to agree on the system method and the solution does not provide for customization, this can significantly compromise business processes.
For the above reason, businesses in the apparel industry should choose a reputable provider of ERP solutions.  When you select a quality system, it should match your individual business requirements, provide customization capabilities, and be scalable to allow for business growth.  A reputable provider will also offer around the clock tech support 24/7 and ensure the ERP solution is properly designed with the necessary customizations to standardize specific apparel industry processes while improving efficiency and productivity across your organization.