10 of the Most Expensive Trainers in the World.
Introduction.
If you think a pair of sneakers in the price range of £100 to £145 is excessive, you may be surprised to find this price to be inexpensive when compared to some of the most extravagant sneakers on the market.
From sneakers dipped in gold to those that are autographed or adorned with diamonds, a £150 price tag for a pair of everyday trainers is nominal compared to the eye watering price tag on the most expensive sneakers ever made. Most of them were only made in very limited quantities. Here are a few designs that make the top ten list.
The high top double strap sneaker by Balmain will set you back about £1063 for a flashy silver design crafted from leather and durable rubber soles. The metallic silver finish sports a futuristic tone with a quilted tongue construction that sits higher on your ankle than the typical high top trainer.
The Balmain high top double strap sneaker is easy to wear with fashionable silver straps that are easily fastened thanks to the Velcro design along with a pull tab on the heel.  The matching top stitching takes this creation to a new level with quality Italian construction. Although you would be hard pressed to find any imperfections, you may find the price tag to be out of your ballpark.
If you like high fashion that gets you noticed, the bright red Rantus Orlato Flat sneaker by Christian Louboutin will fit the bill.  The question is whether or not these stylish sneakers will fit your wallet as well.
The Rantus Orlato Flat is constructed with authentic snake skin complete with a rubberized red sole. This Christian Louboutin design allows you to effortlessly go from casual to athletic without sacrificing style. As long as you are a fan of bright red, these fantasy high fashion creations should suit your taste perfectly
For those that would spend a few thousand for sneakers at the blink of an eye, you may find the ParaNorman Foamposite by Nike to be your perfect attention grabber.
Styled in glow in the dark green with aggressive gray colored streaks, you are sure to get a reaction when you wear this masterpiece.
The combination of black and smoke color accented by bright green and glow in the dark soles with matching pull tabs simply screams an exclusive design.  With only eight hundred of these sneakers available from Nike, these creations are sure to make you stand out in a crowd.
Some of you may remember the movie from the 1980s titled "Back to the Future" starring Michael J. Fox as Marty McFly driving a futuristic car and wearing next generation sneakers.  In the sequel, the Air Mag sneaker by Nike made its debut as the very first sneaker with power lacing.
The newest version of the Nike Air Mag will be introduced during the upcoming spring season.  Aside from the staggering price tag, the Nike Air Mag is complete with features that light up, in addition to the signature power lacing.  If you do not mind selling your car to buy a new pair of sneakers, the Nike Air Mag is probably right up your alley. Nike is also supporting the Michael J. Fox Foundation by donating all of the proceeds for Parkinson's research.
If you are into the "bling," you will definitely go for a pair of Nike Dunks dipped in 24 karat gold.  Only five pairs of these limited edition beauties were designed by Kenneth Courtney under the name of "Indulgences No. 5."
How practical they are for daily athletic activity leaves one to wonder as you would probably only want to wear this design on very special occasions.
Additionally, since these sneakers are dipped in 24 karat gold and they are named fifth in the Nike Dunk series, what about the first four in the list? The words lavish and extravagant definitely come to mind.
The Flom Dunk High by Nike is literally a work of art with a master price tag to match.  Only 202 of these creations exist, each designed with a work of art by French painter Bernard Buffet.  For anyone looking for the ultimate in designer athletic shoes, the Flom Dunk is the Gucci of training gear.
Each pair is exquisitely designed with the main colors of black and white and finished in red and gold trim on the toes, heel collar, and side panels. At the top of the tongue is a gold crown insignia which places each unique design in a class all by itself. The outlandish price tag is mainly due to each uniquely commissioned design in addition to the SB label.
If you have your sights set on a pair of Kobe Air Zooms autographed by Kobe Bryant with Certificate of Authenticity, you can invest your savings in one of the 25 pairs of Air Zooms, if or when they come up for auction again. These low cut sneakers are constructed of the highest quality leather and materials without sacrificing the critical support needed to be at the top of your game.
The autographed Kobe Air Zooms were made in a limited edition series and were auctioned off at a cost of only £21,620! They were specifically designed by Kobe Bryant complete with special support features and shank in the midfoot made of carbon fiber to facilitate more spring in every step. If you are lucky enough to land a pair of these sneakers, your investment may pay off in the long run when Kobe Bryant retires from the Lakers.
For the fashion conscious people that seek exclusivity and extravagance, the Nike Air Force One by Prryya and Chinatan's Couture and Jewelry is the ultimate masterpiece in a sneaker.  Another Nike creation inspired by French painter Bernard Buffet, the staggering price is due to the authentic gold trim and diamonds equal to eleven carats.
First introduced by renowned rapper Big Boi, the Air Force One sneaker was presented as a gift from an exclusive boutique known as Laced Up in Atlanta, Georgia.  Nike released just over 200 pairs of Air Force One sneakers influenced by the French impressionist paintings of Buffet. They are designed with the impressionist colors of Buffet before being finished with gold and diamonds. And, with a £36035 price tag, one might be required to be on the lookout to avoid being mugged.
The Nike Air Jordan 1 is a rare sneaker that was auctioned off on eBay for an eye watering closing bid of £72,068.  This pair of sneakers was autographed by Michael Jordan and offered with a Certificate of Authenticity.
Although you may find Air Jordans for a modest price tag when compared to the autographed Air Jordan 1, most of these sneakers are autographed by an athlete other than Michael Jordan. And, although the autographs are from well-known athletes, nothing commands a price tag like authentically signed Air Jordans by the man himself.  The price is mainly attributed to sentimental value more than the condition of the sneaker which is red, black, and white or whether it is finished in gold or diamonds.

Back in the late 1990s, you may remember when Michael Jordan encountered an illness during the NBA Finals.  What people thought was the flu turned out to be a bout with food poisoning. Nevertheless, fans associated Jordan's illness with his signature red and black Air Jordan 12s which he wore during the 1997 NBA Finals.  This event was commonly known as the "Flu Game" and made that particular pair of Air Jordan 12s valuable.
The sneakers were autographed by Michael Jordan himself and are size 13.  So, if you have some extra cash readily available, they are valued at a mere £74,951!
If you enjoyed this article then please share it with your friends and family!
About Micar Computers.
Established in 1989, Micar computer systems is now one of the world's leading providers of managed apparel software solutions for the fashion industry, providing bespoke applications to a multitude of clothing, textile and footwear organisations across the globe. Contact us to find out more about industry leading ERP solutions for the fashion industry.
All images used in this article are property of their respective owners and we have including reference links to every image page.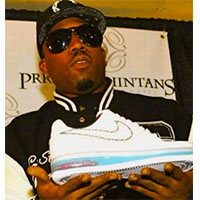 Ten of the Best Blogs for Fashion Conscious People

Introduction
Fashion conscious people are always on the lookout for the latest trends and unique styles.  Fashion blogs are frequently used by fashionistas and other fashion forward people looking for new sources of style for their RSS feed and social media streams.
If you are a fashion conscious person with a discerning eye that is constantly looking for amazing styles and trendy inspirations, staying up to date with the latest style tips is most likely a high priority.  But, with so many resources available online where do you begin to locate the top influential sites? The best way to get started on your journey to high fashion is with the best blogs for fashion conscious people.
1. Refinery 29
Refinery 29 is a fashion and style blog that was launched in 2005 and is based in the United States. The mission of Refinery 29 is to deliver style inspiration and creative lifestyle trends to more than 20 million fashion conscious people and readers.  The Refinery 29 blog covers everything from beauty tips and emerging fashion trends to health and wellness information from major celebrities. It is geared toward both men and women that want to stay up to date on styling tips, designers, current fashion trends, living and wellness, and entertainment.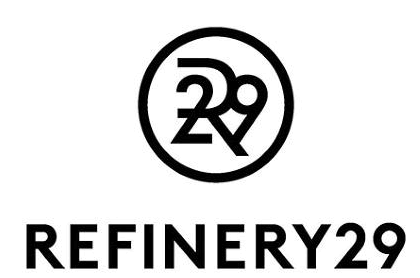 2. New York Magazine's The Cut Fashion Blog
The Cut is a blog produced by the famed New York Magazine which is known for covering New York City lifestyle and fashion as well as culture, news, and entertainment that define New York lifestyle.  The Cut is a high end fashion blog that is geared to modern fashionistas interested in exploring and keeping up with the latest street styles, runway fashions, and designers.  There is also a wealth of information on rising photographers, fashion commentaries, celebrity fashions, and much more.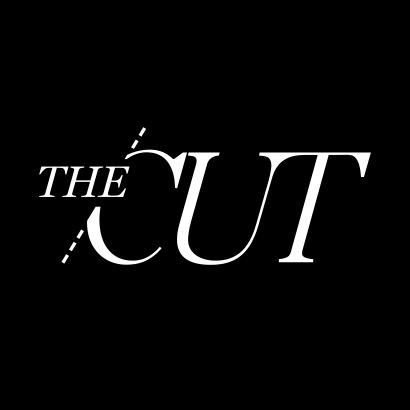 3. Style Bubble
Style Bubble is a UK-based fashion blog launched in 2006 by Susie Bubble, a fashion writer and editor located in London.  Style Bubble consists of observations and experiences with fashion and focuses on identifying unknown talent in the fashion industry.  Susie Bubble is also known as Susanna Lau and has written for Elle Magazine, Dazed Digital, and The Daily Rubbish.  Her blog contains fashion news and information across a variety of categories including accessorising, beauty tips, the latest designer labels, news on runway fashion, and much more.
4. The Sartorialist
The Sartorialist is a fashion blog that provides comprehensive information on the fashion world and how it relates to daily life.  The Sartorialist was launched by Scott Schuman as the result of his firsthand experience in the fashion industry participating in ad campaigns for The Gap and social media ad campaigns for DKNY Jeans, Nespresso, Gant, Crate and Barrel, and OVS.
The information he has published in the Sartorialist blog has been featured in Vogue Italia, GQ, and Vogue Paris and covers men's and women's fashion trends, news on current fashion shows, books on the fashion industry, style profiles, and vintage fashion photos.  The blog is mainly about street fashions but offers an abundance of other information associated with fashion trends and news.

5. Couture in the City
Couture in the City is a fashion blog that provides up to the minute information on fashion designers, celebrity style, the latest beauty tips, style trends, how to information, and what to wear.  Couture in the City provides a platform where readers can share their opinions on who inspires their style and why, favorite accessories, places to shop online, favorite celebrity designers, shoe preferences, and more.
Readers of Couture in the City can also participate in contests that allow you to win fashion items and shopping sprees.  You can also find interviews with major figures in the fashion world and beauty professionals, as well as get the latest buzz on celebrity news, fashion, and style.  Couture in the City offers more than 40 different categories that cover various topics in the fashion world.
6. AdR
AdR is an Italian fashion blog established by Anna Dello Russo, an editor and creative consultant for Vogue Japan and Conde Nast Italia.  The AdR blog covers top fashion events such as the Vogue Festival, Gold Collection of Cannes, AdR H & M Accessories Campaign, and more.  Readers can view high fashion photos in the AdR blog as well as on Tumblr, Instagram, and Pinterest.
Anna Dello Russo also offers advice on fashion and beauty in addition to information on topics such as rules on packing for vacation, accessory tips, and rules for organizing your closet, fashion week rules, holiday party dressing, and more.  Under the Press category, you can read about the latest fashion industry news with a wealth of news on Italian fashion icons and the latest styles and trends in Italy.

7. College Fashion
If you are a fashion conscious college student, the College Fashion blog is a site that contains information that is written by college students to be shared with fellow college students.  The blog contains a variety of content on topics such as the latest fashion trends for college students, fashion and beauty tips, street style trends, and décor ideas.  You will also find a broad range of information on style advice, shopping tips, and all things fabulous.
Readers of College Fashion can choose from a wide variety of columns created by the most fashion conscious college students from around the globe.  College Fashion also allows readers to share information on social media sites, view the latest fashion looks on campus, and share advice on what to wear for specific events, weather, and occasions.

8. Seventeen Fashion
Seventeen Fashion is a blog created by Seventeen Magazine which is a publication that covers a comprehensive range of fashion topics including fashion tips and advice, nail color and designs, skin care, hairstyles, accessorizing, prom fashions, relationship advice, and tips on graduation and college.

Seventeen Fashion expands on the topics discussed in Seventeen Magazine and provides teen fashion and beauty advice from well-known celebrities, fashion world news, emerging fashion and beauty trends, manicure tips, and more.  Additionally, you can find articles on related topics including celebrity fashion images, TV and movie reviews, new beauty product announcements, and tips on staying fit.
9. T Magazine Blog
The T Magazine Blog is produced by the New York Times and provides a wealth of information on women's and men's fashion, fashion design, travel, food, and culture.  Although T Magazine is created by the New York Times, you can find information on the fashion industry from around the globe including the newest styles, accessories, and shoes from global fashion designers, trendy places to shop, fashion events, top fashion wear collections, seasonal runway styles, and more.
If you like to mix fashion with design and travel, you will find up-scale information on boutique décor, travel stories to exotic destinations that have unique design landscapes, entrepreneurial advice and articles, and gift ideas.  These categories are complemented with fashion and design trends in the film industry, sculptures, galleries, and more.  When you are finished reading, you can explore the food category which takes you on a tour of cuisine from exotic travel destinations.
10. Trendation
Trendation is an online blog that offers fashion advice and inspiration from a community of fashion conscious people.  In addition to offering fashion advice, Trendation connects you with the styles you love through the Trendation market and shop.  If you are unsure how to combine different garments, the Dressing Room shows you looks that other community members have created with a specific garment.
Trendation provides regular updates from bloggers that publish information on the latest fashion trends.  Most of the bloggers have their own fashion blog which acts as a source of inspiration for fashion conscious people.  The Hey Style Creator allows you to create and share your own fashion trends and promote your own fashion blog.  If you are in need of new style ideas, you can access the Hey, Inspiration Finder  which connects you with a global online fashion community that can inspire you to try new looks.

Conclusion
These are ten of the best blogs for fashion conscious people.  We encourage you to explore other blogs online as you will find many exciting places to stay up to date on fashion trends and gain inspiration from people that share similar interests in fashion.  You will also find places to express your own style and inspire others as well.
About the author
Micar computers is a UK based supplier of the original bespoke ERP software solution for the clothing, footwear and textile industries. Click here to find out more about our products and services.
All images used on this blog are property of their respective owners. I would take my own, but they wouldn't look this good!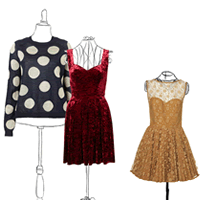 Top Ten Designer High Heel Brands
There are so many different brands of fashionable high heel shoes it makes it difficult for a woman to choose.  Many brands of high heels cater to different tastes in style while others show status simply by flashing a designer trademark.
If you are in a group of women that cannot wait to see the red carpet fashions and latest trends in designer high heels, you are not alone.  Many women love watching the parade of designer fashions on annual red carpet events so they can add the latest designs to their wardrobe collection.
To help you determine what designer high heel brands are hot right now, here are the top ten designer brands that are currently in vogue with many celebrities and A-listers.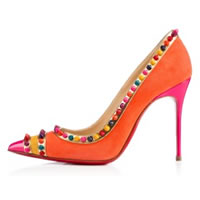 1. Christian Louboutin
Christian Louboutin is a French designer best known for producing designer shoes with signature red soles.  The shoes offer thick heels that scale down to a stiletto style at the bottom and are best identified via the red soles.  The shoes are on the top of many award winning lists with a design that was inspired by a woman spotted by Louboutin painting her toenails red.  From here, the Louboutin signature red sole was born which skyrocketed the shoe into the top 5 among designer high heel brands.
You can find Christian Louboutin shoes in a broad range of styles and colors, as well as a variety of materials including leather, canvas, satin finish, animal prints, and more.  The shoes have been famously called the "follow me shoe" and have been on the top of the designer brand list since 2011.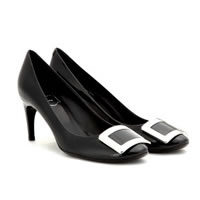 2. Roger Vivier
Roger Vivier has long been known as the "father of designer high heels" going back as far as outfitting Queen Elizabeth in the 1950s and actresses such as Ava Gardner from the golden era of Hollywood.  Roger Vivier designer shoes are renowned for their innovative high heel design and unique toe shapes that are often adorned with high end accessories.
Roger Vivier shoes are available in a broad range of rich colors that are integrated in a shoe constructed of the finest materials. Many of the shoe designs contain a blend of high end materials that include leather adorned with a silk accessory or a variety of fabrics that are carefully coordinated with leathers, exotic animal skins, and accessories at the toe.  The Roger Vivier designer high heel brand is also commonly referred to as the Faberge of Footwear which is highly valued by those that crave status, high end fashion, and fascinating designs.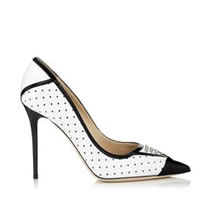 3. Jimmy Choo
Jimmy Choo is a Chinese designer and created the Jimmy Choo designer high heel brand in 1996.  His designer shoes are known for their dramatic designs consisting of unusual feathers and jeweled accessories that often protrude from the basic shoe design.  Accessories such as feather tassels, fur, and jewelry ornaments, as well as other exotic designs are what make Jimmy Choo shoes the preferred designer high heel brand by fashion conscious women around the world.
Women can choose from a wide genre of shoe textures including leather, velvet, beaded designs, cork wedges, silk fabrics, and more.  Many of the shoe designs are crafted with two or three different textures that are carefully chosen to add interest and versatility for accessorizing with the latest fashions.  The textures include crocodile skins, suede, jeweled designs, trendy animal prints, and other textures that are often crafted with more than one color scheme for upscale style. Jimmy Choo shoes are offered in trendy fashion colors such as deep purples and reds, as well as more muted shades such as tans, browns, blacks, and grey shades.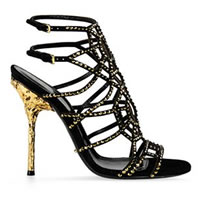 4. Sergio Rossi
Sergio Rossi got started in fashion design at the age of 14.  The Sergio Rossi designer high heel brand has continued to command popularity among many fashionistas around the globe.  From limited edition shoes to designer high heels that are crafted to be a continuation of a woman's figure, Sergio Rossi shoes are widely known for a unique blend of textures and colors that create a distinguished design that is unparalleled with other designer high heel brands on the market.
It is not unusual to see a Sergio Rossi shoe with three different colors with one on the toe, another on the shoe body, and yet another on the heel.  In addition to a broad range of colors, the shoes are also designed with a carefully thought out selection of textures such as a fine fabric material blended with crocodile skin and patent leather. Or, you may see a Sergio Rossi design with one primary color and one type of material but the shoe is crafted with intricate cutouts and designs that add an unmistakable fashion statement that tells the world that the shoe is a Sergio Rossi design.
5. Manolo Blahnik
Manolo Blahnik designer high heel fashions are known for unmatched quality due to the hand-made craftsmanship of every shoe.  Manolo Blahnik shoes are designed with extremely thin and exceptionally high heels with a toe that is pointed enough to make most of the designs very dressy and sophisticated in nature.
If you have ever watched Sex and the City, Manolo Blahnik shoes were converted into a household name via this television show, despite the fact the designer brand has been known throughout the primary fashion capitals of the world for some time.  You can find Manolo Blahnik shoes in a variety of dramatic designs from shoes that come in a variety of grey colors making them appropriate for board room wear to exotic shoe designs that are favored by celebrities such as Madonna.  There are many textures to choose from including suede, patent leather, high end fabrics, leather, and other striking materials.  Each shoe is expertly crafted with some that are adorned with fur, feathers, jewels, bows, flowers, and other accessories that finish the look.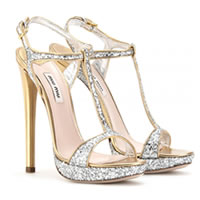 6. Miu Miu
The Miu Miu designer high heel brand was born out of the Prada design by Miuccia Prada.  Miu Miu designer high heels are a mix of eclectic and elegant sophistication.  The main theme of Miu Miu designer high heeled shoes is neutral tones.  But that doesn't mean neutral has to be boring as the design is often spiced up with glittery heels, buckles, and subtle accessories that make the shoe perfect for going out clubbing or red carpet ready.
Many of the Miu Miu styles consist of a peep toe design, slim and delicate high heel, and front straps that complete the look.  Miu Miu designer high heels also come in a variety of hip styles crafted of fine suede and leather and accessorized with studs, zippers, metal toes and buckles. The styles extend to sleek high heeled boots, casual moccasins and ballet style shoes, and a variety of strappy sandal designs. The Miu Miu designer high heel brand is at the top of every award winning list and the preferred shoe by many fashion conscious women around the globe.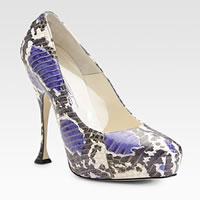 7. Brian Atwood
The Brian Atwood designer high heel brand is meant to be noticed on the red carpet and designer fashion with a look that is unlike any other is the designer fashion industry.  Brian Atwood shoes offer an Italian flair and are elegantly crafted with the finest materials from top manufacturers in Italy.  Most of the Brian Atwood shoe line is crafted with sophisticated suede, Italian leather, patent leather, high end fabrics with glittery sequins, and spontaneous designs that have made the shoe a staple on the red carpet year after year.
Brian Atwood designs his line of high heels each with a hand drawn model, carefully selected materials, and details for construction prior to manufacturing.  Many of the shoe designs boast fearless silhouettes with a stiletto heel that is sky high without being uncomfortable.  The namesake brand is offered in a variety of trendy colors, as well as neutrals and basics all carefully crafted with uniqueness and sophistication in mind.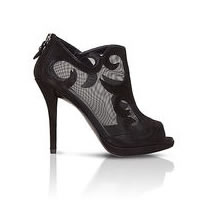 8. Stuart Weitzman
Stuart Weitzman designer shoes have long been known for their flair with glittering designs, studded sky high heels, and luxurious materials.  The Stuart Weitzman designer high heel brand is crafted with a distinct color family in mind including a palette of cool hues, neutrals, prints, warm hues, and vibrant metallics.  The high heels are designed from a wonderful array of textures including lace, leather, patent leather, specchio, suede, satin, printed materials, fabrics, and cork to suit the tastes of every discerning fashionista.
The heels of a Stuart Weitzman shoe are unmistakable with a delicate silhouette that ranges from stilettos to a basic pump height.  Many of the shoes are designed as a basic but elegant high heels, strappy sandals, delicate lace, trendy Soho flair, and other designs that are the signature of Stuart Weitzman. This is what makes the Stuart Weitzmann brand popular with women who demand the very best regardless of lifestyle.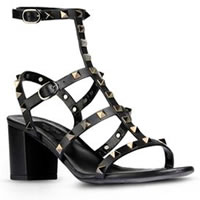 9. Valentino
Valentino Garavani is a well-known Italian fashion designer that has artfully crafted fashions for notables such as Jackie Kennedy, Elizabeth Taylor, and other famous women who insist on the very best in fashion.  The Valentino designer high heel brand never fails to generate a buzz at a myriad of celebrity events.
Valentino high heeled shoes are crafted of the finest Italian materials including suede, high end fabrics, Italian leather, and woven textures that can add classic or feminine flair to any designer clothing.  The delicately crafted high heels are offered in a variety of trendy colors, as well as neutral shades to complete a look that is fit for the board room or the red carpet. Women can choose from peep or pointed toe designs, elegant stilettos, pointed toe designs, platforms, boot style high heels, and more.  The broad range of colors make the Valentino shoe one of the most sought after brands by celebrities and A-listers alike.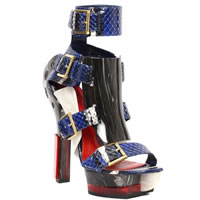 10. Alexander McQueen
The Alexander McQueen designer high heel brand lends an air of sophistication and elegance while integrating designs reminiscent of the 16th century. For this reason, Alexander McQueen designs are known for their perfect balance of strength and femininity with detailed tailoring that makes the brand easily recognized.
When shopping for Alexander McQueen shoes, you can choose from sumptuous suede, sophisticated leathers, high end prints and fabrics, and more.  And, if it is color selection you crave, the sky is the limit when it comes to neutrals, cool hues, prints, and blends of color that are perfectly balanced to finish the look of any designer clothing. You can also indulge in a broad range of textures and styling that is guaranteed to make a fashion statement and dramatic presentation for any occasion.
These are a few of the top picks when it comes to designer high heel brands. So, if you are looking for the crème de la crème of shoes, the brands we mentioned above will surely get you started on your way to luxury and high end style.