Introduction.
The history of high heels dates back many centuries. The first stiletto heels are dated as early as 1000 BC. There are many interesting facts on the high heeled shoe and its origin.
Although many people never give it a second thought, high heels, which are now an essential part of fashion, originate back many centuries. As the shoe progressed through the centuries, it took on various purposes other than high fashion as we know it today.
High heels are defined as a shoe that has a heel positioned higher than the toe box. Throughout history, high heels have been a symbol that differentiates between social classes and the sexes.  In the past, they have also served as a symbol of sexuality and class as they made women's movements appear more elegant since their feet were already in a standing position.  The early high heels had a functional value in addition to being an indication of social status.
So, where did high heels originate and how did they change throughout history?
Ancient Egypt
In ancient Egypt, the first pair of stiletto heels are believed to have been worn by Tebas when they were found in the tomb of Tebas which dates back to 1000 BC. However, murals from ancient Egypt have displayed drawings of shoes that were similar to high heels and worn by aristocrats. These murals date back to 3500 BC.
It is believed that high heels were worn by both sexes and they were typically used for ceremonial purposes.  Additionally, high heels were often worn by Ancient Egyptians whose work involved butchering animals. The heels were used as a tool for keeping the butcher's feet out of the blood during slaughter.
In ancient Egypt, shoes were often used to distinguish nobility from the lower class, since the lower class typically went barefoot.
Ancient Greece and Rome
In ancient Greece, high heels were used in Greek theatrical productions around 200 AD. The first theatrical author known as Esquilo, dressed his actors in high heels that were varied in height.  Each shoe height represented the social status of the actor's character.  The shoes were commonly known as the Kothorni and consisted of high cork or wooden heels.
In ancient Rome, high heels became a well-known symbol in the sex trade and were associated with prostitution.  At the time, prostitution was legal and women would wear high heels to communicate their profession to prospective clients.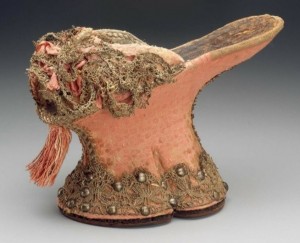 15th Century
During the 15th century, the first platform shoe known as the Chopine was invented in Turkey and remained popular across Europe for the next two hundred years.  The heel was often up to 30 inches high and required the support of a cane in order to walk in them.  The Chopine was typically worn by women and had very little functional use. Instead, they were considered to be a fashion statement that represented a turning point in fashion for women.
In Europe during the 15th century, the Chopine was a social status indicator for women of class and were often designed with embroidery, gold laces, and intricate leather designs. Women that wore the Chopine could customize the look by telling the shoemaker exactly how high the heel should be andthe type of materials that should be used during construction.  This was considered to provide women with a sense of individualism and intrinsic fashion.
In later years, the Chopine was often encouraged by spouses because they were difficult to walk in.  This meant that the shoe would impede the woman from wandering out to engage in liaisons with other males.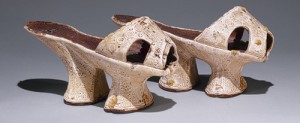 16th Century
During the 16th century in France, high heels were worn by both sexes of the upper class.  The concept of wearing high heels was initiated by Catherine de Medici when she wed the Duke of Orleans who was to be the future King.  Catherine de Medici eventually was Queen of France and wore high heels at her wedding to impress the French Court.  She was only 14 years old and not more than five feet tall so she had the high heels designed to make her appear taller than she actually was.
Following Catherine de Medici's wedding, high heels took off in the fashion world in Paris, France and became very popular in the French Court.  They were worn by the wealthiest men and women which eventually spread the fashion to other members of the nobility. High heels became the symbol of the rich and powerful and were used to distinguish the upper from the lower class.
In 1553, Queen Mary I of England wore high heels on a routine basis.  This initiated the popularity of high heels among both sexes in England.  It was also during this time that the popularity of high heels spread to Italy and Spain where both sexes would wear high heels that were as much as 23 inches tall and were made of wood or cork.
It was during the 16th century that the style of high heels came closer to the high heels we are familiar with in the current day.  It is believed the design of high heels transpired purely by accident, and as the result of repair work on heels that would gradually be built up into high heels.
Additionally, high heels began to carry over into riding boots as the popularity of high heels grew.  High heels on riding boots helped to prevent slippage when using stirrups. Eventually the style of the heel changed to a lighter and thinner design to represent the upper class.
17th Century
During the 17th century, the English Parliament looked down upon high heels if they were worn by women to entice men into marriage.  The English Parliament would often punish women that wore high heels for this purpose and would sometimes try them in court as witches.
The high heel fashion slowed during the 17th century when the colonists in the new world arrived in Massachusetts.  At this time, the Massachusetts Colony banned high heels by passing a law that prohibited women from wearing them.
It was also during the 17th century that Nicholas Lestage was appointed shoemaker for Louis XIV. He designed shoes for Louis XIV that were up to five inches in height and were decorated with intricate patterns of battle scenes.  Louis XIV also declared that red high heels could only be worn by nobility and that no one could wear high heels that were higher than his.
Additionally, the 17th century brought a new style of high heel that became more decorative and ornamental.  The heels were also designed to be higher and slimmer which symbolized high feminine court style.  As a result, many women reduced the size of their feet by taping them to make the heels appear to be more sculpted to the body.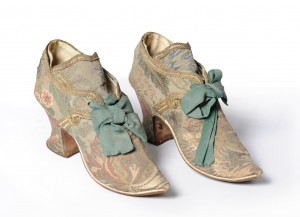 18th Century
During the 18th century, high heels and the style of Louis XIV disappeared with the French Revolution and the rise of Napoleon. But not before Madame de Pompadour, a mistress of Louis XIV, made high heels that were slender and narrow a popular fashion. These were known as Pompadour Heels.
Napoleon prohibited high heel fashion by enforcing the Napoleonic Code in an effort to demonstrate equality among all people. Since they were typically associated with the rich and powerful, people no longer desired to wear them.
Shortly after Napoleon banned high heels, Marie Antoinette wore them to the gallows at the time of her execution.  The heels were a mere two inches high.
In the late 18th century, the height of heels were reduced to a very low size and a maximum of two inches. The heels with a thinner profile were replaced by a spring heel or slight wedged heel. The new ruling class viewed the heels as a sign of wealth and status.
After the Massachusetts Colony banned high heels, the 18th century saw high heels as becoming a topic of controversy in America. High heels would not become popular again until the early 19th century.
19th Century
In the 19th century, high heels came back into vogue with a wide variety of designs as a result of the invention of the sewing machine.  The high instep returned as Victorians viewed this has being symbolic of a woman's curves. It was also considered to be very European and aristocratic while the shoes of African Americans had almost no instep at all.
Additionally, feet were often depicted as small in Victorian literature and art so women would go to great lengths to make their feet appear tiny. The higher heels also helped with creating an illusion of smaller feet. Large feet were symbolic of the elderly or a spinster and were considered to be unattractive. It was also at this time when Queen Victoria of England first donned her first pair of boots for women which sparked the popularity of the style across Europe.
By the middle of the 19th century, high heels became more and more popular and more widespread. The first high heel factory opened in America while many European countries still emulated the shoe fashions in France. This marked the beginning of a change in attitude toward high heels in America since they were previously banned by the Massachusetts Colony.  It would not be until later in the century that high heel fashions in America would catch up with European fashions.
By the end of the 19th century high heels were often as high as six inches and were promoted as being healthy and comfortable for walking.  They were also considered to be a viable cure for backaches.  However, the sexual innuendos posed by high heels was still prominent in European countries and were banned by many religious communities and organizations.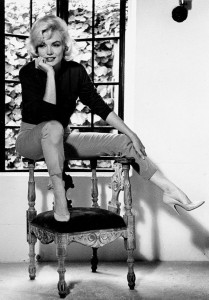 20th Century
Although high heel fashions were revived in the late 19th century, the early 20th century brought a demand for more comfortable shoes.  Shoes with flat soles became more popular until the 1920s and the flapper era when higher hemlines began to be paired with ornate and slender high heels.
The Great Depression of the 1930s temporarily phased out high heels in exchange for a lower heel that also was wider in width.  The 1940s and the Golden Age of Hollywood brought back high heels for at least the celebrities and the rich and famous.  The elegant heels worn by Ginger Rogers greatly influenced high heel fashions in France and parts of Europe. Because of World War II, high heels were just moderately high and wide in width due to short supplies.
By the 1950s, French designer Christian Dior in collaboration with Roger Vivier unveiled a new style of high heel shoe that included a low cut vamp with a stiletto heel.  This followed the inception of stilettos in Italy, a term which meant a slender blade that was tapered.  The exaggerated thin heel and narrowing of the toe became the new high heel worn by many women.
The 1960s brought with it the mini skirt style which was accessorized with high boots that were designed with stiletto heels. When the feminist movement kicked in, high heels were traded for low heeled shoes that were often designed with a wide heel and square toe. This gave way to the hippie movement and the inception of the platform shoe.
The platform shoe continued to remain popular into the early 1970s. And because the 1970s represented a period of fashion experimentation, sex, and drugs, both sexes would often dress outlandishly and accessorize with platform shoes that were reminiscent of the Chopine we discussed earlier in this article. Only this time the shoe was decorated in psychedelic colors.
As the rejection of fashion by feminists waned, high heels returned in the 1980s. But this time, women wore high heels for their own pleasure since they gave them a sense of height, authority, and power.  This trend continued into the 1990s with more sophisticated high heels becoming the focal point as the result of television shows that depicted power, wealth, and excess.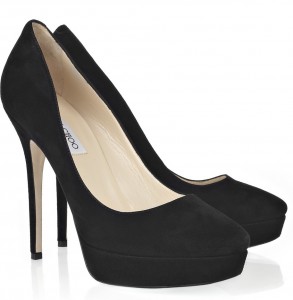 21st Century
As designs such as those by Jimmy Choo ushered in the 21st century with very tall high heels, the 21st century has proved to have more choices of high heel fashions than ever before. This enables fashion icons to sport eye popping designs and standout fashions.  With wide variety of high heels and stiletto fashions available, many women have reverted back a few centuries to undergo surgery to ensure a better shoe fit.  This is a sign that high heels as a trend has lasted well into the 21st century with new designs being unveiled on the catwalk every year.
About the author.
Micar Computers created the original ERP solution for the UK Apparel Industry. For over 25 years, Micar has provided retail, production and distribution with a comprehensive range of software solutions to manage finance, inventory and point of sale, working closely with Apparel, textile and footwear industries. Click here to find out more about our products and services.