The upcoming change in seasons has sent many fashionistas flocking to Pinterest to find the latest trends in fashion and accessories. But what are some of the best fashion accounts to follow?
If you haven't considered Pinterest as a source for keeping up with the latest news and trends in the world of fashion, now is the time to hop on board to discover the upscale designs that are coming up for the autumn season. There are many different fashion boards on Pinterest which make it difficult to determine which ones are the best when it comes to finding new dresses, shoes, jewelry and other items.
To help you get started, in this article we will cover ten of the best fashion accounts to follow on Pinterest that will ensure you enter the autumn season with fashion forward styles.
1. Birchbox

The latest trends in style require a selection of beauty and grooming products that are essential to completing the look. Birchbox provides a way for fashion conscious women to discover new makeup and beauty products without having to make a significant upfront investment. Birchbox provides you with a selection of products that you can sample on a monthly subscription. You can receive your first Birchbox of upscale samples for as little as £10.00 per month. If you like some or all of the samples, you can visit the Birchbox store to purchase a full-sized version of the product.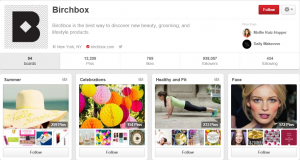 2. StyleCaster

StyleCaster is all about fashion and provides you with a wide selection of boards that reveal the latest trends in clothing, shoes, handbags, and jewelry. StyleCaster is run by a team that has extensive background in fashion with editors that have contributed to Forbes, Time Magazine, Vogue, and other well-known publications. Get the latest buzz on fashion news, advice, celebrity styles, and street styles including fashion forward shoes, dresses, outfits, bags, and accessories that will help you find the styles you like. StyleCaster is also chock full of fashion ideas that help you to get the look. There is even a section that provides you with tips that help you achieve the perfect makeover to ensure you kick off the autumn season in style.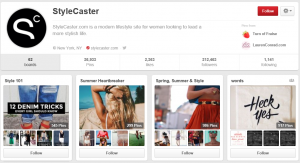 3. DailyLook

The DailyLook is a fashion board that inspires you to wear the latest trends in fashion on a daily basis. When you visit the DailyLook board and website, you can use the latest innovative technology to find fashion forward styles and ideas that suit your personality and your mood. Browse the must-haves for getting back into the autumn routine and take a style quiz to create personalized looks. Then you can browse a wide selection of the latest styles in clothing shoes, accessories, and bags at affordable prices.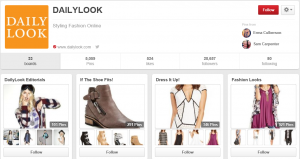 4. Who What Wear

Who What Wear is run by fashionistas that have an eye for the latest celebrity trends and trend setters. The styles are hot off the runway and include the latest red carpet styles worn by celebrities. Browse the board and you will find street styles, outfit ideas, the latest shoe trends, cultural styles, preppy styles, wedding fashions, staples that every wardrobe should have, and much more. Going on vacation? Go in style by browsing the trendy styles that are the hottest designs in various parts of the globe. Indulge in tips on how to wear distressed denim, style your classic favorite pieces, style rules every working woman should know, and more.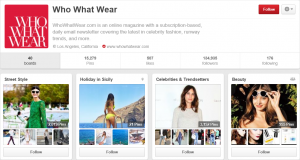 5. The Budget Babe

The Budget Babe is a useful Pinterest board that allows women everywhere to be fashion conscious without the exorbitant price tag. The Budget Babe sheds a new light on affordable fashions that was previously frowned upon by the fashion industry. The bloggers at The Budget Babe attend the Marc Jacobs events and even Missoni is currently partnering with Target stores to push the limits of affordable fashion designs and trends. When you visit The Budget Babe board, it is almost like hiring your exclusive fashion stylist for free. Find a wide variety of jackets, dresses, pants, shoes, and accessories and receive advice on how to wear these fashions correctly.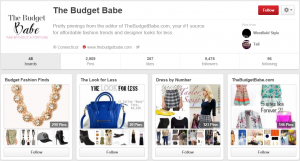 6. Peter Som
Peter Som's Pinterest board will take you on a wonderful fashion tour of the latest trends in different areas of the globe. Where most of the fashion designers only feature their exclusive designs, Peter Som's board goes above and beyond with designs that are born out of things that inspire him. Looking for that perfect collegiate look? It's there. Prefer to go retro or simply prefer floral prints? Check out the Flower Power board. You are bound to find clothing, shoes, and accessories that suit the most discerning fashion tastes.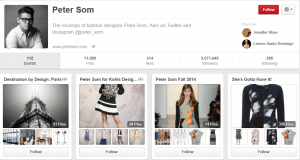 7. Style With Class
For fashion enthusiasts that prefer to look classy and sophisticated regardless of the

occasion, Style With Class is a Pinterest board that will fill your imagination with style possibilities. Browse a wide variety of classy and sophisticated styles that look good on the street, in the boardroom, at red carpet events, and parties. Or, enjoy the timeless styles from celebrities like Audrey Hepburn and Jackie Kennedy, and more. You can browse through a large number of pins on handbags, fabulous accessories, shoes, and other fashions.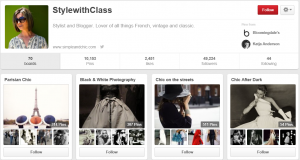 8. Anthropologie

If you are looking for a Pinterest board on effortless style that is in step with the latest trends and will get you out the door quickly, Anthropologie provides a collection of pins that will fill your fashion tastes with ease. Find clothing fashions that you can wear to work and are easy to put together, denim styles that will carry you through casual Fridays and weekends, exclusive fashions in select colors such as black and white, all shades of white, trendy orange, and other colours. You will also find effortless party wear and a special board that places a spotlight on the latest trends in shoe fashions. Don't know what to wear for your getaway or would like to peruse personal stylist picks? You will find it on the Anthropologie's Pinterest board.
9. Refinery29
If you like creative fashions that suit your style tastes, personality, and mood, Refinery29 will help you find unique and creative styles. Browse through a plethora of creative fashion ideas that range from wedding styles, nail art, shoes, and vintage clothing, to style inspirations from Fashion Week and distinctive street styles. Refinery29 will also help you to push your wardrobe to the limits with exclusive style tips, trends, celebrity influences, college fashions, and more. Learn how to complete a look right down to cool specs, creative nail art, hair styles, and makeup tips. Start with the season's must haves that are lined up from favorite designers and style muses on the Refinery29 board.
10. ShoeTease

If you like all things shoes, ShoeTease showcases fabulous, trendy, and bizarre footwear, and documents celebrity shoes, street styles, and upcoming shoe trends. There is also a personal style section that is shoe-focused to satisfy any type of craving for shoe fashions. Find the latest shoe styles that are currently trending and browse through pins of the latest celebrity shoes, fashion and street styles, and wedding shoes, as well as many over the top fashions. There is even a section called Freak-Shoe Friday that showcases the most fun and funky shoe styles that are sure to get you noticed on the street.
Pinterest has been growing at a rapid pace and is commonly thought of as digital scrapbook. What we have provided here is some of the top fashion boards on Pinterest. However, the site has recently reported a traffic flow of more than 10 million unique visitors and has been growing by over 4000 percent. For this reason, it is likely you will find an increased number of delightful and interesting fashion boards in the near future that will provide you with endless options for maintaining an impressive trendy and fashionable wardrobe with lots of options over the long term.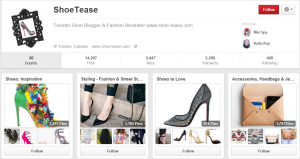 About the author
Micar computers is a UK based supplier of the original bespoke ERP software solution for the clothing, footwear and textile industries.
All images used on this blog are property of their respective owners. I would take my own, but they wouldn't look this good!