Expensive handbags are a fashion statement a lot of women crave and do not think twice about when it comes to the price. The look and the sense of status make designer handbags one of the most sought after fashion items.
If you are a fan of luxurious handbags, well known designers are creating more upscale and trendy designs for you to add to your collection for 2014.  Designers worldwide are adept at sourcing the finest materials with the most popular colors to create unique handbags that are some of the most sought after items on the market.
As 2014 is underway, there are a number of expensive handbags that are considered to be the most desirable and "must-haves" for the upcoming seasons this year.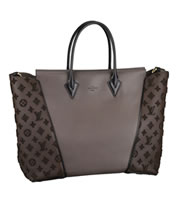 1. Louis Vuitton
Louis Vuitton is a well-known designer of expensive and luxurious handbags and has represented status and class for well over two centuries.  The most expensive designs under the Louis Vuitton brand include the Urban Satchel with a price point of around $150,000 and New Age traveler, in addition to a line of waterproof handbags that lend an air of practicality to a high end design.
Many of the Louis Vuitton handbags are made of luxurious leather goods, high end canvas, furs, and carefully chosen waterproof materials.  The handbags also come in a wide variety of textures including crocodile designs, monograms, EPI, Damier, and Mahina designs.  Each handbag is artfully crafted in a variety of trendy colors including bright reds, purples, greens, pinks, and yellows, as well as the standard blacks and browns.
The Urban Satchel is the most expensive in the LV line and is designed in a collage type of texture using 15 different material samples from other Louis Vuitton handbags. It is finished with a gold chain which serves as the shoulder strap and is a limited edition item that is often booked in advance by A-listers and celebrities alike.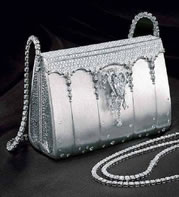 2. Ginza Tanaka
Ginza Tanaka is a Japanese designer of fine jewelry, clothing, and handbags. The Hermes Birkin bag by Ginza Tanaka is one of the most expensive handbags on the market for 2014 commanding a price of around $1.8 million. Ginza Tanaka first opened in 1892 in Tokyo and started out as a retailer of precious metal jewelry and accessories and was responsible for the establishment of the gold measurement system known as K18, the early term of 18K gold.
The Hermes Birkin handbag is designed with a platinum exterior that is adorned with more than two thousand diamonds complete with a diamond shoulder strap.  The shoulder strap is detachable to enable it to double as a necklace and the purse as a luxurious evening clutch. On the exterior of the handbag is also a large pear shaped diamond consisting of 8 carats that can also be worn as an expensive jewelry piece.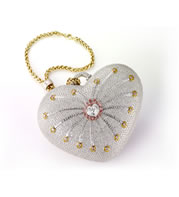 3. Mouawad
Mouawad is a manufacturer of magnificent jewels in the Middle East.  The company has been in business since 180 and is a family business run by Fred, Alain, and Pascal Mouawad. The company is known for its jewelry masterpieces and the creation of one of the most expensive handbags in the world known as the 1001 Nights Diamond Purse.
The heart shaped 1001 Nights Diamond Purse commands a price tag of around $3.8 million and is crafted by ten designers that invested more than 8000 hours into the 18K gold design.  The handbag is a high status item outfitted with more than 4500 white, yellow, and pink diamonds which make up a total of more than 380 carats with an exquisite 18K gold wrist chain.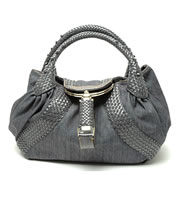 4. Fendi
Fendi was established in 1925 in Rome, Italy as a high end luggage and leather goods retailer with a small workshop in the rear of the store for crafting fine fur goods.  The most expensive Edoardo Fendi handbag is the Fendi Selleria Adele which was named after Fendi's wife, Adele. The handbag is crafted of skins from exotic creatures such as the chinchilla and others and can be acquired with a price tag of $38,000.
The Fendi Selleria Adele is generously sized to hold all of your daily essentials including a secure place for your money, a mobile phone holder, and a variety of makeup products. The handbag is offered in a variety of trendy colors for spring including light orange shades, reds, light tan hues, blacks, and striped patterns. The Selleria Adele is also crafted with 14K gold buckles to create a fully adjustable shoulder strap for versatility.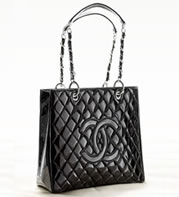 5. Chanel
Coco Chanel is one of the most famous designers of clothing, handbags, perfumes, and other luxury products. Coco Chanel opened her first clothing store in 1910 and introduced her first perfume 10 years later.  As a French fashion pioneer,r she eventually branched out into other designs including some of the world's most expensive handbags.
One of the most expensive signature handbags by Chanel is the Diamond Forever Classic Bag crafted with a lavish design of gold and diamonds with a textured crocodile skin that provides an unparalleled look of elegance and demeanor with a farmed and treated matte finish.  The handbag offers an extravagant design with 334 diamonds of 3.5 carats each. It also has an 18 carat white gold frame with a front clasp designed in diamonds and 18 carat white gold hardware.
The Diamond Forever Classic Bag is booked in advance with a staggering price tag of a little more than $260,000.  The bag is produced in limited quantities and is generally filled with advance orders from celebrities and other A-listers.
6. Judith Leiber
Judith Lieber is known for designing some of the most expensive and intricately outfitted handbags in the world and has often been compared to Faberge, the famous Russian jeweler.  Judith Lieber handbags are exquisitely crafted representing status and class.
One of the most expensive handbags for 2014 is the Precious Rose Bag which is completely lined in kidskin and adorned with exquisite gemstones on the bag's exterior.  The Precious Rose Bag is carefully crafted in the design of a perfect rose complete with petals.  The petals have a magnificent sparkle with more than 100 diamonds that total 42.56 carats.  The diamonds appropriately complement the rose design with 800 tourmaline gems and 1160 pink sapphires.
The edges of each rose petal and the frame is crafted with platinum with a delicate chain that can be attached to your wrist.  For those that want to indulge, the Precious Rose Bag is available for an eye popping $92,000.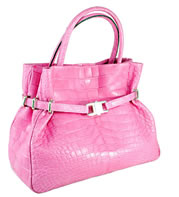 7. Lana Marks
Lana Marks is a designer of exquisite handbags and expensive accessories.  Her handbags are popular with clientele that demands sophisticated elegance. Many handbags in her line are crafted of luxury exotic leather in more than 150 styles and over 100 trendy and fashionable colors.
The most expensive Lana Marks handbag is the Cleopatra Bag which has made its appearance by many celebrities on the red carpet. One Cleopatra style is produced each year with this year's bag designed with exotic alligator skin in a metallic silver color.  The exquisitely elegant clasp on the Cleopatra Bag is crafted of 1500 diamonds in black and white that are set in 18 carat white gold hardware.  The Cleopatra Bag is to be worn on the red carpet by only one celebrity per year and has a staggering price tag of $250,000.
8. Hilde Palladino
Hilde Palladino is a Norwegian fashion designer known for her luxurious and high end handbags.  Although she is not as well-known as other fashion designers, her handbags have become one of the most sought after by fashion conscious celebrities and high status clientele around the world.
One of the most expensive Hilde Palladino handbags is the Gadino Bag which is crafted in elegant white crocodile skin providing a unique and high end look that is unparalleled to other bags of this prominence.  From afar, the bag looks elegant but does not appear to be anything out of the ordinary with standard double handles designed for carrying the bag on your shoulder.  A closer look reveals sophisticated white gold clasp that is crafted with 39 white diamonds which undoubtedly contributes to the exorbitant price tag of $38,470.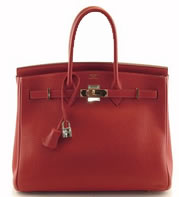 9. Hermes
Hermes is a designer of fine leather goods, accessories, silk and textiles, perfumes and jewelry in Paris France.  The company is affiliated with John Lobb which is a company that has been making fine footwear and boots in London since 1866 and Paris since 1902.  Hermes has been making a selection of sophisticated handbags that are available globally.  One of the most expensive Hermes handbags is the Matte Crocodile Birkin Bag.
The Matt Crocodile Birkin Bag is crafted of crocodile skin which provides an unmatched texture on the exterior with a lot of room for your daily essentials inside.  The Birkin Bag is named after Jane Birkin, a British actress and singer and offers an exquisite clasp that is designed with a whopping 10 carats of white diamonds set in white gold.  The Birkin Bag is crafted in a trendy black color, is considered the epitome of wealth and status, and commands a price tag of around $120,000.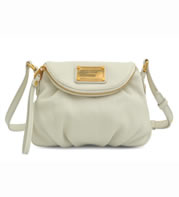 10. Marc Jacobs
Marc Jacobs designs have been in existence since 1986.  Over the years Jacobs has partnered with Perry Ellis, Louis Vuitton, and other notables to bring many fashion forward designs to the forefront of the latest trends in the industry.  Marc Jacobs designs handbags, women's and men's fashions, eyeglass frames, and a variety of other fine products.
One of the most expensive Marc Jacobs handbags is the Carolyn Crocodile Handbag which is crafted with crocodile skin in a trendy purple shade.  Its abundance of interior pockets and silver feet on the bottom make it a "must have" in the closet of most fashionistas.  The Carolyn Crocodile Handbag is finished with double handles and the purple color allows you to pair it with any type of designer clothing.  Although the bag is not adorned with diamonds like previous handbags we have mentioned here, the Carolyn Crocodile Handbag still commands a hefty price tag of $38,000.
So, if you are in the market for an attention grabbing handbag and have the money to invest, these are ten of the most expensive handbags in the world for 2014.