Introduction
Weddings can be a costly event regardless of how frugal you are. However, when it comes to the wedding dress, many brides consider this to be one of the most important parts of their special day and often spare no expense.
In some cases, many brides luck out and find a great deal on the perfect wedding dress that makes them the centre of attention on their special day. Other brides will go out of their way to ensure they have the perfect dress which can become quite expensive.  Then there are celebrity brides and others that have their wedding dress custom made by a notable designer for an unbelievable amount of money.
In this article, we will take a look at some of the most extravagant wedding dresses from around the globe.
1. The Diamond Wedding Gown – $12 Million
One of the most expensive wedding dresses in the world is made from 150 carats of diamonds at a staggering price of twelve million dollars.  The dress was not made for any specific bride and instead, was crafted for a bridal show in 2006 by Renee Strauss with the jewels provided by Martin Katz.  The show took place at the Ritz-Carlton in Marina Del Rey, California. The dress is famously known as the Diamond Wedding Gown and was also on display at the Fashion and Diamonds show in Dubai.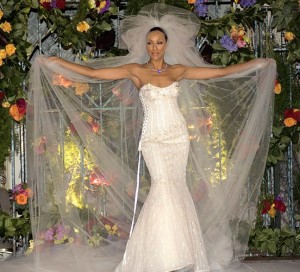 2. White Gold Diamond Dress by Yumi Katsura – $8.5 Million
The White Gold Diamond Dress by Japanese wedding gown designer Yumi Katsura was considered to be the most expensive wedding dress in the world prior to the introduction of The Diamond Wedding Gown.  The White Gold Diamond Dress was not made for any specific bride and is one of 650,000 wedding dresses designed by Yumi Katsuma and by far, the most extravagant.  It is adorned with more than one thousand pearls and has a rare five carat white gold diamond as a centerpiece along with a green diamond of 8.8 carats.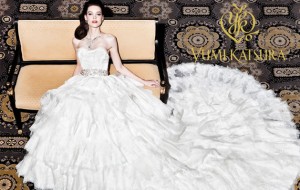 3. Danasha Luxury Wedding Gown – $1.5 million
The Danasha Luxury Wedding Gown was created by designer Danasha Luxury in partnership with Jad Ghandour at a price of $1.5 million.  The gown is quite simple in design but commands a hefty price tag as the result of being crafted from more than 200 grams of 18-karat gold and 75-carats of Belgian diamonds hand-picked in Antwerp.  The gown does not have a train and has an elegant and clean looking appearance that is void of any lace or other adornments.
4. Peacock Feather Wedding Gown by Vera Wang – $1.5 million
The Peacock Wedding Gown by Vera Wang is far from the conventional white wedding gown and is handcrafted with more than two thousand male peacock feathers.  The dress was created in 2009 for the Wedding Expo in Nanjin, China and required 8 craftsmen to stitch the peacock feathers onto the dress.  The gown was supposedly designed for the wedding of Jennifer Lopez to Ben Affleck but this is not a certainty.  The wedding never happened but the gown was deemed one of the most unusual designs ever made.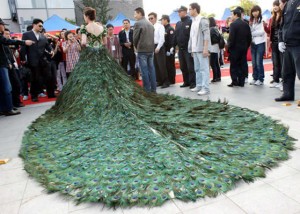 5. Sarah Burton Wedding Dress for Kate Middleton- $388,000
Kate Middleton's wedding dress was created by Sarah Burton, a designer for Alexander McQueen for her wedding to Prince William in 2011 at Westminster Abbey.  The gown was elegantly crafted with a nine foot train and adorned with exquisite fabrics that gave the gown its delicate and sophisticated look.  The fabrics included ivory and white satin gazar, English Cluny lace, and French Chantilly. It took several months to create at a price tag of nearly 400 thousand.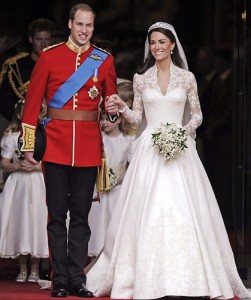 6. Mauro Adami Platinum Wedding Dress – $373,000
The Platinum Wedding Dress by Mauro Adami was created in 2008 and is made of more than 132 feet of fabric in a rich platinum shade.  The dress is stitched with authentic silk and platinum thread with an ornate neckline and delicate embroidery at the hemline.  The Platinum Wedding Dress was created as an addition to the Domo Adami Italian wedding gown collection at a cost of $373,000 and was not crafted for any specific bride.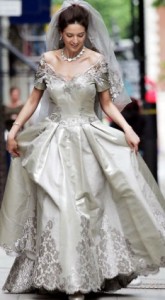 7. Fiery Red Platinum Wedding Dress – $250,000
The Platinum Wedding Dress made in the Anhui Province of China is crafted of authentic platinum in a fiery red colour and oriental theme.  The platinum shine sets off the ornate red oriental patterns which adds to the uniqueness and attention grabbing design.  The red oriental pattern consists of exquisite red floral blossoms which are offset with the silver luster which takes this gown to a whole new level when compared to other platinum designs.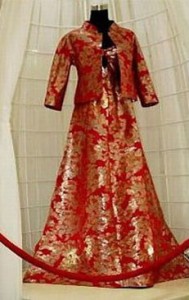 8. Melania Knauss Wedding Gown – $200,000
Designer John Galliano created this masterpiece for Melania Knauss when she wed billionaire Donald Trump.  The gown is rumored to have been created for a price tag of about $200 thousand with a thirteen foot train and more than three hundred feet of white duchesse satin.  The gown is adorned with more than 1,500 crystal rhinestones and pearls and weighs fifty pounds.  This required Melania Knauss to stay fit in order to effectively carry the weight of this creation.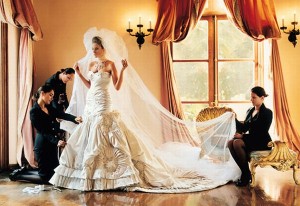 9. 9,999 Carat Gems Wedding Dress – $158,800
The 9,999 Carat Gems Wedding Dress was created in 2007 and was displayed in a store located in the China Province of Shangrao, Jiangxi.  This exquisite creation is adorned with more than 10,000 carats of authentic gemstones which were provided by a prominent jewellery designer based in Hong Kong. The wedding dress is made of high quality material however, the amount of gems included in the design are what commands a price tag of more than $158 thousand.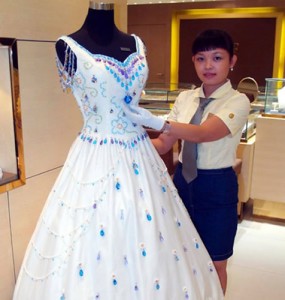 10. 'Bach Ngoc Xiem Y' Wedding Dress – $117,000
The 'Bach Ngoc Xiem Y' Wedding Dress was designed for wealthy brides who desire extravagance and is crafted with more than 200 diamonds and more than 95 ruby gemstones.  The exquisite fabric is white silk and satin with an overall delicate design.  The dress was on display at Hanoi's Ruby Plaza and was not made with a specific bride in mind.  It was last known that the gown is still looking for a buyer that can afford this creation at $117 thousand.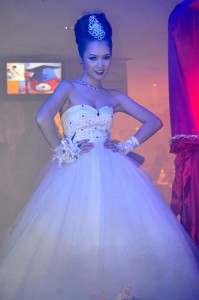 About the Author
Micar Computers is a software development company that specialises in providing software solutions for the Apparel, Textile and footwear  industries. Based in London, we offer our services to companies all across the city and surrounding area. Visit our products page to find out more about who we are and what we do.