Introduction.
For many people around the world, a white dress is the first thing that comes to mind when thinking of a wedding. However, there are many cultures with varied traditions of wedding dresses including style, pattern, and color.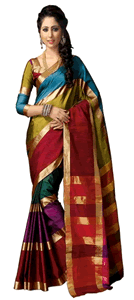 Indian culture and tradition regards a wedding ceremony as of great religious importance. The wedding dress commonly known as the Saree, is known for its colorful and elegant design.
Colors: Red is the most popular color adorned with golden embroidery. Other vibrant colors are occasionally chosen as an alternative.
Style: The style of traditional wedding dresses in India varies according to the region. The fabric, patterns, and colors are chosen according to customs and tradition. The Saree is the most popular and is designed in red silk, Georgette, or crepe and adorned with golden embroidery, crystals, kundan, or zari for an elegant and luxurious appearance.
Interesting Fact: The word Saree originates from the Sanskrit and means a "strip of cloth." Its length ranges from four to ten yards and is worn in various styles by draping it over the body. Some Indian brides wear a Saree for the ceremony until the reception when they change into a lehenga choli.
German couples attend a civil wedding ceremony prior to a church wedding since the church official is unauthorized to legally marry a couple.  The wedding dress is reserved for the church ceremony while the bride wears neat professional attire for the civil ceremony.
Colors: It is customary for German brides to wear a white wedding dress. The groom is typically dressed in black.
Style: German wedding dresses are designed for comfort while still being made of flowy material that lends an air of sophistication and elegance.
Many of the fashions are designed with Chantilly lace, silk chiffon, Mikado, and stretch jersey. The styles range from intricate beaded dresses to organza and dramatic shapes requiring many hours of work.
Interesting Fact: The bride typically wears a white dress that has been passed down from previous generations.
The Celtic wedding dress is an old Irish tradition that represents timeless beauty. Irish brides often favor the Celtic wedding dress for its romantic look in addition to other styles.
Color: White is currently the most popular color.  Brides also wear blue or touches of blue reminiscent of ancient times when the color symbolized purity.
Style: The Celtic wedding dress is made with silk material and white deerskin with white linen undergarments.  The style is fluid with the bottom of the gown surrounding your feet. The bell sleeves are oversized for a dramatic effect and the dress is finished with a princess cut waist.
Interesting Fact: Before the early 1500s, blue was the most popular color choice for Irish wedding dresses.  When Queen Anne of France wore a white dress at her third wedding, brides across Ireland, England and France began to wear replicas of the dress at their weddings.
A traditional Chinese wedding dress is known as a Qi Pao which is designed in red.  Chinese brides typically have three wedding dresses which include the red Qi Pao, a white wedding dress, and an evening ball gown.
Color: Red and white are the two most popular colors in Chinese wedding dress design.  Red is considered a symbol of prosperity and love and is used as a base color for most dress creations.
Style: A typical design consists of a red color base with intricate embroidery work created with silver and gold threads.
The style is a one-piece dress made of silk which provides elegant sophistication.  Traditional wedding dresses are known as the Kwa, Chengsam, and Kua which are white dresses designed as a two-piece creation.
Interesting Fact: A Chinese couple can choose to wear their wedding attire for photos or opt to wear something different for this event.
Italian brides originally wore green wedding dresses as a symbol of fertility.  Currently, the Italian bride wears a spectacular white dress as a symbol of wealth and prosperity.
Color: White and ivory are the most popular colors for an Italian wedding dress. Black and white has been worn in Tuscany. Pale shades of gold and pink have recently become popular throughout Italy.
Style: Italian wedding dresses resemble a full-length formal gown made of silks and satins to pure cotton and summery poplins. Other styles are adorned with brocade, laminated taffeta, embroidery and lace.  Most of the fashions border on a light and airy look with a hint of casual attire.
Interesting Fact: An old Venice tradition states the bride walked into church wearing her second best wedding dress.  The finest dress was reserved for the reception when the bride and groom have their first dance.
The Kimono is worn as a traditional wedding dress in Japan.  It also serves as traditional everyday clothing as well. Japanese brides wear a white Kimono for the wedding which is the symbol of new life and days gone by.
Color: The most popular color is white followed by a colorful silk Kimono made with silk brocade which the bride uses to cover her wedding dress.
Style: The Kimono is a straight line style with wide sleeves that form a "T" when extended outwards.
The garment is full length and falls at the ankle and is wrapped around the body with the left side over the right side. A Kimono is then secured with an elegant sash which is tied in the back.
Interesting Fact: The Kimono is considered to be a formal dress passed down for generations and is still currently used as a wedding dress.
Russian weddings do not follow common protocols with weddings in other cultures.  There are no flower girls or bridesmaids and the wedding dress is handmade specifically for the occasion. Russian women are taught to sew at an early age so they opt to create their own wedding dress. Others may choose to buy a dress and sell it after the ceremony.
Color: Many Russian brides still choose the traditional white wedding dress.  Others opt to choose a white or pastel colored suit.  Earlier colors included dark blues or bright reds finished with embroidery.
Style: A traditional Russian wedding dress consisted of an elaborate headdress which over-shadowed the dress itself. The recent wedding dresses are constructed of high quality material and mimic the timeless elegance of Grace Kelly, A-line dress fashions, and empire style waists.  The dresses are made of flowy materials and elegant taffeta sometimes designed in feminine pastels and botanicals.
Interesting Fact: It is not customary for a mother to give her wedding dress to her daughter because it suggests you lack the money to buy a new dress.
The typical Spanish wedding dress is made of silk with crepe used as a substitute if money is of concern.  The traditional veil is chapel or cathedral length and finished with hand crafted Spanish lace which is still a time honored tradition.
Color: Currently, the most popular wedding dress colors are white, antique white, or blush.
Style: A Spanish wedding dress looks very similar to the common wedding dress only with a few Spanish inspired features.  Typically, the skirt may be finished with multiple frills similar to a Flamenco skirt with full-length sleeves that are finished with ruffles on the cuff.
Modern Spanish wedding dresses are made of flowing materials such as chiffon, taffeta, and organza.  Other designs- are crafted with silk and satin.
Interesting Fact: In old world Spain, the typical wedding dress was black.  If you were from a wealthy family, the dress was made of black silk with black veil and handcrafted Spanish lace
There are many different wedding traditions throughout Africa which means one tradition does not fit all.  This is reflected in the different types of wedding dresses worn in an African ceremony.
Color: Vibrant colors are the most popular choice for African wedding dresses.
Style: African wedding dresses are elegant and glamorous creations made of satins, silks, brocades, voile lace, Ankara fabrics, and taffetas. They are embellished with glass beads, crystals, and other adornments.  Each dress is crafted specifically to the bride's requirements which means no two dresses are alike. Each dress has a unique style along with a pre-selected fabric.
Interesting Fact: Just about every African wedding dress is an original because it is custom made.
The French wedding dress is the epitome of intricate attention to detail.  There is an abundance of exquisite fabrics, lace, and embellishments ranging from vintage to contemporary fashions.
Color: The most popular colors are white, ivory, soft pastels, and pretty watercolor prints.
Style: Many of the French wedding dress styles are reminiscent of embroidery created during the 1920s and 1930s with layers of Victorian lace throughout the dress.
Most wedding dresses by French designers are authentic couture creations made specifically for each individual bride.
They have an elegant air of sophistication using soft flowy fabrics including silky chiffon with dazzling beaded designs and immaculate attention to detail, fit, and quality.
5 Interesting Facts about Wedding Dresses.
For most of the time throughout history, a wedding dress was rarely purchased by a bride for her wedding day. Instead, she opted to wear her best dress even if the color of the dress was dark.
In old Denmark tradition, a bride and groom would cross-dress in an effort to confuse evil spirits.
Wearing garments with embroidered cranes is an old Asian tradition that symbolizes fidelity for the entire duration of the marriage.
The traditional wedding veil was used for approximately 2000 years before the wedding dress.
The longest known train on a wedding dress is 1.85 miles.
About Micar Computers.
Micar Computers is a London-based Software Development company that specialises in creating bespoke ERP applications for the clothing, footwear and textile industries. Take a look around our website to find out more about our products, services, our company and our culture.